Napo B and Kim Kozzi by Jennifer Oille Sinclair (1982)
Originally published in Vanguard Magazine, Oct/Nov 1982
Be sure to check out Jennifer's fab website: http://printingrocks.com
More necessary factoids about early Wurms: http://wurmculture.blogspot.ca
On Valentine's Day, a few guests stood in a theatre lobby sipping Pernod and staring through slits in a white plastic curtain at a painting, which slithered down the wall and across the floor. Two years worth of canvases slashed and slapped into a picture of words fallen from the subconscious and two people dining on fish, cheap protein finned like protean missiles, dressed with ReaLemon – all lit by brooder lights that hatch assembly line eggs and warm cafeteria chicken.
Then the tableau became a film set and the guests played guests at a Valentine draw. A celebrity guest names the winning number. Except the tickets were unnumbered, and the celebrity was a man misfit with the bulbous head and tendril hands of the little 'alien' dolls sold as souvenirs at screenings of Close Encounters of the Third Kind. This "Alien" has surfaced as a 'celebrity' and has become a fugitive being pursued by… A few weeks later, another group of guests are gathered in the Cameron Hotel lounge. Walls frescoed with twenty-one panels, strippable vinyl frieze of fluorescent 'aliens' in a phosphorescent sea. A white vinyl bar. Tin foil ice in the glasses. Nothing is supposed to be real. The Alien sits at the bar. It is another film set. The guests play well-meaning guests. "If I were you I'd GET OUT OF TOWN… when they want you they'll just come and get you no matter where you are…" (Napo B's "Be My Magnet" in progress/process 1982)
It was the hottest night of the year. So far. A few guests gathered at a studio in a part of town the artist calls Popeye Land. The artist had built a film set, a restaurant booth, all askew and enshrouded in plastic. The Quickie kind. It was draped with real dead fish. It was periodically hosed down so that the walls (Xeroxed with sewer lids and praying mantis) seeped and the floor, crawling with entrails, actually gummy worms, slimed.
Each guest was invited to sit in the booth, play a patron, be served stuff like gherkins and Gerber's, and talk about food for three minutes. The length of a super 8 roll of film meant any meandering thoughts were cut off when they ran out of film. As the night got hotter, the fish got higher. (Kim Kozzi's "Culinary Totems" in progress/process 1982.)
The pseudonyms Napo B and Kim Kozzi met sorting mail in an Ottawa post office in 1972. They subsequently studied art, especially painting and film at the Ontario College of Art and worked as Art guards at the Art Gallery of Ontario and the National Gallery of Canada. They lived together. They began to work together – not in collaboration that subsumes identities, but by helping their mutual identities out. Their work is similar and there is a mental synapse in hand.
How Napo and Kozzi did and do what becomes immaterial, because it is re-placed. They carve up all the shibboleths of this world and cut the dissemblance into their own views, states of being. They make objects, which verge on painting, sculpture, and environments but defy categorical definition. These objects, fabricated from real or real fabrications hinge literally on items as familiar as ReaLemon plastic squeezers: they are illusions as allusions, metaphors that depend on and deny their material base. The objects suffice independently but can figure in and figurate films. The films are transfigurations of emotion, experience. They intend to make Super 8 films look like 35mm films. Five minutes seems like a big movie. Sets/scripts/tilts/pans/ – more like Alphaville, Head, Poltergeist, Road Warriors, Weekend, E.T., than Lugg, Epp, Gallagher, Rimmer.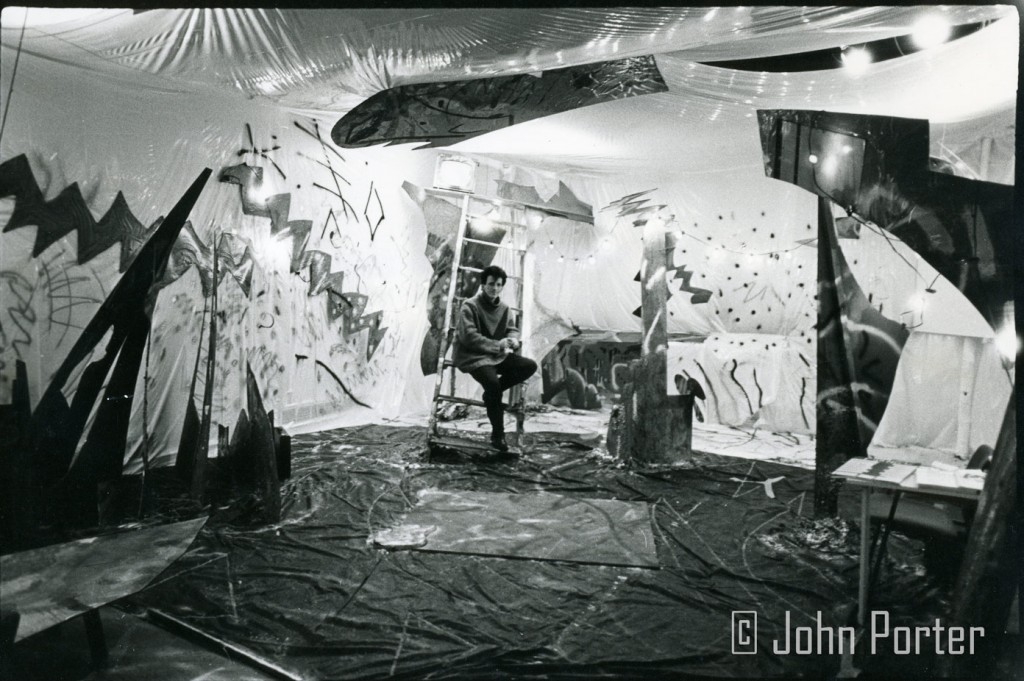 Whatever the kind, objects or films, the work is about race mythologies, the transubstantiation of the natural into the cultural, the culture that becomes cosmology. The 'kind' of the work that becomes transformation – the objects are fractured out of material (golf tees, vinyl) that would transvalue the redundant means and (hence the meaning) of art into more temporal relevance: the method of film is a re-valuation of art/object into a medium with a non-exclusive contemporary production base.
The content of the work is a representation of things as they are, turning art against its autocracy. But the conclusion is existential, the insinuation is that everything can be changed, nothing will change, no matter the complexity and contradiction. There are no happy endings: things are only left hanging. The universe is indifferent, but hardly benign.
The proof is in the style and stance. The objects are the overt acts of individuation. The films are co-productions, phased into corporation as "Fast Worms", "FastWurms". "FastWurms" is of no socio-political significance out a matter of convenience, enacting two expressions of a single condition. The films share images but imagine them differently. On the one hand charged, on the other neutral.