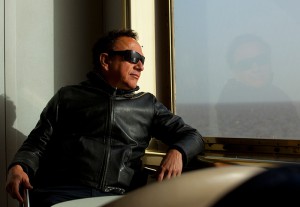 All that was in the air: an interview with Jorge Lozano
January 12, 2016
Jorge: I went to the Ontario College of Art. I started in the film department but then became more interested in video. They were doing all these really silly films, cowboy movies in super 8. I felt uncomfortable with that.
Mike: Did you ever have a class with Ross McLaren?
Jorge: No, he wasn't there yet. I knew Ross because of the Funnel. He made Crash 'n' Burn, the punk documentary. He was a figure with a certain aura, a presence. He was close to a blonde woman, Anna Gronau, I felt she was a bit arrogant or distant with me at least. . I never became close to her, with Ross I managed to talk a little.
I was part of a group of young artists at OCA that included Rebecca Garrett, Gloria Berlin Jones, Dimitri Martinovic and Susan MacKay. We were very active making videos, and doing performances. We were all just beginning. We did shows at YYZ and CEAC. Making video at that time was really pleasant because there was an audience. We were fashionably proud of doing what we were doing, there was a sense of artistry and community.
We had a great performance class with Noel Harding, someone would do a performance every week. Susan Britton also taught a class, and when Susan or Noel couldn't make it, I ran their classes. We did amazing things. There were guys who would take their own picture and staple it to their face. It was heavy duty performance with deep discussions. Noel brought in William Wegman, Richard Foreman and Vito Acconci to talk to us. We were influenced by everything. That's what happened to us. I never had one style, there were too many things I liked. We were the generation that did that. Things are much more compressed and contained now because there's so much more history, but we were multi-dimensional, multi-directional.
We organized an OCA group screening at the Funnel, which was located in the basement of CEAC. After that CEAC opened their doors to us and invited us to come and do performances there. Ron Gillespie was the one who got close to us.
The performances at CEAC were wild. I was very influenced by Richard Foreman and his Ontological-Hysteric theatre. I liked the disconnections, the fact that there were no real characters. I did a performance at the Art Gallery of Ontario that General Idea hated. One member of our group was a cross dresser. So I asked him to cross dress and go through the audience and rub against everyone, and if you see General Idea or go for them. He did and Jorge Zontal was very uncomfortable gesturing NO with his hand. At the time cross dressing and transvestites were discriminated against by the gay community. People thought: this is not being gay. My friend Lola who I made a documentary about sued the YMCA because of discrimination by some members of the gay community, she talks about it in the video.
We all had strong personalities, and the performances were made out of our personalities. For instance Gloria had really long hair. She would never show her face, you could only see one eye. I just put her onstage at the AGO where she sat on stage and did nothing. (laughs) She was looking at the people through her hair. I think I was directing, I had so many things I had to deal with I wasn't on stage.
Mike: Can you describe a performance you did at CEAC?
Jorge: I remember Dimitri Martinovic in pyjamas holding a wind-up toy that spun around. There was a woman friend of mine masturbating inside a box, nearby a video camera attached to a projector, lots of text projected on the walls, Rebecca Garrett reading. There was a lot of straight, queer sex references , tying up, fantasy. A lot of resistance, doing nothing, duration. Simultaneous events happening throughout the space.
I showed a videotape called Accessory Transit Company at CEAC and John Greyson came to the show and wrote about it. I think it was the first time he had ever written an article about art. He had just started working for Fuse.
We did a performance at YYZ called Chickpeas. It was Denise Cooper, Rebecca and myself at a table illuminated by black lights, we had cans of UNICO chick peas On a reel to reel tape a man talked about atomic war. Dimitri wrote mathematic formulas on the wall. We opened cans as the voice narrated the destruction of the world. We had fluorescent little tubes and blew chickpeas into the audience. (laughs) People were ducking all the time. The back wall was filled with chickpeas. The performances weren't always aggressive, but we were looking for new ways to engage the audience. It was the time of the Kipper Kids where audiences would be assaulted with eggs and flour and all kinds of stuff.
There was punk culture, the Red Brigades in Italy, the communist revolutions, S/M discourse was becoming public … One of the most incredible films I saw was at the Nova Convention in New York (a three day homage to William Burroughs). There I saw a film that impacted me forever. It was shown on two screens in 16mm. A guy walks into an alleyway when a car rolls up and stops, another man steps out and beats him up. One screen shows a wide shot, while the other shows close-ups. It was very well filmed. At the end the guy's all beat up, they kiss and leave. It was an arranged sado-masochistic encounter. That was very strong for me, a powerful narrative. All that was in the air. The body, violence, control. We were inquiring into the society of control, even auto-control. It was a moment of great initiatives, incomparable to now unfortunately. There was less history of experimental filmmaking, there was more that was new. There were fewer precedents, more newness.
CEAC published a newspaper called Art and Communication Edition, and were becoming more and more politicized. There was a lot of interesting performance going on, I remember going there and being totally impressed. Artists were using the body as a subject, there were enemas, drawing on the body, people cutting themselves. The work Ron Gillespie was doing was so strong and personal.
Mike: Did you meet Amerigo Marras, the person who ran CEAC?
Jorge: He was a nice little guy, but I remember Ron Gillespie more because I kept seeing him. The person who impacted me the most was Lily Eng, with a slide show performance that still plays in my mind. When she came back from China she brought all these slides and projected them on two screens simultaneously, China and Canada. I'm trying to do something similar right now. She danced in front of the slides, using her martial arts movements. I found that interesting.
I was a supporter of ideas from the left although I questioned the leadership-based models of traditional Marxism. I felt it was dogmatic. I made a video using a book by the Red Brigades on how to make a revolution. An older person reads the manifesto while my (art group) friends, wearing red blinds on their faces, walk around like zombies. I was already poking at the structures of allegiance. When a famous leftist Spanish video maker came to our class I showed it to him but he hated it. We were questioning and sometimes it didn't go well. (laughs) It's hard for people to accept another point of view. You think it happens only in the political world but it also happens in the art world. People become dogmatic and their thinking hinders new possibilities.
There was a movement in Italy called Autonomia that included Antonio Negri and Franco Piperno (professor in Calabria University), Franco Berardi (Radio Alice) and many others that was also influential. They were important for CEAC, and especially for Amerigo who was Italian.
CEAC were trying to emulate strategies the armed intellectuals of the Red Brigades were using in Italy. The Red Brigades began kneecapping their enemies, they hunted down people they considered enemies and shot them in the knee. CEAC were investigated by the RCMP, and eventually their funding was cut off and they left the city. Ron Gillespie stayed and continued working with his body. The last time I met him he was doing experiments with rat poison, he spoke in a very hoarse voice, he wanted to experience the closest a body could come to death.
When CEAC had its funding cut off, that was an act of censorship by the government and we artists kept silent. I've mentioned this many times to artist friends who became activists against censorship. I said: you forgot that we never did anything about this. CEAC should have their freedom of speech, right? The freedom to write whatever they want. They never shot anyone. That's an issue that needs to be discussed, what happened with CEAC.
Mike: Can you tell me about the Funnel?
Jorge: The Funnel was a great place to go, there were always people there. I saw the most interesting work. They were always showing new works without having to call them new works. It was just part of the moment, the availability of these spaces, for us to have access and to show new works. There was so much energy in all those spaces. There was a sense of dialogue and experimentality, the Funnel had that.
At the Funnel you saw things for the first time. Now you see repetitions, but then you saw things for the first time. I remember seeing Beth and Scott B, I loved them, especially Black Box (25 minutes 1978) where a man is kidnapped and tortured. It had a soundtrack that enclosed and tortured you. Later I also showed the Bs at the Subway Room (located in the basement of the Spadina Hotel) where I was doing some programming. I showed Fifth Column for the first time, they had never played in public before, only in their garage I think. But Gloria Berlin Jones was part of our group and she played guitar in Fifth Column. I wound up playing conga on one of their songs. On Sundays we would go to the United Churches to play concerts, all the bands would go. It was great. People would take pills and alcohol and play rock and roll all day. Whenever Fifth Column gigged, there was one song I would play the congas on, until one day I got really drunk and kept playing the congas because I forgot what they were playing. They kept saying Stop, stop. (laughs) Then I got really embarrassed and never played with them again.
Mike: Was the Funnel a scene? Would you meet up with the same folks night after night?
Jorge: There was a large number of the same people who would go to the Funnel. I met John Porter there and saw his stop motion films that were fun to look at, people throwing their cameras through the windows was safer than suicide. Movies came from Berlin, New York and there was a lot of local work. At that time art schools were connected with the art community. Students were an active audience.
I made a film about the Viletones called Ein Hund (A Dog). It's a three minute film that I refilmed from original footage shot at a bar called Meat and Potatoes on Yonge Street. The singer (Nazi Dog) was burning and cutting himself. I happened to come by with a super 8 camera so I just recorded it. Then I reshot it from the screen and burned the film and sent it to the Ann Arbor Festival and won a little mention. Later it was shown at OCA with another punk film that had been made by Chris Terry I think and they liked his film better. The crowd whistled at my film.
Ross was part of a group that was dictating taste. At every stage and time there's people who decide what is good and what is bad. They totally rejected my film, it was lost, I don't know what happened to it. But I have footage of the Viletones from that time, lots of footage.
Mike: Did you go to the Funnel when it relocated to 507 King Street East?
Jorge: Yes, that's when I showed Cine Blank (30 minutes 1980). It was made on ten rolls of film, ten segments of three minutes each. It was based on a situation that happened in Vancouver where animal rights activists bombed a lab that used animals for testing products. The activists were caught and jailed. I took that as a foundational idea, the film includes a woman, a torture scene, an assassination, but it doesn't have any logic. I don't think they liked that film, it wasn't the kind of experimental film that was accepted at the time.
Mike: Why didn't you join the Funnel?
Jorge: We were another, younger group doing different things. That's why we don't appear so much in any histories.
Mike: Did your group have a name?
Jorge: No, we just made work. Susan Mackay… she's the woman who used to go out with Gordon W., I don't know if you remember him, he used to sell chapatis. He was in another group with the Hungarian guy, Istvan Kantor. The Bunch of Fucking Goofs were another (music) group in Kensington Market. We were a non-group-group that had fun. Gloria was making incredible super 8 films of transsexuals and addicts. A very unusual subject at the time. She showed them to us and at the Funnel I think.
Mike: Did you attend open screenings at the Funnel?
Jorge: I'm sure that I went to a Funnel open screening. I went regularly, and have great memories of the Funnel. At some point we were all part of the Funnel, it was the place to go. Like in all communities, there were differences in status, hierarchies. I was not one of the founders or curators. We did our own things separately.
Mike: Some people felt the Funnel was a closed group.
Jorge: Yes, I remember that. They held very compacted definitions of what experimental film was at the time and we weren't into that, we were doing something different. There was an orthodoxy. I would like to revise what they did, because I don't think they were all that experimental. We felt that what we were doing was experimental, we were already another generation doing something different. We created our own situations.