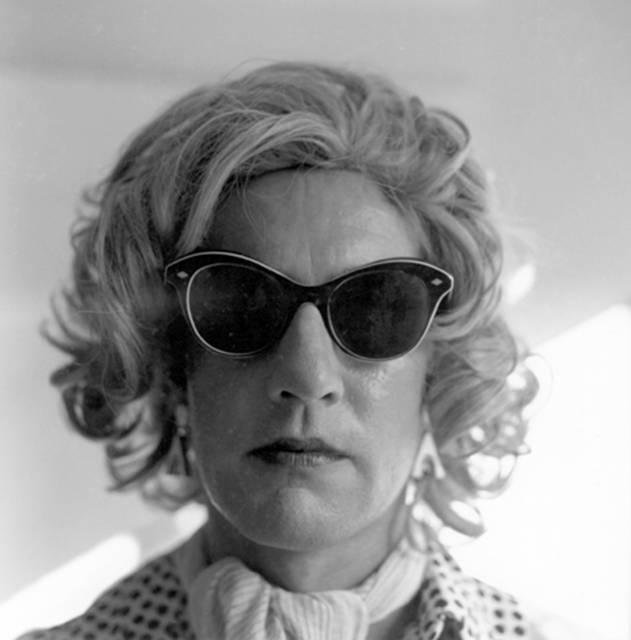 Originally presented at the London Lesbian and Gay Film Festival, 2006
Colin Campbell Forever!
"Toronto video artist, writer, teacher, gender terrorist. With impeccable style and atrocious wigs, he represented Canada at the 1982 Venice Biennale… and gave great dinner parties. Many of his fifty-odd tapes hinged on the construction of fetching alter-egos." 'The Singing Dunes' by John Greyson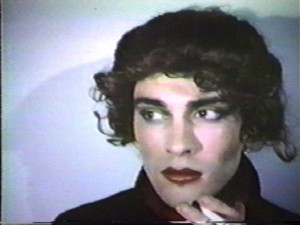 "Part of the first generation of Canadian artists to work with video, Colin Campbell is widely regarded as an important pioneer of the medium. He authored over fifty videotapes from 1972 onwards: many are regarded as classics. Campbell's earliest works were informed by conceptualist and body art practices of the early seventies. Unedited performances for the camera, recorded in black and white on half-inch open reel, they paralleled the work of American artists such as Vito Acconci, Dennis Oppenheim and others. As the decade wore on, Campbell became interested in exploring narrative. Performing in drag for the camera, Campbell's works were anecdotal and ironic, witty and urbane. Throughout the eighties and nineties, Campbell's video work became more dramatic, echoing the formal and narrative codes of independent cinema and television, but with an open-ended-ness that relentlessly avoided narrative closure and fixity." 'True Lies or The Importance of Being Colin' by Nelson Henricks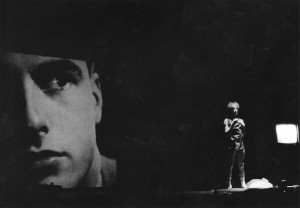 Sackville I'm Yours 15 minutes 1972
Conundrum Clinique 14 minutes 1981
Disheveled Destiny 29 minutes 2000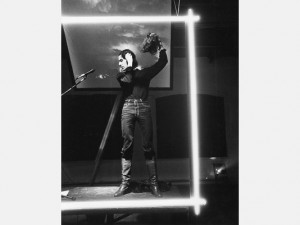 Sackville I'm Yours 15 minutes 1972
This was Colin's first tape, and a touchstone for much that was to follow, both for his own prolific musings, and everyone else's. Oh yes, the old days of video art, when editing meant taking out a razorblade and sawing through a ribbon of tape. As a result, editing didn't happen all that much. Sound was going to get funneled live into that little nipple of a microphone perched onto the camera, ensuring maximum line hum and glorious mono. The image was grey and white and soft, so very soft, a look made newly possible by generations of kid's cameras. But this was the portable video camera that was going to lead the revolution, that was going to put "television" into the hands of "us," and with our brave new pictures we were going to take down the Man, the establishment, the five corners of the Pentagon, the racist Pigs, the empire State, you name it. Big dreams for a low fi medium. Colin plays it closer to the chest, as usual, in this one take, basement production. He had trained as a sculptor, made some large inflatable abstracts down in Berkeley while the world was busy ending all around him, and then took the first job he could get, teaching art in the modest backwater of Sackville, New Brunswick. Their underachieving football team had enough bake sales to buy a video camera so the coach could figure out what was going so terribly wrong, and Colin was able to borrow it in the off-season for this charming, no frills production. He plays the first of his many personas, "Art Star," a legend in his own mind, in the midst of (sigh) yet another media interview. When will those reporters ever stop bothering him?
"Of course Sackville was hardly an art center, and video was hardly an entry to stardom. As a "talking head," Campbell mimicked the TV interview format, and his unclothed shoulders implied he was revealing ALL to the probing camera eye… all the truth, nothing to hide. It was exactly what the camera could not see, however—the body and the background, the mind behind the words-that remained at issue, and would so remain for both Campbell and for others." (Peggy Gale, Invention Catalogue, Art Metropole, 1993)
Conundrum Clinique 14 minutes 1981
This tape is from Colin's "second period" of work, which offered colour (!), pop songs, and minimal dramatic scenarios, (one scene, one take). The best performances were usually Colin's, with his wry wit and easy humour, and here he reprises a persona from a videotape made by Lisa Steele five years earlier (The Scientist Tapes). He plays a NASA scientist, how else to poke away at the mind/body dualities that continued to rage through the cultural hormones? He pulls apart the image of those lab coated superhumans, returning hyper-rationalist militarists to a melodrama of sex and violence. He has two lovers in Clinique, his boss (played by Ann McFarland) and the gorgeous Alex Wilson, who died of AIDS several years later. Alex's death cut across the Toronto art world, and few were affected as much as Colin, who was part of Alex's care team, made to watch while Alex shrank slowly away (these were the pre-cocktail years). In Clinique, Colin's monologue based writing holds sway as he recounts (again!) the circumstances of his own death, suspended between a chance encounter and his duties in space.
Notes and marginalia: This tape (in its original, two-screen, 36 minute incarnation) was commissioned by Tanya Mars and Rina Fraticelli for the performance extravaganza Picnic in the Drift. Five years later Colin shot Tanya as Queen Elizabeth in her first tape called Pure Virtue . She appeared frequently in his work, as did many other performance/media artists and icons (John Greyson, Johanna Householder, Lynne Fernie…)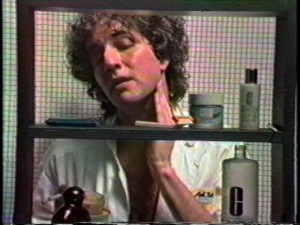 Disheveled Destiny 29 minutes 2000
After taking a break in the early 1990s to write a couple of novels, Colin returned to video making with a crack queer team of picture perfects: Marg Moores and Almerinda Travassos would be responsible for much of the surface polish and studious attention to detail that marked his final 'period' of making. In this suite of works, begun with Rendez-Vous (1997) and finished with Que Sera Sera (co-made with Almerinda in 2001), Colin revisits his "old" characters. Continuing to deal with the art of the possible, he turned his attentions towards mortality, aging and death. Naturally he offered a light touch to these weighty matters, like in this turn of the century production where "Art Star," his very first Frankenstein, returns to Sackville on his silver anniversary. He meets other artists and speaks to them about their work, and interweaves these documentary moments with camped up recollections and stormy weathers. The millennium is coming and Art Star is ready, hopefully he won't be running out of gas again, and the blue haired boy will find love in the back seat after all. Don't tell him he can't go home again, he's already been there and gone.