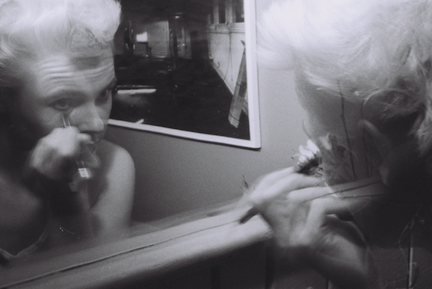 be sure to check out www.annettemangaard.com for more on Annette
Former painter puts visual effects in focus by Christopher Hume (Toronto Star March, 1980)
Wacky road flick takes you on a cosmic trip by Geoff Pevere
(Toronto Star, April 1988)
Four Little Sagas by Shaffin Shariff (Georgia Straight June 1989)
Wrap your arms around this little gem of a film by John Haslett Cuff (Jan 1, 1993)
Former painter puts visual effects in focus by Christopher Hume
Originally published in the Toronto Star, March 11, 1980
While all around her rush to embrace video, experimental filmmaker Annette Mangaard has remained true to celluloid. "Video would be a lot cheaper," she sighs, "and make it easier to get grants. But there's something about the film image that's so much more romantic…"
The lights have just come up at an afternoon screening of three films by Mangaard at YYZ (1087 Queen St. W.). The program – The Tyranny of Architecture, The Iconography of Venus and There Is in Power… Seduction – lasts a mere 20 minutes but covers a lot of ground, literally and figuratively.
Tyranny at 10 minutes, is a short yet langorous interior monologue accompanied by a whirl of exotic images, many shot in locales such as Tunisia and Venice. In her voice-over, Mangaard describes the places she has lived and how each affected her. The tone is personal and self-exploratory. Although there are connections between what we hear and what we see, the latter reads more like a filmic depiction of what the brain registers as the world flashes past, as if viewed from a train window.
Iconography, a more political work, is a five-minute exploration of "women being set up as an icon and put on a pedestal." Mangaard, a former model, presents the Ideal Woman as she has been portrayed through the millennia. Along with the Willendorf Venus and the Venus de Milo, Princess Anne – Princess Anne? – make an appearance in this quickie polemic.
Mangaard, who began her career as a painter, endows her films with enough visual effects to fill half a dozen exhibitions. Footage shot in Super 8 is reshot in 16mm and printed optically frame by frame. The result is a grainy textured look with images saturated in colour. As she says, "It's a lot like painting."
But like any filmmaker accustomed to operating on a shoestring, Mangaard yearns to make a full-length feature. That's still not yet possible but she has finished a half-hour "new wave comedy" titled Northbound Cairo, her most elaborate work to date. It will be premiered at the Rivoli (333 Queen St. W.) at 9 p.m. on April 12. Mangaard's YYZ program will be screened Tuesday through Saturday at 1 and 3p.m. until March 19.
Wacky road flick takes you on a cosmic trip by Geoff Pevere
Originally published in The Toronto Star, April 8, 1988
A road movie drawn to emotional, sexual and intellectual dead-ends, Annette Mangaard's quasi-narrative Northbound Cairo (at the Rivoli, 332 Queen St. W., Tuesday at 8 p.m.) nevertheless covers an enormous amount of distance. In the less than 30 minutes it takes to unspool, this deadpan, de-naturalized comedy takes on art, commerce, desire, gender conflict and the nature of fiction itself.
The story of an overnight trip to a lakeshore taken by a sculptor's family and two photographers, the film plays out its tale of unrequited passion (girl photographer loves boy photographer who doesn't love her back) against a background that's anachronistic. Not only does the verbal tug-of-war between the characters (who toss weighty, $10 concepts at each other as carelessly as Frisbees) seem puny in comparison to the natural splendor that surrounds them, many of their conversations take place against rear-projected images of faraway Egypt.
An inventive, enigmatic and frequently funny work, Northbound Cairo specializes in such cosmic juxtapositions. The cleverest instance takes place in a roadside restaurant where the bickering group has stopped for a bite. Thick with jungle foliage and shot with a wildly careening camera, the scene suggests that our travellers might have stopped to have lunch with Tarzan. When their waiter appears – a black man bedecked in head-dress, beads, paint and straw skirt – he reads off the daily specials with all the skilled, imperturbable snootiness of Sir Kenneth Clark touring the Louvre.
Four Little Sagas by Shaffin Shariff
The films of Annette Mangaard. Playing Friday to Sunday (June 23 to 25) at the Cinematheque.
Originally published in The Georgia Straight June 23-30, 1989
It's both tempting and convenient to think of Annette Mangaard's films as experimental. But that label only applies to the films' shoestring budgets, grainy looks, and mostly non-sync sound. Otherwise, Mangaard's films are thoroughly accessible meditations on the nature of people, power, and places.
In There Is in Power… Seduction, which runs five minutes, telephones and watches become symbols of status, as sexy and seductive as bedroom partners. In The Tyranny of Architecture, a 10-minute exploration of how we live, the voice-over doesn't match the footage, creating an alert discrepancy between different levels of experience.
Mangaard's most ambitious work, the 27-minute Northbound Cairo, is her most straightforward. In fact, it shows unexpected flashes of humour throughout as it charts the journey of two photographers fated to end up at different destinations. Not quite a travelogue, the film tracks the emotional progress of the duo when they join the family of a successful artist – a man who quite proudly proclaims that he has found a way of separating life, love and art into neat, manageable compartments. Of course, the film's point is the absurdity of doing that – even if such artificial distinctions make it possible for one to achieve commercial success.
Although each work is different, together the films earnestly deconstruct how women act and react. In the shorter films, Mangaard's voice-overs exert a powerful pull, becoming vastly more mesmerizing than the footage. Overall, however, these films have neither the vigour nor the rigour to make them truly experimental – they won't provoke passionate debates. In fact, the films are positively cool (unlike TV, movies are supposed to be hot). But while it lasts, Mangaard's collection is diverting and amusing in equal parts.
Wrap your arms around this little gem of a film by John Haslett Cuff
Originally published in The Globe and Mail, January 1, 1993
The half hour is the programming and economic foundation of television and as such is a much abused and misused unit of broadcast: time. At the high end of the half-hour spectrum there are sitcoms, newscasts and such current affairs shows as Man Alive or Marketplace, and at the low end, game shows, reruns, tabloids and infomercials.
And then there are complete anomalies (CBC, today at 2 p.m.), a show that falls into none of the aforementioned categories. Under the creative direction of producer Rena Krawagna, this showcase provides a unique opportunity for new filmmakers to develop and display their craft. It is an anthology series and unique because there is no predetermined formula to confine it except the time slot itself. Many of the films are original works of fiction, short stories on film through which filmmakers can exercise a degree of creativity that is simply not possible within the highly formulaic and very expensive frame of series television.
And occasionally, a genuinely exciting talent finds deserved exposure on Canadian Reflections as is the case today. Let Me Wrap My Arms Around You is a layered, lyrical look at love that compresses an astonishing array of ideas and images into about 28 minutes. Written and directed by Annette Mangaard, the film is about a woman (played by Anne Wessels) recalling the one great love of her life, a romance full of pain and yearning (is there any other kind?) played out against the stark background of an Inuit settlement in the Arctic.
Part diary, part therapy, part confessional, the character's memories are illustrated by home-movie footage shot in the Arctic along with some unforgettable images that are quasi-baptismal (yet also representing the drowning feel that is love). It is an exceptionally intelligent, moving and informative film, not least because it packs so much into such a short time. Let Me Wrap My Arms Around You is a spiritual and emotional odyssey, but it is also a cross-cultural and geographical journey with a richness of ideas all too rare in longer television films with bigger budgets.
Television Reviews by John Haslett Cuff
Originally published in The Globe and Mail, December 28, 1990
A little earlier in the day, however, there is something unusual and intriguing on the tube. A Dialogue With Vision (CBC at 2 p.m.) is another commendable entry in the Canadian Reflections series. Subtitled The Art of Spring Hurlbut and Judith Schwarz, this eloquent, painterly film attempts to illuminate something of the creative process, both visually and verbally.
Director Annette Mangaard, who apparently began her career as a painter, explores the work and thoughts of Hurlbut and Schwarz with great style, imagination and intelligence. There is density in this 24-odd minutes, more than is easily absorbed in one sitting, for the artists and the concepts discussed are not as simple as sound bites. Most important, the viewer ends up wanting to know more, to talk at length with these artists and explore their work in person. Mangaard has achieved a compelling fluidity in both her visual and narrative presentation, no easy task since the film often borders on pretentiousness with such references as "the phenomenology of being." But the passion and sincere commitment (this is hard work, manual labour) of all three artists prevail.