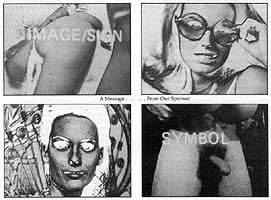 Originally published in the Toronto Star, September 1, 1980
Ottawa's National Gallery narrowly escaped a mess of trouble by screening a nine-minute experimental film, A Message From Our Sponsor four times in July with ten other short films from across Canada. A gallery Centennial project, the package is slated for a cross-country tour this fall. The eleven films were to have shown in Toronto at the Funnel Theatre on King Street East on September 25 and 26. But Message by Vancouver movie maker Al Razutis has been withdrawn and gallery personnel are breathing a sigh of relief.
Message was submitted to the Ontario Censor Board which advised that three sequences violate the Criminal Code and anyone distributing or showing it could be liable to prosecution. The scenes, Razutis admits, involve fellatio, masturbation and implied sodomy.
It ran in Ottawa uncut and without being shown to the censor board because there was no admission charge, at the Funnel there would have been and the law states that any film, short or feature, must have board approval if shown for monetary gain.
Ontario Provincial Police, who hadn't seen the film, advised officials of the National Gallery and the Canadian Film Distribution Centre that they could be charged if the film were shown publically. The other ten films will be screened at the Funnel and across the country and audiences will be informed why Message is missing. "I'm not happy with the behavior of the National Gallery," says Razutis.  "They undertook the film without any cuts and having full knowledge of its contents. The three scenes are not overly disguised, though the colour is washed out a bit. They weren't included to arouse prurient interest but to show the manipulation of women in advertising. The intention was not to be pornographic and the film was not for general audiences."