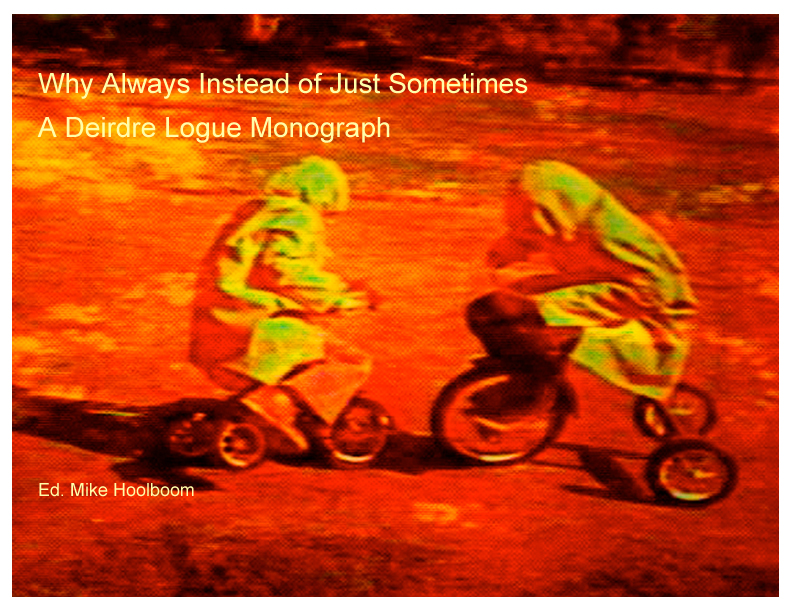 Deirdre launched her suite of new mini-movies at the Gladstone Bar in the fall of 2005. Roberto was still alive then, I think the entire presentation was his idea. The necessary pressure (the deadline, the hope of a waiting crowd) arrived at his invitation. He strode in that trademark swagger (part disco queen, part defensive huddle) to the front of the room and breathed sweet leaf over everyone in the first few rows and told us everything about Deirdre that we already knew and wanted to hear again and again. She followed soon after, choked to the core, and while I'd seen her command rooms twice that size, hold the nut in the palm of her hands and roll it this way and that, tonight she looked so grateful anyone had come at all, never mind a ballroom full of standing-room-onlys squeezed tight against the back wall. She showed us a dozen performance briefs she called Why Always Instead of Just Sometimes and in the days ahead I called some folks and asked if they could spare a few words about what they'd seen. If I had money, or even ambition and time, I could have waited for the gallery soirees and catalogues to blow the gloss away from, but aimed for this instead, a virtual catalogue stuffed with friends and smartniks.
Why Always monograph
Editor: Mike Hoolboom. 2006
70 pages
Against Autobiography by Steve Reinke – 3
Circles of Confusion by Jon Davies – 7
Notes from an Editor by Aleesa Cohene – 14
13 Things I've Been Meaning To Tell Her by Marc Glassman – 17
Can You Hear That by Sarolta Jane Cump – 22
Grown Ups Don't Make Video Art by Emily Vey Duke – 25
Setup/Punchline/Repeat by Daniel Cockburn – 28
Some Thoughts and Attempts to Articulate Reactions to "Why Always Instead of Just Sometimes," a 33-minute videotape in 12 parts by Deirdre
Logue – 34
My Jaw Aches by Brenda Goldstein – 38
Why Not Always by Mike Hoolboom – 41
I Hate Deirdre Logue – 60
When I Need To Be Somebody Else by Deirdre Logue – 63
Why Always Instead of Just Sometimes: Script – 65
Biography – 67
Description of Why Always – 68
Deirdre Logue bio
Deirdre Logue works as the Development Director of Vtape and has served as the Executive Director of the Images Festival and the Canadian Filmmakers' Distribution Centre in Toronto. Deirdre is perhaps best known for her series of short handmade performance collections entitled Enlightened Nonsense (2000) and Why Always Instead of Just Sometimes (2006). Deirdre Logue's film, video and installation work focuses on self-presentational discourse, the body as material, confessional autobiography and the passage of 'real' time. Solo exhibitions have taken place at YYZ Artist Outlet, the Berlin International Film Festival, Beyond/In Western New York, Ottawa's video art Biennial, Art Star and Articule in Montreal. She has curated screenings and exhibitions for festivals including Rendevous with Madness, Mix Experimental Film and Video, Ann Arbor and Images, as well as galleries like YYZ and Dunlop Art Gallery.