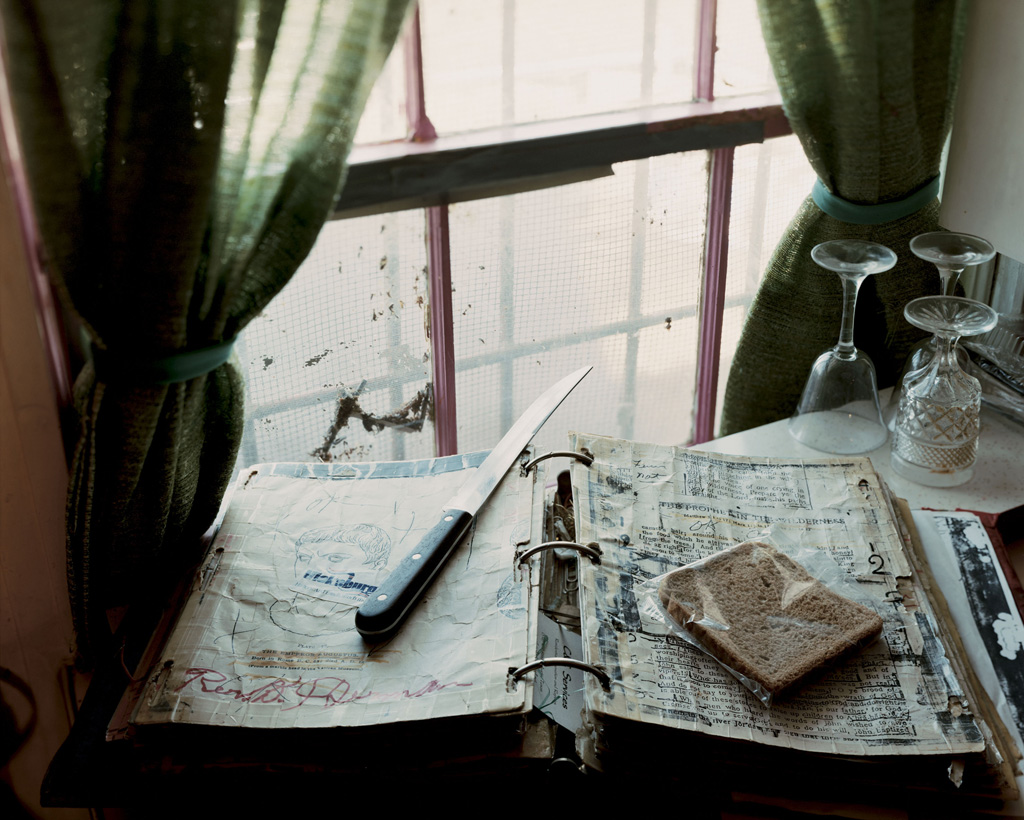 SHOW & TELL: MIKE HOOLBOOM
April 19, 20, 2014
Each of our quarterly calendars contains hundreds of films and videos all grouped into a number of series or categories. Along with preservation screenings, theatrical premieres, thematic series, and retrospectives, we're equally dedicated to presenting work by individuals operating at the vanguard of non-commercial cinema. Each month we showcase at least one such program, focusing on moving-image artists who are emerging, at their peak, or long-established but still prolific. These programs are collected under the rubric SHOW & TELL, to emphasize the presence of the filmmakers at each and every program.

This calendar brings visits from prolific Canadian filmmaker Mike Hoolboom, who will present a program of shorts as well as two recent feature films. This series is made possible in part with public funds from the New York State Council on the Arts' Electronic Media and Film Presentation Funds grant program, administered by The ARTS Council of the Southern Finger Lakes (www.NYSCA.org, www.eARTS.org).
Upcoming Screenings
SHOW & TELL: Mike Hoolboom's PUBLIC LIGHTING
 April 19 at 6:30 PM
SHOW & TELL: Mike Hoolboom's LACAN PALESTINE 
April 19 at 8:30 PM
SHOW & TELL: Mike Hoolboom SHORTS
 April 20 at 8:00 PM
Film Notes
Anthology welcomes Mike Hoolboom for three programs surveying his diverse and challenging body of work. Hoolboom is a major figure in contemporary Canadian experimental cinema, predominantly as a film- and video-maker, but also as founder of the now-defunct magazine, THE INDEPENDENT EYE, co-founder of the artist-run exhibition group, Pleasure Dome, and author of numerous articles and books on avant-garde filmmaking.
An astonishingly prolific and restlessly searching artist, Hoolboom has made over 50 films and videos since 1980, comprising short, mid-length, and feature films, and running the gamut from found-footage works and hand-processed films to experimental documentaries and home movies. Since being diagnosed as HIV positive in 1989, Hoolboom's work has gravitated towards themes involving the body, disease, AIDS activism, and impermanence. In the words of critic Geoff Pevere, his films and videos demonstrate "a consuming interest in navigating the outer limits of perception, of language, of self, of mechanical reproduction, of bodily sensation and experience (and most recently, and surprisingly, of the discourse of nationhood)." These programs will showcase his recent feature-length collage film, LACAN PALESTINE, as well as the earlier feature, PUBLIC LIGHTING (2004) and a program of short works from throughout his career. Special thanks to Jim Supanick.
PROGRAM 1: 
PUBLIC LIGHTING
 (2004, 70 minutes video)

This film examines the current media obsession with biography, offering up "the six different kinds of personality" as case studies and miniatures, possible examples.
"Surpasses even the beauty of his most recent work, IMITATIONS OF LIFE. Visually dense and hypnotic while brimming with the kind of penetrating ideas one associates with Godard, PUBLIC LIGHTING ponders the ways in which seeing and hearing affect human consciousness." Robert Koehler, VARIETY
PROGRAM 2:
 LACAN PALESTINE (
2012, 70 minutes, digital
)
"Mining a wealth of material from TV news, documentary, fiction, and fantasy film, LACAN PALESTINE is a visual roller-coaster, with Hoolboom using cinema to suggest Palestine as a place of recurring psychological-colonial-projection – a space whose conquest is here spectacularly re-lived in celluloid waves of armed crusaders, legionnaires, Mongol horsemen, biplanes, and machine guns. […] Dizzying in its technical and conceptual density, LACAN PALESTINE is truly incomparable cinema." Nick Denes, London Palestine Film Festival
"Hoolboom shows Palestine as the setting of a love story without love – with Moses, Abraham, and Jacques Lacan in the main roles." Jihlava International Documentary Film Festival
PROGRAM 3: 'BUFFALO DEATH MASK' AND OTHER STORIES


Buffalo Death Mask (2013, 23 min, digital)
A conversation with Canadian painter Stephen Andrews returns us to a pre-cocktail moment, when being HIV+ afforded us the consolation of certainty.
Work in Progress (2014, 40 minutes, digital)
A romantic Marxist essay shot entirely in super-8 featuring Andrea de Keijzer and Erin Robinsong. Post-occupy portraits making visible the forces that capital works to hide. The gestures of work and the gestures of love.