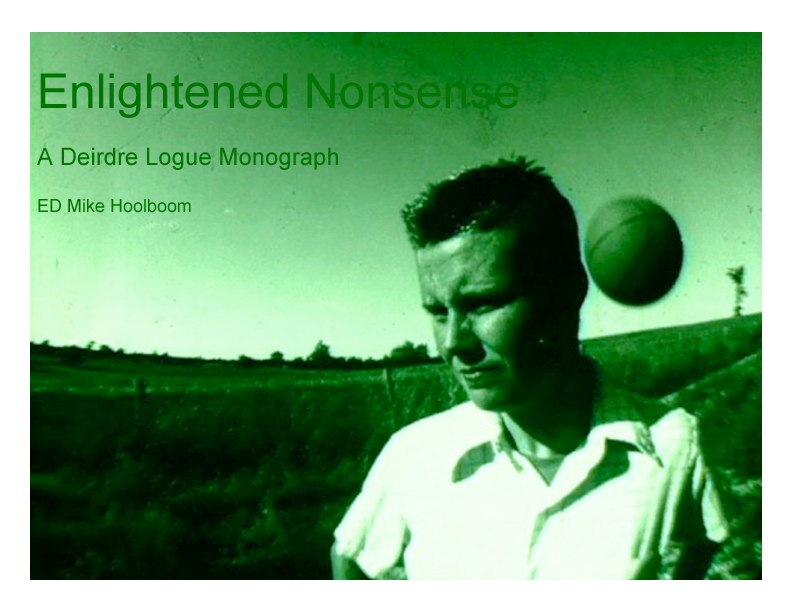 Here is a small collection of writings and thoughts on Deirdre's first major work, a suite of ten performance miniatures called Enlightened Nonsense (22 minutes 1997-2000). They look like a mash-up of body art and experimental film, the good light pouring through a body that is taped, planted, stitched, fallen, milked, scratched, blinded and beaned. All in the name of art of course.
Enlightened Nonsense monograph
Editor: Mike Hoolboom, 2006.
59 pages
Site Specific Symptoms by Deirdre Logue – 2
Deirdre Logue interview by Karyn Sandlos – 6
Deirdre Logue's Enlightened Nonsense by Mike Hoolboom – 18
Transformer Toy: an interview with Deirdre Logue by Mike Hoolboom – 21
Women, Nature and Chemistry: Hand-Processed Films from the Film Farm by Janine Marchessault – 28
Beyond the Fringe-handmade filmmaking still finds its place in experimental film by Larissa Fan – 34
The Performative Body: From Primal Fantasies to Perversion by Carol J. Moore – 36
Enlightened Nonsense description – 54
Enlightened Nonsense Credits – 58
Deirdre Logue bio
Deirdre Logue works as the Development Director of Vtape and has served as the Executive Director of the Images Festival and the Canadian Filmmakers' Distribution Centre in Toronto. Deirdre is perhaps best known for her series of short handmade performance collections entitled Enlightened Nonsense (2000) and Why Always Instead of Just Sometimes (2006). Deirdre Logue's film, video and installation work focuses on self-presentational discourse, the body as material, confessional autobiography and the passage of 'real' time. Solo exhibitions have taken place at YYZ Artist Outlet, the Berlin International Film Festival, Beyond/In Western New York, Ottawa's video art Biennial, Art Star and Articule in Montreal. She has curated screenings and exhibitions for festivals including Rendevous with Madness, Mix Experimental Film and Video, Ann Arbor and Images, as well as galleries like YYZ and Dunlop Art Gallery.