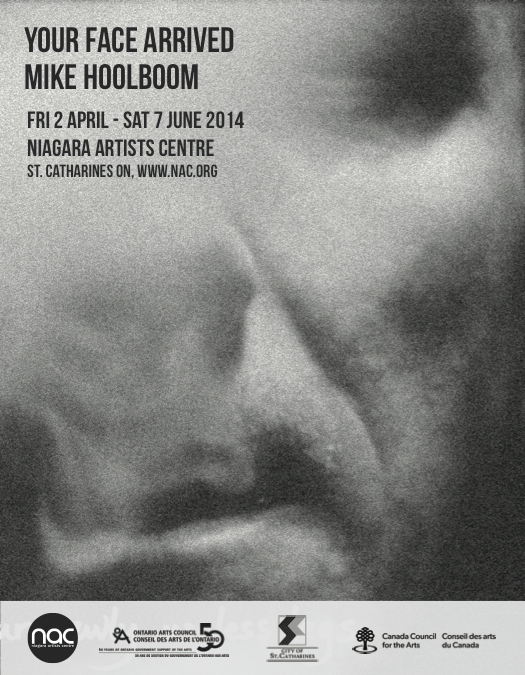 Niagara Artists Centre April, St. Catharines 2-June 7, 2014
Your Face Arrived brings two deeply personal, multi-award winning AIDS movies into conversation. Frank's Cock was made in the heat of the plague years, fueled by Callum Keith Rennie's blood perfect monologue, it won a Golden Leopard in Locarno and was named the best Canadian short at the Toronto International Festival. Twenty years later, Buffalo Death Mask convenes a laughter-filled hauntology between film artist Mike Hoolboom and Canadian art genius Stephen Andrews. Winner of the FIPRESCI (International Film Critics) Award in Oberhausen, as well as awards in Zagreb, Ann Arbor, and Bucharest.
"For more than two decades Mike Hoolboom has been one of our foremost artistic witnesses of the plague of the twentieth century, HIV. A personal voice documenting and piercing the clichéd spectrum of Living With AIDS from carnal abjection to incandescent spirituality, no surviving moving image visionary surpasses him. Buffalo Death Mask is a three-part meditation — visual, oral and haptic, both campy and ecstatic — on survival, mourning, memory, love and community. A conversation between Hoolboom and visual artist Stephen Andrews, both long time survivors of the retrovirus, floats over what seems to be a dream of Toronto and some of its ghosts. No one savours the intimations of immortality inherent in recycled footage like Mike, no one else understands how processed Super 8 can answer the question 'Why are we still here when so many are gone?' Tom Waugh
Artist Statement
The AIDS crisis asked each of us so many questions, including: what is my body? This illness was not like other afflictions or viruses that would be hosted inside the body for a time, this was an illness that had come to stay. Am I the AIDS virus? Where does my body stop and the virus begin? In Buffalo Death Mask a hand reaches into light to pose similar questions about perimeters, boundaries, separations. What is not this body? What does this body not contain? What could possibly be separate from it, now that it has been touched and stained and reconceived by this ingenious virus, that has linked so many of us around the world in a common cause of sorts, as if we were all parts of one body. Is the hand reaching out trying to escape its fate, its status as a hand that has AIDS, that is AIDS? Is it a hand reaching out to other hands, in solidarity, or a hand longing to touch, for one more kiss, as Jarman says with such solemn lightness in his AIDS memoir Blue.
Each of these movies tries to extend the AIDS narrative into non-positive faces and spaces, wider circles of acquaintances are also part of the story being told. The movies offer bodies that do not stop at the skin, but open to become memory, language, shared experience, affect. I am your mouth when I taste the food you make. I am your back up hard drive recall for a night when you were too staggered to put the pieces together. The self reappears as a social body, as a collection of pieces, a collective memory. The cocktail that allowed some of us to survive insisted: you only live twice. And this second life was also the living memory our bodies held for each other, not the promise of a more perfect future, but a past engraved in every cell and tissue. We knew exactly how many faces it took to create an audience. To bear witness. When your face arrived.
Your Face Arrived
Mike Hoolboom
Show Room Gallery at NAC
Friday 4 April 7:30PM
Join us for an artist talk and film screening
On Friday 4 April at 8pm at the Niagara Artists Centre we're having a screening of Mike Hoolboom's award winning movie Tom to launch his exhibition Your Face Arrived. This one-time screening will be accompanied by popcorn and local luminaries. The artist will be present to receive jokes, chitchat, and answer questions. Won't you come by?
A few words about the movie Tom by Mike Hoolboom.
"A dazzling experimental documentary about notorious cineaste Tom Chomont. With this extraordinary portrait, Hoolboom creates a different kind of biography film, one that eschews traditional realism in order to depict the reminiscences of a fading life lived in the throes of image culture." Diane Burgess, Vancouver International Film Festival
"A magical, hauntingly allusive collage, a celebration of a sexual and artistic outlaw, mixing found footage from across a century of American history." London International Festival
"If, God forbid, P. Diddy ever made a movie about one of his heroes, the concept would probably sound a lot like Hoolboom's Tom, a dazzling experimental picture that pays tribute to underground artist and filmmaker Tom Chomont. Like his Puffiness, Hoolboom doesn't actually pick up his camera and shoot any new film-he instead appropriates chunks from Chomont's extraordinarily large catalogue, and unlike Puffy, turns it into something new and exciting, and spellbinding. It's the kind of film that grabs you, sucks you in, and practically hypnotizes you as your jaw gets closer and closer to your lap." City Newspaper, Rochester
Jury Award, Mediawave Festival, Hungary
Gold Medal, Houston International Film Festival
Voted one of Canada's Top Ten by Canadian Film Critics