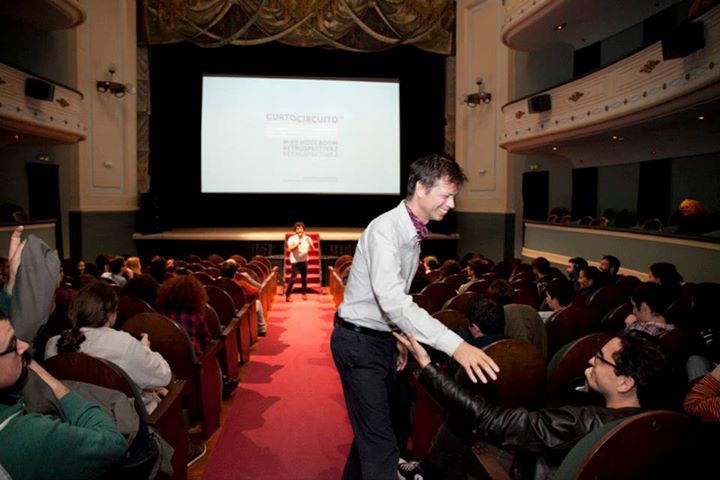 Santiago de Compostela, October 6-11, 2014
Curtocircuíto will be hosting the first retrospective ever devoted in Spain to Canadian director Mike Hoolboom. An absolute reference in experimental cinema, he is the author of more than fifty films, which he has made compulsively since he was diagnosed as HIV-positive in the late 80s. This diagnosis marked the career of Hoolboom, a regular of the underground queer scene in his native Toronto. The AIDS crisis as a traumatic element is the vehicle of his films and videos, in a middle field between documentary and avant-garde. If we had to summarise his filmography, we might as well take these words from the critic Michael Pattison (Sight & Sound): 'Hoolboom's tireless creative energy pervades each individual work: his films are aesthetically maximalist, tonally composite, emotionally complex and thematically dense.'"
The program that Hoolboom has proposed to Curtocircuíto includes three sessions. In the first session, his feature-length film Public Lighting (2004) will be shown, in a new edit that Hoolboom has just completed specifically for the festival. Comprised of an introduction and six studies of the narcissist, obsessive personality built by the media around public figures, this film has been described as a meta-biopic owing to Hoolboom's way of combining personal experiences – with former partners – with different filmmaking techniques. Indeed, this piece is not only a reflection on the melancholic nature of memories, of biographies, but it also works as a small history of avant-garde cinema and, moreover, as an exploration of all of Hoolboom's previous films. Meta-cinema here acts, therefore, at two levels: the personal and the historiographical levels.
This fragmentary nature of one individual theme is also present in Frank's Cock (1993). With four screens in the same frame, the narration is presented by actor Callum Rennie, who tells the actual story of a lover who died of AIDS. As happens in all of Hoolboom's works, Frank's Cock is strongly linked to its time. Aesthetic and narrative links are reiterated with the use of early MTV music videos; there are clear references to the popular culture of those years in the actor's oral discourse.
In this context, talking about the disease involves placing oneself in a situation of vulnerability. This discourse is the focus of the narrative in Tom (2002), a medium-length film that, together with Frank's Cock, completes the second session. In this film about the New York cineaste Tom Chomont, who was also diagnosed as HIV-positive, Chomont himself recounts his life with unusual honesty. With an impressive use of found footage and archive documents, Hoolboom ventures deep into meta-cinema again, drawing on films of all kinds from the origins of cinema, to illustrate Chomont's story.
Lastly, the third session will begin with Damaged (2000) and Buffalo Death Mask (2013) and end with a preview of Hoolboom's new pieces. Buffalo Death Mask is one of his most celebrated films, one in which the word – of great importance in the work of this Canadian filmmaker – becomes especially relevant to describe, again, the fears and hopes of the queer community. As to Damaged, its discourse is also focused on an oral account, illustrating a man's story through photographs. This frequent mixture of the written and the oral word in Hoolboom's films, as well as the fusion of black-and-white archive materials with colour shots, give his cinema a particular aesthetic feeling.
Program One
Public Lighting (76 minutes 2004)
Re-edited just weeks before this screening! (so this ten year old movie is new again, though I couldn´t help contemplate further editorial revisions even as it spooled out into the light again).
"How does one tell a life story? Mike Hoolboom uses the current run on biographies in the media as a chance to identify possible variations to that story, variations presented in his trade-mark magical-experimental style. A writer observes a city and develops "six different personalities" from its movement. Letters, photos, home videos, conversation fragments, recollections of friends—in the memory of posterity, everything that comprises the reduction of a life—become the basis for case studies and miniatures, possible examples. Just as life for Hoolboom is a flow, a long river running, the associative layers of images and sounds overlap in his film, with thoughts and meanings flowing together, and its ending remaining open." (International Leipzig Festival for Documentary and Animation Film, 2004)
Program Two
Frank´s Cock (8 minutes 1993)
"This is one of the most assured films I have ever seen. In the simplest of frames, in monologue, Vancouver actor Callum Rennie plays a man remembering his lover lost to AIDS. Hoolboom fills his words with blood and the space behind Rennie with blood-rich images. Eight minutes of pure, perfect cinema." Cameron Bailey, NOW Magazine
Tom (53 minutes 2002)
"A dazzling experimental documentary about notorious cineaste Tom Chomont. Tom narrates his recollections and transgressions against a dizzying array of found footage, video, super-8 and photographs. At moments, he appears in front of the camera, alternately flamboyant or fragile. His revelations cover a broad scope from sadomasochistic desire through existential vulnerability to an incestuous relationship. With this extraordinary portrait, Hoolboom creates a different kind of biography film, one that eschews traditional mimetic realism in order to depict the reminiscences of a fading life lived in the throes of image culture." Diane Burgess, Vancouver Festival
Program Three
Damaged (10 minutes 2000)
Damaged is a ten-minute portrait of an indecisive man related in eighteen decisive moments. A series of still pictures offer models of childhood, sexuality and adulthood, while a voice-over makes the drive run smooth.
Work-in-progress (18 minutes 2015)
Lensed in Ohio's Broadview Developmental Center in 1967 by secret camera genius and audio visual healer Jeffrey Paull, Scrapbook tells the story of audacious autistic Donna Washington in her own words, as she encounters pictures of one of her former selves fifty years later.
In the Theatre (6 minutes 2003)
Commissioned for The Colin Campbell Sessions by Lisa Steele at Vtape, one of a half dozen shorts made in tribute to one of our video dads. Colin had died suddenly and unexpectedly of colon cancer in 2001, but not before lending grace to more than fourty low tech wonders of cross-dressing satire. An excerpt from his earliest work, Sackville, I'm Yours (made on the Sackville football's team portable black and white video deck) provides a closing note in Hoolboom's video grieving.
Buffalo Death Mask (23 minutes 2013)
A conversation with Canadian artist Stephen Andrews returns us to a pre-cocktail moment, when being HIV+ afforded us the consolation of certainty.
*Lifetime Achievement Award: Curtocircuito International Short Film Festival gives this Honorary Diploma to Mike Hoolboom for a life dedicated to experimental cinema as a filmmaker, writer and programmer. He is a reference to all of us. It has been a pleasure hosting his first retrospective in Spain. May he continue to work for long. (October 14, 2014)
To the Wonder: The films of Mike Hoolboom by Michael Pattison
(Originally published in: Curtocircuito Festival Catalogue, October 2014)
Positive is a double-edged sword in the cinema of Mike Hoolboom. On the one hand, when the Toronto-born filmmaker was diagnosed with HIV amidst the confusion, ignorance and prejudice that pervaded the AIDS epidemic in the late 1980s, to be labelled ´positive´ was to be living under something resembling a death sentence. On the other hand — as is so amply demonstrated in Hoolboom´s own 1996 short Letters From Home — in the decade following the AIDS crisis, positivity in the emotional sense was less an individual attitude than a survival mechanism for an entire community struggling against social misconceptions and institutional failures.
Filmmaking has been a thing of affirmative action for Hoolboom. In the decades since his diagnosis, he´s amassed a body of work comprising more than fifty films of varying lengths. In addition the Canadian has been known to revisit and revise such works — trimming, lengthening and merging them as well as withdrawing them completely from circulation. Hoolboom´s cinema is one of ongoing re-evaluation and self-definition — an observation perhaps applicable to any prolifically self-observing artist, though in this instance things appear to be especially sharpened. Indeed, Hoolboom`s tireless, creative energy pervades each individual work — his films are aesthetically maximalist, tonally composite, emotionally complex and thematically dense.
Hoolbbom´s oeuvre is both historically and culturally specific. His award-winning 1993 short Frank´s Cock is as good an example as any of how inescapably of their time his films are. References to MTV and to iconic, era-defining sports stars (¨the Michael Jordan of sex, ¨the Wayne Gretzky of hard-ons¨) place this eight-minute short thoroughly and aggressively in relation to a contemporary pop scene — a zeitgeist from which it is also at an appreciable remove. Hoolboom heightens this disconnect through avant-garde techniques: multiple frames compete for our attention within his overall composition, while actor Callum Rennie addresses viewers directly in a single-take monologue to camera. If stylistically it´s plausible to imagine this as part of early-90s cable television, in terms of content it´s decidedly less so.
The films respond to their maker´s bodily afflictions in other ways. Hoolboom´s hand-processed works are the product of a physical process involving an intimate care and attention far removed from a depersonalized industrial practice, whereas the ways in which he alters found footage and melds it with his and others´ home movies speak of permanent distortion, a transmutation whereby the new offspring is at once recognisable and eerily displaced — changed forever, and yet the same. Meanwhile, hand-written intertitles and voice-overs-such as those in Buffalo Death Mask (2013) bring a verbal urgency to proceedings. As part of a community much maligned and repeatedly silenced, it is not enough to merely exist — not enough to think, therefore be — the old adage demands a reformulation: I speak, therefore I am.
When such a community´s daily experience is one of fear, misunderstanding and contempt, speaking out and the optimism that entails are themselves sources of vulnerability. Such themes come to the fore in Hoolboom´s remarkably beautiful feature-length essay film Tom (2002) about New York cineaste and filmmaker Tom Chomont. Himself diagnosed with HIV, Chomont recounts his own life with empowering frankness, while Hoolboom situates his story within a wider, cinematic history. The film is an impressive amalgamation of movies from the previous century which it juxtaposes against the unthinkably personal heartache and ongoing preoccupations of its subject as the latter heads towards an uncertain future.
Indeed, in looking both forward and back within the eternal present tense of the moving image, Hoolboom has in recent years touched upon another tension — that between analog and digital forms. Though it´s celluloid whose death agony cinephiles have begun to decry, Hoolboom can´t afford nostalgia: in Tom the piling on of images both digital and analog suggests at the very least a curiosity for change — and all the uncertainty, vulnerability, fear, discovery and wonderment that come with it.