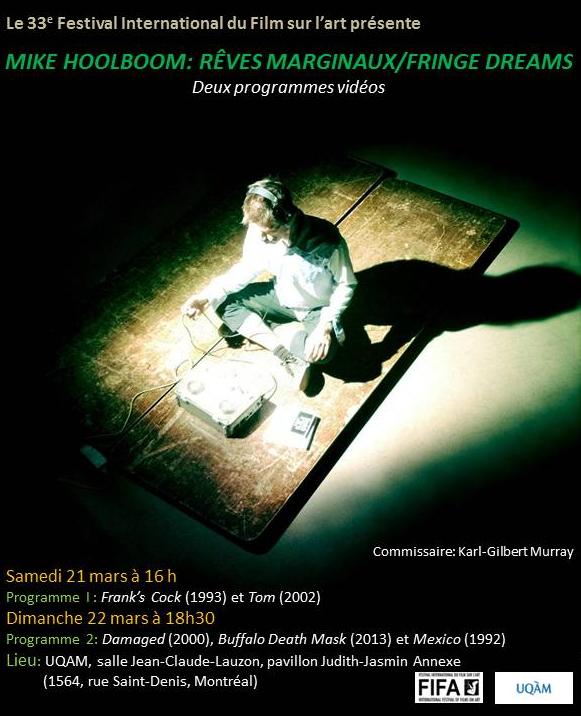 Fringe Dreams by Karl-Gilbert Murray
Of Dutch-Indonesian origin, Mike Hoolboom is a filmmaker, critic and curator who emerged in the mid-1990s as one of the most prolific experimental video artists in Canada. After graduating in media arts from Sheridan College in Oakville, he quickly set out to explore a cinematic style and formal processes that would serve to "reinvent" the language of film.
Resolutely on the fringe, his work explores a number of unorthodox subjects that reflect, more often than not, the malaise felt by marginalized members of society. Formally, he examines stylistic conventions stemming from underground culture. Hoolboom's videos thus explore a multitude of cinematic avenues which, from documentary to fiction, sharply distinguish themselves from commercial productions; they undermine the predefined rules by deconstructing the mechanisms of signification: language and narration.
This is evident in his early films shot with his father's super 8 camera, in which Hoolboom reveals the inner workings of editing, amplifying the movement of the images. This structural objective later took on a more narrative cast, in the form of the essay or personal diary.
Images and memories, recreated through unused or recycled sequences from other films (found footage and home movies) were used to create new ones. This act of renewal, reflecting his interest in rerouting fleeting images, served to explore the themes of death, childhood, body and memory.
In 1989 Hoolboom learned that he was HIV positive; this led to a more political turn for his films. In certain works, including Valentine's Day (1994), he adopts a more conventional narrative form, whereas in the more experimental House of Pain (1995) he provokes the viewer with images of explicit sexual transgressions.
In the late 1990s he became interested in the problems of perception in a mass culture saturated with media images. Shooting Blanks (1995), Dear Madonna (1996) and In My Car (1998), which interweave images from videos, commercial television and European and Hollywood movies, invite viewers to reflect upon the nature of our individual and collective conscience.
In the 2000s, favouring an autobiographical approach, Hoolboom's work began to take on new emotional valences. The series of short films entitled Panic Bodies (1998) is a good example, as it expressed with sincerity his feelings about his HIV/AIDS diagnosis. In 2002, he completed a feature-length biography on New York filmmaker Tom Chomont, which was followed by several works in quick succession: the feature-length Imitations of Life (2003); Public Lighting (2004), an analysis of the media's obsession with the biographical genre; Fascination (2006), a tribute to video artist Colin Campbell; and Mark (2009) a meditative work on the suicide of his long-time editor-collaborator Mark Karbusicky.
To date, he has made over 75 films and videos. They have been screened at over 400 festivals, and earned him some 30 prizes and distinctions. These include the NFB-John Spotton Award for Best Canadian Short Film at Toronto's International Film Festival for Frank's Cock (1993) and Letters from Home (1996), the Tom Berner Award for Community Service, and two Lifetime Achievement Awards, one from the City of Toronto and the other from the Mediawave Festival in Hungary.
Finally, it should be mentioned that Hoolboom was one of the founding members of the Pleasure Dome screening collective (1989, Toronto), a group of filmmakers dedicated to the exhibition of of experimental media, as well as coordinator of the Canadian Filmmakers Distribution Centre (1988-90, Toronto). Since 2004, he has worked on Fringe Online (www.fringeonline.ca), one of the largest online projects devoted to fringe media, which deals with the archiving of documents (interviews, criticisms, essays, etc) on 40 Canadian media artists.
These two screening sessions, featuring five works by Toronto artist Mike Hoolboom, reflect a singular universe. Each video is testimony to the originality of his work in which fringe dreams are conveyed through images appropriated from diverse sources, including Hollywood films and family movies, as well as condensed sequences derived from public and personal archives. Using the art of video to set in motion a variety of formal and stylistic interventions, Hoolboom combines, transforms and reworks film excerpts, inserting them into intimate life stories to question the limits of cinematic language and its mechanisms of reproduction. Along the way, via our senses and individual/collective ideologies, he attempts to modify our perceptual habits. His work is thus concerned with the significance of the film image, the language it employs to convey biographical experiences and certain critical conjunctures: childhood, homosexuality, sickness (HIV/AIDS) and death.
Program One
Franks Cock
This elegiac short video is a song of mourning narrated by a survivor (played by Callum Keith Rennie) of a romantic relationship that abruptly ended with the death of his partner. It relates the story of two lovers, one who is dying of AIDS, the other trying to come to terms with immanent loss. Shown in a split-screen format with simultaneous images of gay pornography, human embryo formation, and video clips, it forms a striking visual metaphor. Establishing a connection between a viral infection and the maelstrom of feelings associated with the loss of a loved one, the film alternates between feelings of happiness and despair as it commemorates — and keeps alive — their ten-year romantic and sexual relationship.
Tom
This fiction film is based on the life of filmmaker Tom Chomont (1942-2010), an emblematic figure of the New York underground. Its visual framework is derived from personal archives and filmed interviews, creating a veritable visual cyclone of Hollywood clips and films by Chomont (Phases of the Moon: The Parapsychology of Everyday Life (1968), Sadistic Self Portrait (1994), etc). Without falling into mimetic realism, the film concentrates on the reminiscences of a man nearing the end. Using New York as its backdrop, it portrays Chomont through his fantastic stories, illnesses (Parkinsons, AIDS), romantic relationships, and sexual practices (SM and fetishism), unveiling both his flamboyance and vulnerability.
An avant-garde filmmaker and photographer, Tom Chomont produced and directed over 40 films between 1962 and 1989. In 2010, filmmaker Jim Hubbard and director-restorer Ross Lipman (Senior Film Preservationist, UCLA Film and Television Archive) paid tribute to him at the Museum of Modern Art in New York with a screening of several of his works.
Program Two
Damaged
A retrospective based on an introspective vision, this stream of still pictures, unfolding to the rhythm of the voice-over (Steve Reinke), portrays a man who visually exposes his psychological "faults." Recounting eighteen decisive moments in his life, and dissecting both his genetic and cultural heritage, the work delimits a transitory space in which each image crystallizes one of these indistinct marking points. Bringing together a number of collectively shared experiences, Damaged presents a series of significant events — some pleasant, others less so — evincing the complexity of the stages of life and offering models of childhood, sexuality and adulthood that denounce the transmission and acculturation of stigmatized identities.
Mexico
Quintessentially cinematic, this filmed narrative by Hoolboom and Sanguedolce manipulates a series of disjointed images, edited to create an uninterrupted unity of shots. Pure visual poetry, it takes the viewer on a timeless voyage with images of an archaeological museum, a dinosaur cemetery, automobile factories and a bullfight, all recorded during a trip to Mexico. They serve to denounce the role played by cultural exoticism in value systems encouraging acculturation. Through a personal interpretation of memories, stories and experiences, the work attempts to demystify our desire for an elsewhere: exoticism, in a word. By examining social inequalities, it also seeks to unveil the half-truths and stereotypes that we retain with economic development and North American free trade.
Buffalo Death Mask
Against the backdrop of an entrancing musical soundtrack, a grainy black-and-white image emerges of a death mask. A few seconds later a pallid face appears which, strangely resembling this mask, stares at the camera. From there, a conversation begins between two HIV friends, Mike Hoolboom and Stephen Andrews, who poignantly but without pathos appear in the background, as a montage of intriguing images illustrate the city of Toronto. These images, symbolically reinforcing the dialogue that transports viewers to an era in which antiviral medicines were unavailable, demonstrate the dramatic impact of HIV/AIDS: the loss of friends, struggle for survival, mourning, memory, love and community life, which are re-evoked as Hoolboom and Andrews looks back on their lives.