Cinema Pauvre and Fifth Column: Caroline Azar interview (February – June  2016) by Mike Hoolboom
Caroline: Toronto circa 1980-88 witnessed a flourish of creativity, wild of the streets, pauper-like. And so the art films made in that time used renegade locales from as north as St. Clair down to King spawning as far west to Roncesvalles and east to the Greenwood Streetcar sleep-barns… a downtown belt: Zostres, film art spread like wildfire. Pre-megacity. The films shown during this time… I recalled microscopic sayings of diverse ruminations, struggles, ridicule, most portraying a witty anguish about what it was like to be a Torontonian, an Ontarian, a born Canadian or alien Canadian out or in, trapped or abroad. Some rad images I'd never seen… like Denise Cooper's carp film called Spot (super 8 mm 1983).
The Funnel experimental film theatre lived right in the center of that city belt line at King and Parliament. A friggin' in the riggin' hub of all fun, picking up where the grimy first wave punk clubs left off, rough scruffs, art nomads bullied by soaring real estate greed, elbowing against each other's subcultures… what tricky business that is. And hosting any subculture in a downtown tension is even trickier, you know? Leaders of subcultures become responsible to compile personalities confirming to furnish their dreams: you might as well be running an asylum, honestly… thankless job but with bouts of thankful memories naturally…
Ross McLaren, master host, filmmaker and one of the founders of the Funnel, the glue between punk and experimental cinema. McLaren's runs with a light-footed Captain Serious beat one second and a Martini Jester the next, a bon vivant way that he supported the many who spliced-in their advert film styles jutting out from other mediums — like sculpture, painting, dance and even math. The Funnel made the non-elite feel elite. Ross wanted this to become a thing in Toronto. I think he succeeded. Look at Toronto, look at us now: Pleasure Dome, Purple Institute, Vtape, CineCycle, 8 Fest, Images, LIFT, Short Film Festival, Videofag, Alucine, Inside Out and Imagine Native are in some way inspired by the Funnel's legacy. And any on that list that I've missed, forgive my loss of memory and ignorance.
I guess McLaren's one flaw was that he was not a politicizing arts whore of an administrator. Let's speak to the McLaren punk masterpiece Crash 'n' Burn (28 minutes 1977) advanced you to the music but also to the rabid energy clearly displayed in his frames: from the stenciling of the titles to the kill sound sneaking in. I don't think anyone has made a film like that since. Crazed. Austere. Exact. Very little was documented on punk while it was occurring and so you would go to great lengths to search for whatever you could find and amongst all the boring lukewarm Canadiana and it was true pride to read about C & B in: Trouser Press, Punk Magazine, Creem, Maximumrocknroll and of course the 'zines. In fact GB Jones and myself featured Ross, his work and the Funnel in Hide Issue #1. Ross was one of GB's teachers and others who were in his class from that era: Denise Cooper, Jack Brown and Rebecca Garrett. Might want to double check on that but I think I am correct.
The Funnel did not play favourites, hailing the experienced as well as novice artists, (i.e. from Michael Snow to us ragged 20-somethings). I think this enthusiasm helped our then barren culture grow. Toronto needed all the help it could get, with what was then a cultural wasteland. It looked like some mega-sized bruised peach tile puking grey matter all over the joint with not much green space in between. And when I say Toronto looked like that, I don't mean like a romantic grimy 70s Mayor Dinkins mafia-ghetto NYC thing. I mean it was this bland, corporate 80s clean toilet bowl peppering a Swiss Brutalism sort of tiny shit floating. But look, on some level we're now missing that amongst all the chic hipster style presently embraced here. Nostalgia is perverse that way. Missing what we used to trash as ugly, and maybe it's because it is an innate ugliness not documented as much as it should've been. But, if you look into the Funnel film archives, many did obsessively document the Toronto I speak of: Toronto of yore. Sad yore. You did. GB did. Ross did. Midi did.
The Funnel's approach to curating artists was stoic and what I mean by this is that there was this particular interest in cinema artists who chose to traverse inexplicably inside this form of film, sanctioning a "take-no-prisoners, going a step beyond Stan Brakhage" and loyal to a mélange of Super 8/16mm celluloid, or clunky boxy video tape 3/4 inch. I guess we were that intersecting generation trying to make sense of all this new information busting out at the time: Semio-agit prop, punk, queer, Xerox art, feminisms, fanzine explosions, performance, abstractions and forms of magic. These severities of data saw raw scary punk, more experimentalism, difficult not generous and just enough of it around to hunger for more, much of it genuine and more. Along with the myriad of hateful neo-con creeps coming out of the woodwork, consorting health phenomena like Legionnaires, HIV-AIDS, herpes and countless other 'plagues' making their way to be commented upon inside this confessional underground.
At the Funnel you had to come in with a filmic and/or hard art purpose because the one thing the Funnel was not was "folksy" and/or "homey." It was not home. You were not to make it your home because that would border on "hippie-like" and "hippie-like" was not what the Funnel was after. So you better bring or do work, represent your thoughts using the medium, the more radical the better. The Funnel was not about making your films 'right,' it was about making them 'real' or 'wrong,' feeding the process of experimental practice. Think-tank, do-tank, drop-in, drop-out but do it with de rigeur. We edited with razor blades and X-Acto knives if proper film tools were broken or missing and you could not afford to purchase them again in lieu of paying an electricity bill or buying food or fixing a flat bike tire. I once stole fruit and cheese at a Dominion supermarket at Sherbourne and Queen so I could pay to develop film. I got caught and was brought into the back room where their security cameras replayed my indiscretions. I later asked them for the footage so I could give it to GB, hence GB Jones' film The Troublemakers (20 minutes 1990). They thought I was out of my mind and escorted me out of the building. The Funnel validated 'Le Cinema Pauvre de Queen et Parliament'. The group of players would have been: Jones, Bruce LaBruce, Tab Twain (Candy Parker), Midi Onodera and myself.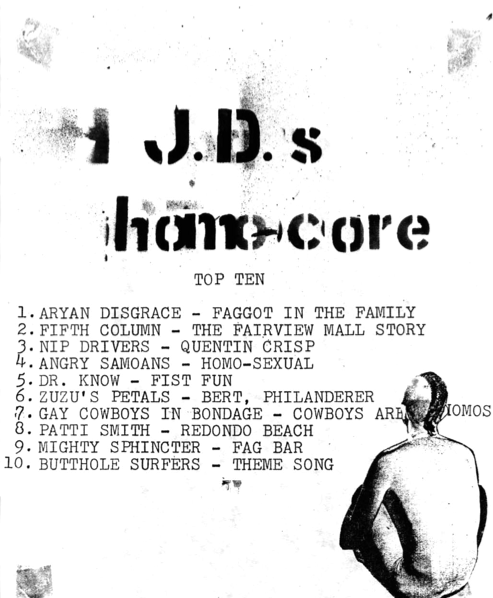 I recall Midi taking on a big role at the Funnel years after McLaren exited and she definitely deserved it, because of her passion and focus for the medium. I recall how deeply involved she was. She made no time for nonsense. Unlike, Ross, who welcomed and worked well with nonsense, Onodera, I believe, was working towards an institutionalized elevation of the Funnel. It made sense that she should see that. I regret to admit the inevitable nature of a woman taking on more burdens to grow something that might require more politicking, inevitably more compromising… there's something painful and sacrificial about that. Am I making a comment about gender and leadership? Guess I am. There is a difference of expectation in that regard. Perverted. Systemic. The pain of the Mother, goddamn Mother. You might not know what I am trying to convey here but it is covert, and on shit days, it is overt. It just is. Am I waiting for that Star Trek future to come where all this gender crap is no more?
Over the years, the many types housed at the Funnel were a voracious, whip-smart, technical, curious and provocative gang. Sometimes at events it was like standing at the shores of a raging river, bubbling wildly with configurations of creative bacteria (both healthy and unhealthy). I noticed a touch of elitism and perhaps snobbery, yet in hindsight, it could have been shyness or trauma, brought on from the many suburbs and arenas most of us stunted child-adult artists escaped from. The film and media work being shown had differing styles and approaches but one thing that was consistent to my mind was the anguish directed against the norms of society. This is common in art, but my point is that in Toronto, at that time… this was IT. Concurrently there was this white, waspy, corporate film entity inviting the Americans to abuse the tax credit, the films from that era were beyond kitsch indeed. (See Jonathan Culp's movie Taking Shelter (99 minutes 2014) about this… experimental and strangely informative.) So back to the Funnel screenings, you could gage how sorely pissed most everyone was and I say this because it showed up in all the work, whether expressionistic, comic-narrative, dramatic narrative and/or non-narrative. Perhaps this was the generation responding to Dr. Spock's baby propaganda. Maybe this was also why breeding was unfashionable during this time (as per Anna Gronau's response about female artists putting off birthing at that particular time.)
John Porter is a big part of our story and our connection to the Funnel. We were a loyal audience but then he bridged Fifth Column's integration into the Funnel's world after we had played for a year. We did a benefit where John shot us playing in front of his projections called Fifth Column at The Funnel (7 minutes 1982). We perform the Varese, punque-inspired tune Those Still Left. Projected behind us was a myriad of Porter's pixelated time-lapsed oeuvres. John led the start of a partnership with Fifth Column that began with his super 8 films playing behind us.
Porter wisely came to the conclusion that the randomness between music and image were not cohesive enough for presentation. We agreed, even as his pixilated fashion show film (Fashion Show 3 7 minutes 1981) in speedy mouse motion wore a prét-a-porter irony by the wail of our punk hysteria. And we all know that 20-year olds love irony! Porter embarked on a new volume of Fifth Column films, where the image would collide with the Fifth Column sound: GB and Kathleen's jagged and heaving rhythm lines, Janet's strident guitar, and the teen witch voices accompanied by my sinistra melancholic casiotone (nb: if you like the soundtrack to Carnival of Souls married to The Shaggs with a touch of Velvet Underground, Fifth Column would have been your cup of tea). The casiotone was all I could afford at the time before the 1955 ELKA organ purchase.
Back to the images: In thinking about how to make the images work, we were determined to veer as far as possible from the VU Plastic Inevitable projections or references. We did this by looping pictures to music. The tactic of looping black and white images had me coin the term: Wallpaper films. (Wallpaper Films: made by John Porter and Fifth Column, 1983-1990, super 8, 50 minutes, a series of 18 films for live music). John and I shot most of them together. The idea was to create moveable situations implying the lyric where you could not gage the start from the end of the action. A virtual modern similarity in presentation format, but less elusive, would now be known as a gif. But a gif is not as seamless as a super 8 loop… never will be. Our ideas and set-ups were winning in their authenticity, romanticism, with the odd cynical commentary here and there. Youth wears cynicism well, but it does have a due date. We're exceedingly proud of that collaboration and I would sure like to look at the films again. It's been awhile. Might make me sad. We really did not need the interweb back then, you know? We got enough done without, but then again. John would join us on tour to show the Wallpaper series. I asked that the band wear all white like ancient mythical demons so we could be the screen holding the image while performing. GB used to wear this stunning, duck-white 60's motorcycle jacket with white jeans and chains. She outdid Nancy Sinatra! When traveling on tour with us, John asked that we keep a look out for homemade pie stands where blueberries, rhubarb and apples were king!
Mike: Here is John Porter describing your collaboration: "Wallpaper Films were super 8 films, mostly silent, black and white, made for projecting with the band on stage. Together (Fifth Column and John Porter) we made 18 Super 8 Wallpaper Films totaling 50 minutes, from 1983 to 1990, and I projected them at most Fifth Column performances, 1983 to 1992, including on some tours. The first films were: Just Jenny's Luck, Boy/Girl, Hit the Dirt, Those Still Left, and Modern Diseases, and they were first shown with Fifth Column in a film performance series organized by John Porter at the Poor Alex Theatre in Toronto in February, 1983-ish."
Caroline: We would all agree on a scenario and then on a site. John did all the camera work and I co-directed, held lights, setting things up you know… very pleasant memory… never any stress; simple, purposeful, uncomplicated. So as per projecting the created images on the band, we were concerned about the Warhol Plastic Inevitable similarity and did want to refer to it but without mimicry if that makes sense, as it was dated, hippie-dippie, amoeba psychedelic imagery projected behind those pesky Velvets. The VU films didn't loop, and they didn't link to the lyrics per se as that was an atmospheric era. We needed to take that format and do the exact opposite. You need to realize that we (Fifth Column) struggled against any rock imagery cliché because we despised rock conventions and we were after something more offensive, formalist, terse, ridiculous, romantic, crazed, unfashionable, and even brutalized. Our lyrics were oblique and so the presentation needed to be precise. Porter put a lot of thought into it, which made him a key creative partner, exploring the meaning of some of mine and GB's lyrics. Kathleen Pirrie Adams (founder) told me when I joined the band (circa 1980) that I better earn my 'keep', as in: write lyrics, pick up an instrument and develop my opinion, my politic. I knew what I liked and did not like, yet I was still incredibly naive. I wish we made a wallpaper film for our song "Science Friction," maybe we used one of the others for it. We used to do that sort of rotation and it usually worked.
Science Friction
Once there were these stories/about a world that loved monsters.
Horrors about the past.
Endless beatings –
Creative torture.
It makes me want to skip off school every other day so I can go home and drool…
About the future, if there is one – justified revenge.
We're all in training to become warriors.
I must think about what I really need to say.
Still I don't wanna go to school no more –
Addition and subtraction just lead to war –
Like Science Friction – control addiction – Everybody's doing it.
Yeah I don't wanna go to school no more
Addiction and Subtraction
Just lead to war –
Like Science Friction –
Control addiction – Everybody's doing it.
And if I ever go to school at all, I'd just end up eating the bad guys all.
Like Science friction – Control addiction – Everybody's doing it.
Lyrics C Azar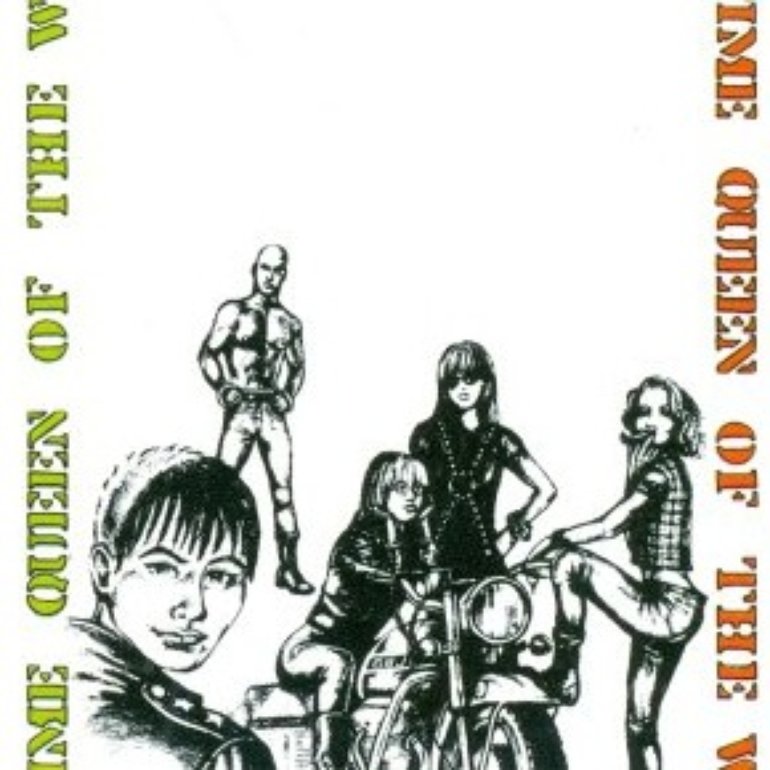 If a song was cut from our repertoire, a film loop usually worked for another song, sometimes it turned out to be even more relevant. In the Fifth Column documentary She Said Boom: A Story about Fifth Column (64 minutes 2012) director Kevin Hegge and his super fine story editor Oliver Hussain used the loops effectively. One wallpaper film I was fond of was a loop that John made on his own for our song "Killer Riddle" (1983). He filmed parts of an episode of (the TV show) Rawhide, where a young Clint Eastwood is drawing a gun over and over again. The musical riff is Fifth Column doing a Bonanza (TV show) shtick. How did those lyrics go again?
What is noble and shining? The angel with the halo or the leader with the chains. Something's got to change. 
The lyrics set up polar opposites: slave to master, tyranny to freedom. The singing and intensity of our music was filmic, when we wrote songs we weren't thinking of rock bands we were channeling film soundtracks. We were thinking of Miklós Rózsa, Mikis Theodorakis, and André George Previn, all European film composers. We constructed songs as if they were soundtracks, so it's no surprise that the Funnel and Fifth Column were a good pairing. We were doing this formalist music stuff, creating it raw and intuitively, so I guess it sounded 'punk' which was convenient of course by way of a label and yes we became poppier later on, but when we started we made soundtrack punk. Later it evolved into what we called "bubble-core".
Mike: How did you first meet John Porter?
Caroline: We were all at the Chelsea Girls (by Andy Warhol, 210 minutes, 2 screens, 1966) screening at the Funnel on February 16, 1980. I came with Candy Parker and Midi Onodera who were my high school art classmates. GB Jones was also there, and I think it was later on that month when I would meet and audition for her 3-piece band. It was named Second Unit at the time, and included Pirrie-Adams. The audition was brokered in a very smoky and crowded girls' washroom at The Edge during The Slits show; they would have been on a break where as I recall their sound was not properly grounded and Arri Up (RIP) was experiencing electrical shocks.
Candy made films under the name Tab Twain. Candy is a variation of pre-fab JT LeRoy. She wanted to make films under the moniker of her true personal aesthetic, the lens of a gay man, which is how she identified herself. We were young and female and very ardent feminists, wearing big teased hair, loads of make-up and gender bending clothes, which at the time was unheard of in Toronto. You were either a femme or a butch, and I guess we were something in between. Concurrently, there were these sandal-wearing lesbian musicians who were folksy and they could not stand us. We did not mind them. While we were in the studio recording one sent us phone threats yelling at the top of her lungs, saying that we were not real women, that we had little right to call ourselves female.
This was a fine example of PC-left hysteria. Maybe this is why in the early days we identified as queer boys, as outsiders with style and smarts; we were misunderstood and glamorously miserable in the same breath. This is not a fag hag thing, cause we didn't need them, quite frankly, as much as they needed us. That sounds arrogant but there is a feeding quality when I speak of gay boys suckling off women for culture and who fucking cares anyway. Perhaps those old lesbos were right anyway, that we were made-up girls identifying… yeah let them be right… Anyway, I am grateful that we could hideaway at the Funnel and also see each other at The Edge for shows like The Slits, Teenage Jesus and the Jerks, Nico and John Cale.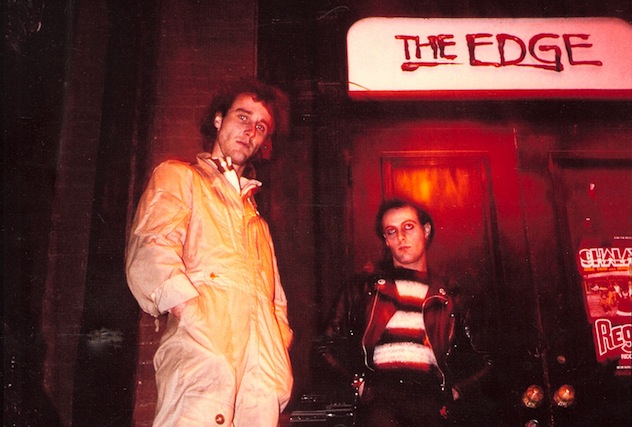 Fifth Column's very first show was at the Subway Room, in the basement of the Spadina Hotel. Jorge Lozano invited us, and in his curation he melded punk, performance and visual art. He adored GB and cast her in his larger-than-life iconoclastic performance at the AGO (Art Gallery of Ontario) also with the aforementioned Rebecca Garrett and Denise Cooper. Jorge is someone I experience as a healthy constant. One doesn't take that for granted.
It was at that Subway Room event people got to know us. My art teacher from high school came to the show. I had just turned 18 and John Lennon was still alive I believe. The day he died it was raining and The Toronto Sun boasted a headline that read: NY GOOFBALL SLAINS BEATLE.
Mike: Did you make films in high school?
Caroline: Yeah. I made a science fiction film called I Was a Tweenage Clone (32 minutes super 8 1977) Candy, Midi and my sister Jacquie were in it. What a weird raw thing that was: Girls tortured in a sort of archipelago jail (our garage), with magic marker filled-in serial numbers on their T-shirts, tied up to chairs hooked up to some fake machine thing that would re-program their desire to break free towards their sense of individuality and personal revolution. The outcome was the escape. But escape to where? To what? At the time I thought I was attacking the patriarchy, but I think the naiveté completely backfired due to its fervent childishness, but I still love it, I wish I could see it again. Fun nutty juvenilia. We all made super 8 films in high school. In the fourth grade at Cedarvale Public School a teacher had us make a super 8 film with slides at Queen's Park (provincial legislature), asking us to photograph people hanging out, set to a hokey song by the band Chicago [hahaha.] Making films pretty much began when I was about ten.
Mike: Were you and Candy and Midi close back then?
Caroline: Yes. We shared an apartment at Walnut and Queen. Midi had me appear in her films, and she also asked my mother Sally to be in one of her films. My mother was applying make-up at her vanity; she was natural, enigmatic and fearless. Midi was smart and lucky to have Sally in her prime. She was a model for the Viscontis back in her day in Milan. Yes, I am a momma's girl.
David Bennell (one of the Funnel founders) was also running the Hart House Film Board, at the University of Toronto. I was at the University College on campus studying theatre, social anthropology and Catholic spirituality. The Hart House Film Board gave us a small grant to make the first Fifth Column film, One If By Land, Two If By Sea (1984). We made it with Midi. When Kevin Hegge made a documentary about Fifth Column (She Said Boom: The Story of Fifth Column he asked Midi if he could use some of its footage for his documentary and she said no, which sucked for him. What songs did we use again? Such a dire no fun film, like Alain Robbe-Grillet on downers. Shit what am I saying, I can't remember it. Maybe if we were to watch it again, memories would flood back in. All I remember is that we were all deeply involved in it. It was a disconnected film about disconnection.
I made another (lost film) called Paco and His Group (13 minutes super 8 1986) about a mariachi band who dance and get more and more drunk and finally attack the audience. It's about decay. They performed up north in the desolate Finch area, I thought they were weird and loved filming them. It played once at the Funnel. I left it there with my other film… apparently it was lost or thrown out, maybe someone has it. Nothing I can do at this point. There was no print copy… the original was in a raw state with clunky cuts all over it.
The other film I made was a sound super 8 film at this queer bar I used to work at called Togethers (It was also called 'Tanks', and before that, 'The Bulldog') which was owned by Janko Naglic, the man who owned The Barn, and who was later murdered (October 28, 2004). Homocore started there as well as in GB's apartment. GB and Bruce used to visit me at this armpit bar when I worked the closing shifts serving closet Dyke strippers, truck-driving UPS Dyke drivers and Rawk singers like Holly Woods, illustrious mullet and all… from thee acclaimed rock band Toronto!
When the bar closed I'd make films, lighting certain portions of the bar. One was a comedy with Bruce, he was like this Jerry Lewis character in a Mohawk and mini skirt. It was called Waiter, There's a Fly in My Soup (12 minutes super 8 sound 1987). I had this boyfriend that used to nag at my lack of culture because I loved John Waters. He was very judgmental and irritating so I thought I would cast him as a judgmental, irritating character, which he played with precision. Bruce played the queerio-mohawked waiter in a tight black miniskirt with Doc Martins who was flirting with the judgmental, straight patron dude.. They were both amazing. More and more flies were gathering into the soup being served to the judgmental patron. That film played at the Funnel and it was later misplaced. I used to curate super 8 film nights at the Rivoli with John Porter. The Rivoli said that if Fifth Column would play a weekend night, they would give us a Tuesday where we could do a film night. Who would show movies? Midi, GB, John, Jim Anderson, Eric Fitz, Chris Gehman, Paulette Phillips, Edie Steiner, Sharon Cook from The Space Invaders and many more people.
Years later I made a multi-media stage comedy called John Nothing vs. The Surreal Detective (co-written with Robert Hawke 1998). Chris Gehman was our filmmaker. Chris was a wonderful collaborator who had a deft hand as a filmmaker.
Mike: Kathleen Pirrie Adams (founding member of Second Unit/Fifth Column) talked to me about the band's relentless questioning of gender, economics, dress codes and politics.
Caroline: Kathleen was seminal. She provoked these discussions around art, capitalism and feminism. It created a constant state of wondrous anxiety, wailing about a reinvention of the artist-self in poverty back in 1980. Sure, we enjoyed rock stars like Siouxsie and the Banshees because they did it right. Even in their fame they were authentic. We were interested in the authentic. I think it was because we were performers who were innately shy, so we couldn't commit to rock 'n rock capitalism 101, which punk inevitably needed to become. In 1983 we were offered a beer commercial for $15,000 that would have bought us a van and more equipment. We turned it down. In the early days, Kathleen definitely coached the group as a leader though there wasn't a hierarchy by any means. She was going for an intense discourse of intellectual fervour and it was very exciting. She and GB and Janet Martin had already been playing in the band for six months before I joined. What was amazing about that time was the need to invent. Never go for a formula. We were like scientists mixing this and that. The failures were interesting, and yes there were more failures than successes. To be that young and have that pure, radical heart was explosive. Every night the emotions and ideas about what the truth was were so big I didn't know if, by the following morning, I would wake up dead. There was no one else saying it in our sphere, and for that reason it was deeply lonely while also exhilarating.
Years later we moved and lived/rehearsed at 363 Queen East, formerly New Rose PUNK store; today it's a TD bank. For shame and blech. But it was a matter of convenience because it meant we would always show up on time for rehearsal in that set-up. I think the entire house cost us all $500 a month. The landlord wouldn't fix anything but we didn't care. I think we did a neat job having it look fun using found objects, poverty is never an issue when imagination is at hand. I would go to Kensington Market and buy a bag of chicken hearts for 99 cents and it would feed us for a week. I would dye them purple and say, "Here are your purple hearts." We all worked at Just Desserts, took home bagels, green pie or badass crumby cake. We were resourceful. You can't do that now as much. 'They' have caught on.
We made a 'zine called HIDE. Candy and Kathleen started it, with GB and I as contributors and then quickly left it in our laps. GB and I made promotional posters that meant literally nothing, with obscure slogans like: "HIDE: Seek in a week." The information was hiding from itself. That must have been the point. We found it hilarious. I've enclosed a page from the Ross McLaren interview for you for this book. There was a Vivienne Dick interview, Kathleen, GB or Candy did that one. I first saw Vivienne's work at the Funnel with some Scott and Beth B films. They had that raw, New York, I-don't-give-a-fuck quality. It gave us news from the street. Here were people documenting who they were and being aware that they were more interesting than most. What was that Vivienne Dick movie called? She Had Her Gun All Ready (27 minutes 1978). We watched a lot of Agnes Varda and Sally Potter. The only one I didn't have a taste for was Barbara Hammer because she was part of that hippie lesbian scene that I'm sorry to say but just comes off as pitiful to me. That division doesn't exist now, but those were the days of: What the fuck are you? How do you identify yourself? In the 80s you had to have an answer. The sandal-wearing, Palestinian scarf lesbians couldn't stand us. The King Street post-punk boys were confused by us. One group would call us sluts, and the other wouldn't know what to make of us. The Funnel was the only place where we felt comfortable because it was about the work not what the person wore. I think there was a creative snobbery from Fifth Column that I can now identify as coming from traumatic circumstances.
My leader wings came to flight as I was instrumental in coordinating our first EP that Kathleen still played on (Legionnaires/Boy/Girl–Monsieur Beauchamp, 1982) We had to commune with a rather unpleasant producer who wanted to screw the guitarist, fire me and sing and play my parts. Fucking weird. Fucking old artist -hippie man in his late 40s wanting to ingratiate himself with young girls (20s) playing their music, or his version of our music. I do not blame Kathleen for checking out at this point. It was pathetic with this dude. He ended up re-releasing our material years later without permission and never paid us, and most of you hipsters are taught some form of art by this particular colonial dude…ha! Anyway, I really didn't want Kathleen to go. I didn't think we would be good at all if she left. I've never said that before. She played with us as a lark years later at Lee's Palace. That was a happy night.
I knew back then I wanted to be a theatre artist but in order to do that I needed to know how to act. I was personally conflicted about performing, but I took a wayward, non-traditional path to jumping in. There were some who did not like my approach and wanted me out of the group, and that made me want to stay in it more. Eventually, with much embarrassment and experimentation, I do consider myself a brave and competent actor, because I stopped caring about acting per se. Fronting a band forces you to 'be' in your performance and not care. Becoming a singer from scratch was a good exercise. I am now more interested in writing parts and roles for others to flourish in. I have been doing so for years now, with a degree of satisfaction and success. At the moment, I am working alongside one of the country's greatest directors.
Mike: It takes courage to make work outside of what is expected.
Caroline: Yes, because the experiments don't always work. If it's always working then you're not making anything different. How could fear not be a part of that?
Mike: Was there a kindred spirit around experimentation at the Funnel?
Caroline: Yes. They were interested in people who were trying new things with film and experimental arts whether visual, or performance-based. It was glorious.
Mike: Did you see "creative snobbery" at the Funnel?
Caroline: Yes, but again, I think it was all anchored in fear; it's like children who haven't grown up. At least I can say that about myself. But maybe the exclusivity and fear feeds into the questioning content of the work. The content of all the good work we're talking about emanates from a lack of trust. You don't trust the constructs: parent, government, bank, school or hospital. Why should you? Every single song Fifth Column wrote, and every single film I saw at the Funnel, always implied, "I don't trust this"… Heteronormativity, homonormativity — all that bullshit. Definitions defining crap expectations. That is the angry side. If you're not angry, what's the point? The other side is a celebration of the simple and John Porter is a great example. His films are like pop art. He looks at something very small and follows it. It's often something we take for granted. John records its rhythm, its movement and growth. The same impulse led us to write a song based on the rhythm of a broken washing machine. It's either pure anger or observation about the minimal. Those were the trends I noticed.
Mike: Did you meet Ross McLaren?
Caroline: Yes, but we didn't hang out with him until the band moved to Queen and Parliament (two blocks away from the Funnel) in 1983-4. The band members lived together at King and Spadina on Camden Street for many years, then we moved to Queen and Parliament. Ross lived nearby. Those summers were so fecund and easy, periwinkle, lavender skies with spots of orange. We smoked, drank and looked fabulous. Ross would come by and we would sit outside, smoking and drinking a ton. Yeah, that's all we did. I remember Ross telling me he would be leaving for NYC to teach. I knew it was a smart choice and he is better off there. He continues to do so what he does very well: teach and make film and do filmic installations. I just saw his installation at Lincoln Centre and it was marvellous. http://news.fordham.edu/arts-and- culture/ildiko-gallery- show-gosier/
Mike: What was Ross like?
Caroline: He was lovely, open and everyone's favourite teacher at the Ontario College of Art. Ross McLaren, Eldon Garnet and Barbara Astman were the teacher superstars. GB versed me in all of the cool talented people to pay attention to, as I myself did not go to OCA. However, I did crash the Kenneth Anger lectures, where that diva would make me his "turn the lights off and on" slave. As per Ross, he had a sense of security, sheer fun and grace even, and he liked what he was doing. He made a mean martini.
Mike: Anna Gronau (former Funnel director) said that people of her generation had fewer kids than the generations before and after. Some of the feminist messages at the time equated domesticity with oppression. How could a woman be an artist and a mother at the same time?
Caroline: I recall that. Especially for women attracted to men, they didn't roll over the way they do now. It is fucking pathetic what I see happening and we are making those monsters thrive from our self-made slavery. In that time, there was more respect between the genders in the art world in Toronto. We had to team up and shove our way onto this transitioning, pre-dispositional, old Toronto. We saw the migration of street culture changing like in time-lapse photography, it was as inevitable as it was perverse. So the idea of making families to me was abhorrent back then because that is what I was running from. In hindsight, I find my stridency a little sad. But back then the family was in your tribe of creation, especially if you were engaging in multi-media. When I think of the Funnel I think of Anna Gronau, Michelle Maclean, Edie Steiner, Midi Onodera and of course GB Jones. It wasn't the girls and the boys, it was everyone altogether. We were like lemurs: egalitarian, ageless and fluid. The Funnel said yes to rock and roll, queers, even trans people who weren't accepted in the queer community at all back then. The Funnel welcomed artists like John Scott and David Clarkson, but also painters from ChromaZone (painting collective), FASTWÜRMS, Colin Brunton. It was inclusive.
Mike: Your former bandmate Kathleen said: "I feel that for me experimental music and film have been about experiencing thresholds. Once you have experienced that threshold and revisited it once or twice it reframes your experience, and doesn't carry the same thrill."
Caroline: That's absolute genius. If I saw Marina Abramovic in 1982 naked and crying in a doorway I would be shattered. If I were to see that today at the Theatre Centre I'd say: Yawn, take a pill bitch. Who cares? The age when you encounter an 'experimental experience' is a major part of the context. When I was eighteen I hungered to see Hans Jürgen Syberberg's 7-hour Our Hitler (442 minutes, 1977). Could I do that today? I don't think so. But I could see anything lengthy that Robert Le Page makes because of the thoughtful way he wants to love and challenge the audience in the same breath. Because he is clear with his intentions for the viewer, I trust him, so I will show up and be fed. I think the healthiest thing for a society is to have kids experience extreme culture, like extreme cinema punk, performance and rap even, but also to experiment with structures — backwards stories, or no stories, structures that make audiences think harder and go to the work, not let it come to you like this godawful Star Wars crap. "The best detective is a child detective." That's a quote from a Go-Betweens song. I think it applies to young artists and audiences who should be more challenged. Today culture is dangerous because it's all so middle-of-the-road. This is the moment for a generation to be messed with in terms of the structure of the message. Experimental films at the Funnel asked: how can you look at messaging differently?
Mike: Can changing the structure be a political act?
Caroline: Absolutely. A basic structure we know is the bible, it's Aristotelian: with a beginning, middle, and end. Any experimental arts philosophy that calls that construct into question brings viewers up against a major ideal that we are bred with, just like mother's milk. It has to be tampered with. Destroyed. Re-jigged.
Mike: What is the legacy of the 70s and 80s, what practices have endured?
Caroline: The physical document. Today documents are virtual, but what was amazing was that we bought books by people who were poor and took risks. We bought records and posters and clothes and everything was emblematic of our individuality. You know the John Fowles book The Collector? We were the most obsessive group of girl collectors. You know how boys gather, organize and catalogue? Now you know it's not common for girls to do that. We were those girls… out of control.
Mike: But also you had no money, so the collections weren't about amassing expensive things.
Caroline: That's right. I worked in memorabilia so I could get stuff at a discount. I hired my friends so they could get stuff at a discount. I worked extra hard so I could get free items in this memorabilia store. Everything was about barter and trade, and it was all about procuring the physical document. High aestheticism on a budget. We would look at things that were really beautiful and ask: How can we do that? These days, you can make a record for nothing, but there was a time you could only make a record in a studio on two-inch tape: the larger the tape the better the fidelity. In 1984 making a record as an alternative group cost $30,000. We made a good sounding, long-playing album for $6,000. I used to do voice-animation work to get studios to reduce our band's rates. Everything was do or die; the only thing we didn't do was trade and/or sell sex. I own some Belgium Roman Polanski posters from 1967 where they used old war maps because they were recycling paper. It was about owning the document, these rare artifacts of culture represented who you decided to be.
Mike: Was 'zine-making related to those collections?
Caroline: Oh yeah. We would take some of these rare articles and re-xerox them for our audiences in our 'zines. They were teach-pieces and we wanted to make them beautiful. We would make the 'zines dimensional, like the feeling you would get with film. I would use lace or wire; I got into a lot of texture with Xerox art. That was my jam. Ha. Post HIDE: Years later, came the 'zines: JD's, Doctor Smith, Bimbox and Double Bill from that time and space and cast of characters. Look, we didn't make $80,000 a year. Nobody was addicted to drugs or booze so we bought a lot of books and records. We didn't own our homes. We went from place to place. As we got older we carted these heavy artifacts that described who we were.
I became depressed when Fifth Column broke up and I tangled with my identity. Who am I now? I decided to sell everything. What would stay in memory is who I truly am. Whatever imprints and remains I guess is me. I was playing a Darwinian game with myself around culture and memory and who I am without apology. I sold everything. I'd also had enough of the old me. I wanted to be a new me, though the old me is still there of course. Your influences stay with you. I may not have the soundtrack for Valley of the Dolls (123 minutes, 1967) in physical form, but it's in me, in my soul and I don't need the emblem anymore because of the power of memory.