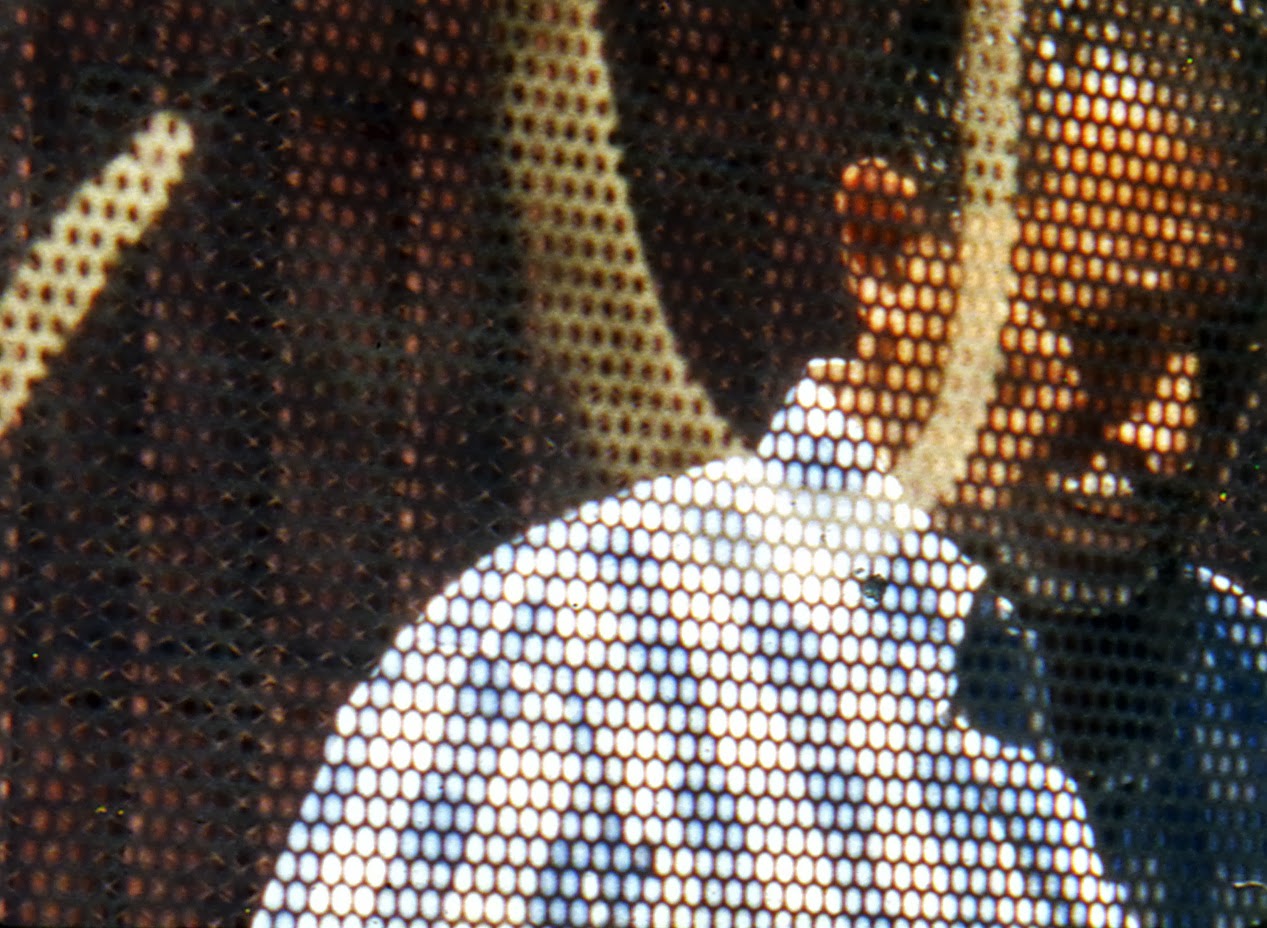 Born in a small city in the mountains of Ecuador in 1980, Cuesta studied photography in Savannah, Georgia and then filmmaking at Calarts. She films "to keep a trace of the past," and began by using her father's camera. Seeing the films of Maya Deren made her "want to try things in a different way. It was so free." Though when she started making movies her fathers were Jonas Mekas and Robert Fenz, a teacher-turned-friend whose films she worked on and were greatly influential. Like Fenz, Cuesta is a street photographer, open to the chance encounter, the glancing look, unafraid to talk to strangers and ask them to turn into pictures.
She's content to sit and wait, her camera alive to the possibility of a face that looks back. Her sober appraisals have no added music, voice-over or narration. If there is music, then we see its source, somehow the addition of these elements would feel too much like fiction.
She is a filmer of cities: Beirut, Los Angeles, New York, Quito. And in these cities she searches out neighbourhoods where people of colour congregate, often an underclass is figured, neighbourhood portals, sites of worship, of gathering, the faith that any congregation requires. And in these public encounters she finds a rare intimacy, a camera touch that brings the faraway into reach. (quotes from Feb. 13, 2011 interview with Gerry Fialka)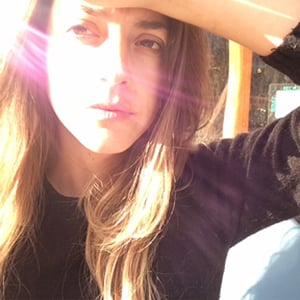 Beirut 2.14.05 7 minutes 2008
The filmmaker arrives in Beirut on a rainy day, as if the entire city were underwater. The most casual of conversations leads to a discussion of catastrophic bombings. Even her camera views appear as surveillance threat, as if the endless war were born on every gesture, no matter how innocent, though the artist makes clear that the camera is never innocent. The birds are also trapped, turning in circles. On February 14, 2005 Lebanese Prime Minister Rafik Hariri was assassinated, leading to a series of demonstrations that demanded the withdrawal of (14,000) Syrian troops. Freedom, sovereignty, independence. Shot in Beirut, Lebanon during the filming of Ca Sera Beau, From Beyrouth with Love by Wael Nourredine.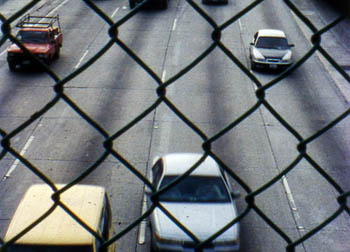 Piensa En Mi/Think of Me 15 minutes 2009
The artist uses a bus to map the city of Los Angeles. It appears as a city in passing, caught in fragments. The back of his leg, her lonely face, another emptied parking lot. The sheer fact of mobility is raised to a higher value. A formalist's travelogue.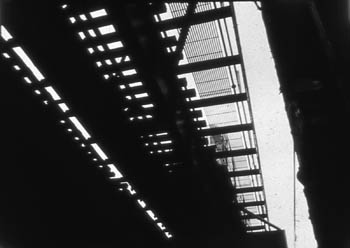 Recordando El Ayer/Recalling Yesterday 9 minutes 2007
The filmmaker takes to the streets of Jackson Heights, (located in the New York City borough of Queens), in order to record moments of the Latino community gathered there. These high contrast encounters are filled with a glowing black and white charge. A mysterious beauty parlour offering customized transformations. A father and his son stop to chat on the street. A cute teen boy lingers at a parking meter, hey can I get your number? A woman and her daughter leave a dry cleaner's shop, after hours, the good light already fading. We step into the supermarket, the liquor store, the church of course, almost never with sync sound, instead a background hum and hiss underscores these beautiful pictures. Shot in October-November 2004.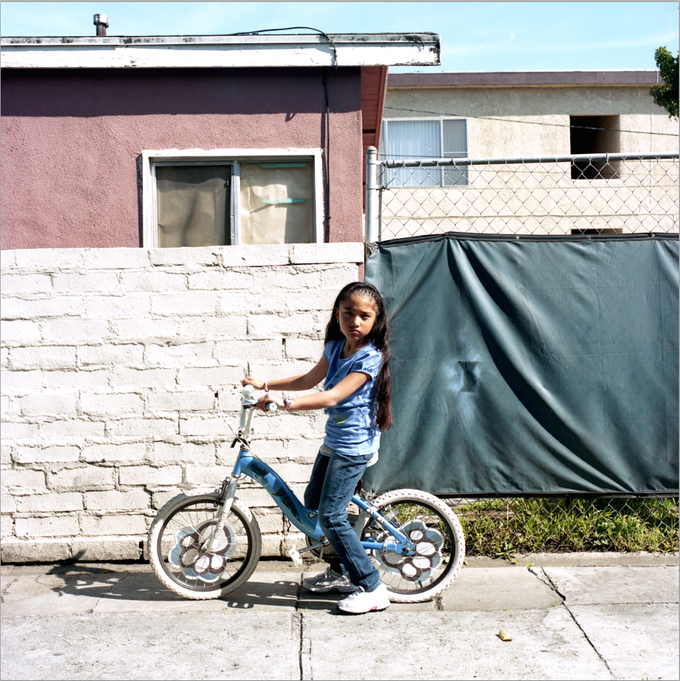 Despedida/Farewell 9.5 minutes 2012
This neighbourhood portrait finds the artist walking the streets of Boyle Heights in East Los Angeles. She pauses for football practice, the bulky uniforms hiding the fact that these men are only boys. Again and again she brings us kids that appear in adult clothing, or who wear their faces as if they've already seen too much. Heart shaped swings offer an easy summertime promise. A girl of six looks suspiciously from behind her laundry, what kind of life is waiting for her beyond the camera's stare? A boy plays a new form of basketball against himself, soon he will be better than the wall. A girl rocks back and forth on her bike, the right side of her face frozen in a wary shadow. Between the everyday moments the poet Mapkaulu Roger Nduku appears, offering his broken phrases and beautiful words, puffing on new cigarettes. He's become the voice of the city, the One. On a bright street corner, up against the weathered brick, he offers two poems: Night Fall and Shoelaces. The elegiac tone makes it feel that the filmmaker is waving good-bye, as she watches a generation leave childhoods they never had.
Territorio/Territory by Alexandra Cuesta 66 minutes 2015
From the first frame of this movie, the movie artist announces her seriousness, her steady frames, her observational diligence. A young boy ferries us across the dark waters, delivering us to a series of intimate public encounters lensed with a rare precision. Cuesta returns us to Ecuador, her country of origin, and she's determined to do it without the welcome mat of language. There are no narrators here telling us what we should feel or think, how we should behave in this faraway country. Instead we are invited to look deeply into these faces, to stand alongside them, without imagining we can grasp the whole story. The camera is both close and distant, it insists that while we can participate vicariously, we can never be part of the local codes of belonging. But we can share their time, we can wait on the beach along with the boy and his excellent haircut while his brothers suck their thumbs – instead of the soft bed of their mother, a beach made out of stones. Sandra eats sugar cane, and even though she's been positioned for the camera as if she were a performer, the faceless woman behind her (her mother?) keeps bailing water, while a friend calls out and provokes a smile, in fact, most of her attention is drawn off screen ("I have nothing going on with your cousin," the voice-off insists, as Sandra bites into the suddenly phallic sugar cane). Uniformed boys return from school and start an impromptu soccer drill, though they keep looking back at the school, as if the camera must be waiting for something truly important to come. How could they know that this everyday moment, this public intimacy, is the whole show?