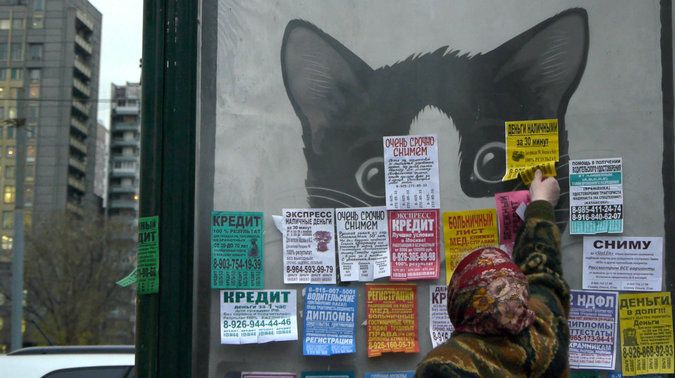 Counting by Jem Cohen
115 minutes 2016
Laid out in fifteen discrete chapters that are very nearly short movies unto themselves, Cohen brings his lyrical camerawork into New York, Moscow, Istanbul, London, New Jersey, St. Petersburg. A laconic, observational doc, equal parts diary flick and visual essay, the filmer invites the viewer to hang out with him as he dishes a suite of small noticings. The mark on a dirty sheet of plastic, a coffin being delivered to a funeral home, the movement of small birds. Masterfully edited, Cohen reshapes his encounters into mini-dramas of seeing, he builds picture phrases that accumulate into a dizzying vertigo of associations: black lives matter, a flyer for lost items, climate march, faces on a metro. Though sometimes it's enough to wait with her perfect face, softly focussed, as she receives the last light of the afternoon. The most tender portrait moments belong to women, who are shot with a radiant heteronormativity, an almost religious devotion.
In Istanbul the question of surveillance steadily punctuates the picture flow, a poster showing a plant whose tendrils end in cameras are another reminder that the artist's camera is one end of a spectrum of monitorings that are finally designed to control and contain dissent.
Images of traversal are woven across the entire movie, whether cloudy airplane deliriums, rainy traffic impressionisms or urgent streetwalks. There is a sense of incessant motion, less a mapping than a deluge of sensation, a relentless succession of encounters. While many moments are caught on the fly, there are an equal number of beautifully composed shots that demonstrate the virtues of waiting for something to happen. Reflections, windows, and multiplying superimpositions of a layered cake urbanity insist that the subject is an intersection of influences and interbeing.
In its insistent juxtaposition of east and west, of Moscow and New York City, Cohen reconjures the cold war as a tale of two countries aimed against its own populations. Lonely citizens wander inside their own thought balloons, mercilessly surveyed, signed, contained by the state apparatus. While the filmer brings his camera round the world, in many ways Counting remains an essay about America, its ongoing class war and those who have left behind, the secret animal life, the closed stores and street buskers, the homeless and protesters. Can we give these forgotten subjects the time it takes to receive their faces, to notice, to bear witness?