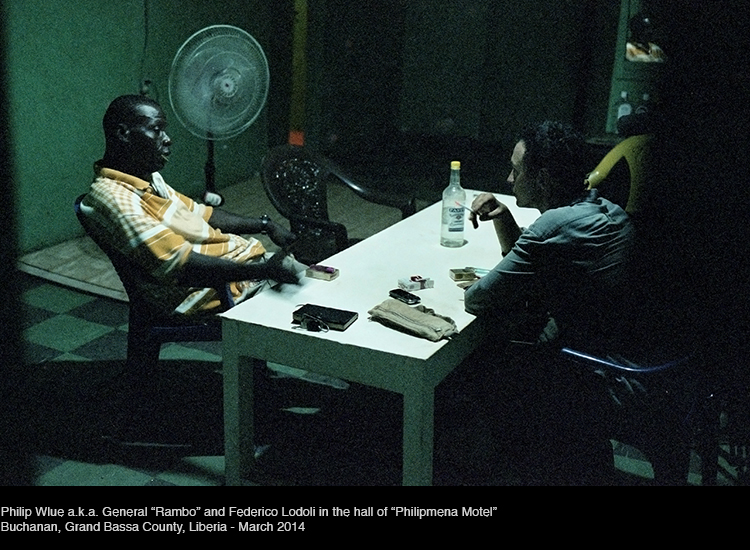 Fragment 53 by Carlo Gabriele Tribbioli and Federico Lodoli 71 minutes 2015
Is it the most dangerous movie at the (Ann Arbor) festival? In this harrowing journey the artists present us with a suite of seven encounters recorded in Liberia between 2011 and 2014. The title points to a surviving fragment authored by Heraclitus of Ephesus (500 b.c.) noting that "War is the father of all."
Featuring Christopher Vambo aka General Mosquito, Carl Darlington aka General Darlington, Benjamin Wolo aka General BM40, Aron O Kennedy aka General Blessing, Philip Wlue aka General Rambo, Joshua M. Blahyi aka General Buttnaked, George Ramsay aka General Tell me Truth.
Each portrait opens with a lyric set of landscape shootings, a stillpoint of beauty before the testimonials of slaughter begin. For six years Liberia was gripped by civil war, led by CIA-assisted Charles Taylor. Here for the first time the men in charge of the Liberian armies come forward to offer their blunt recountings. Because some began fighting as teenagers, no one looks old, and their living circumstances appear modest, even substandard. Each begins by telling us their name, their date and place of birth, the armies they fought in. Each man talks about what it means to be a soldier, what it feels like to kill and to be shot. As each narrates the necessary cruelty of their actions, a single unspoken question emerges to cast a shadow across each of them. Why are you saying these words? What is compelling you to bear witness in front of the camera?
General Mosquito: "So if you are lucky to do him, you do him, and if he is lucky to do you, he do you."
General Darlington But all the people I killed, I killed them for a reason and I killed them at the right point.
General BM40: "Commandos were eating human beings because sometimes on the front line you got no food and you capture enemy, you got to eat."
General Blessing: Every member within a unit are brothers.
General Rambo: There is not unbrave man going to war.
General Buttnaked: I don't sleep, I don't take bath, I don't have woman. Nothing.
General Tell me Truth: I killed Charles Taylor people over 250 men.