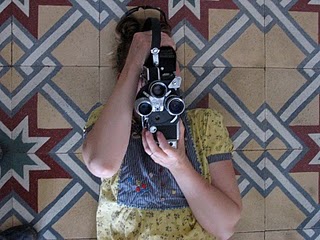 Dear Kathryn,
Began by watching your I'm-having-a-baby movies (The Passenger 17 minutes, 2006; Fall 5 minutes, 2006) which were so Canadian and personal and voice-over driven, I kept looking over, out at the window, wondering: does she live here after all? Perhaps it is lame to say that I'm sorry to hear, and more than sorry, and hearing not for the first time, about your bipolar mother. The foundation, the roots: to have all that soft and unsupportable, it's so crippling. You pursue a strategy of image metaphor, mixing landscapes and found footages, but what I longed for was something more direct, the way, for instance, that most winningly sentimental of filmmakers, Jonas Mekas, would have shot it, head on, in the moment, with you in the centre of the frame, looking, or trying to look, from your own house, the architecture you have allowed to inhabit you after the necessary disaster of family. But perhaps it's only my inclinations. You are so very revealing in some parts of these movies, and so withholding in others, how not to feel in this withholding some lingering of tradition, of 'rigour' (at least: in someone's understanding of the term) but perhaps I'm adrift in this intuiting as well.
And then your Yanqui Walker and the Optical Revolution (33 minutes 2009) erupts with its precise scene articulations, for instance, which took me so long to learn (via Matthias, actually), and a deadly precision in the way you make the found footage dance step with your own. Fantastic. And to name this imperialist project for exactly what it is: yes, this is so necessary. Can't be said or pointed to or pictured often enough. Even the Central America geography lesson you dish implies that North Americans are witless in what lies beyond our borders, and so the lesson becomes another variant of indictment. I loved your not-shooting of the museum, and the titles, and listening to the sound inside of the absent museum. Oh god yes, and the recurrent science riffs, underlining the fact that empire and colonization is a technocratic process, that enslavement, killing, dispossession, are all rationalized activities, carried out on scales large and small by those naming themselves scientists. Already here in your apt juxtapositions I can feel the military-industrial complex at work.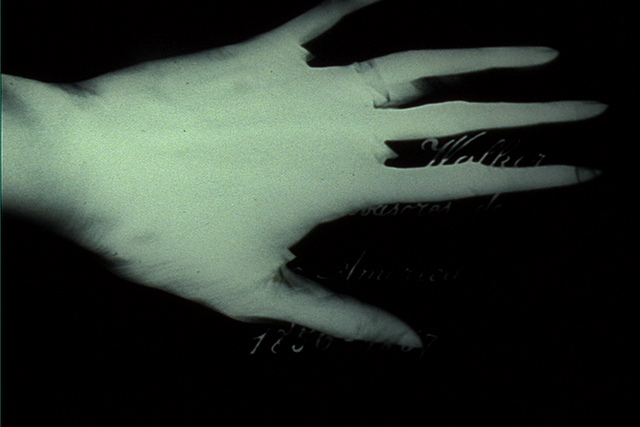 I should mention something about beauty. I mean, the restless, run-through-your-fingers emulsion. It isn't my thing, but I can see, from the evidence of these three movies at least, that it is your thing. Is it your thing? Your tic? Your style? Your way of claiming these site visitations as your own? I don't know whether I have an argument to make at all, but they feel nostalgic, though don't get me wrong, they are entirely appropriate here. And here. And here. My pointless hope is that it won't go on and on. They sometimes obscure, for instance, a quality of shooting which can verge on the touristic. Faraway shots, public squares, the facades of buildings, café stopovers. How I long to look with you into a face, and for a long time. There is a surface waiting to be read which is not the surface of the picture road which is running through your camera in expensive silver drops. Perhaps it is only my own habits I am recalling here, my own tendency to swap being-in-the-present camera moments with postproduction reworkings. It is difficult to arrive, at such a faraway place, obscured by actions like Mr. Walker, and find yourself there, really there, and engaging in a real look. At least as difficult, for instance, as making a picture of home, or at least, I'm finding it so, as I am attempting to make a very reluctant turn from the safety of my computer home to the manifest uncertainties of whatever lies outside the window.
Anyways, congratulations. It's beautiful, it sings, it's filled with heart, it's about more than something. No worries over Ann Arbor prizes. One mainstay went to Emily and Cooper whose movie is filled with politics, while the other went to a movie I can't see the point of at all. The fact that David Dinnell says yes is a prize unto itself. You too are a prize. Many more films, many more years.
Mike
April 15, 2010