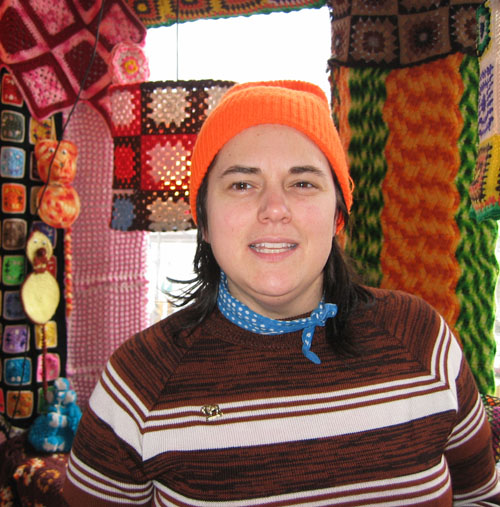 Allyson Mitchell: Feminist Fatale
The dream began in super 8, when a clutch of queer movie artist start-ups in Toronto emphasized low-tech, no frills, self-produced (cheap) work that featured the artist and their pals. The personal was always political. Mitchell's work is campy and accessible fun, though the hurt lies just below the surface. Animal familiars abound, food/body issues and queer turns take their place in narrow-gauge miniatures that highlight animation, the hand-made and performance for camera. An inveterate and prolific collaborator, as if making art and making community were just the same.
Chow Down 1997, 3 minutes
The artist in Heidi-drag tries on a series of too tight outfits. Made for Three Minute Rock Star – a key commissioned screening featuring a bevy of queer turns in single roll super 8 that was the brainchild of queer organizer/activists Allyson Mitchell and Jane Farrow. How many dreams started that night?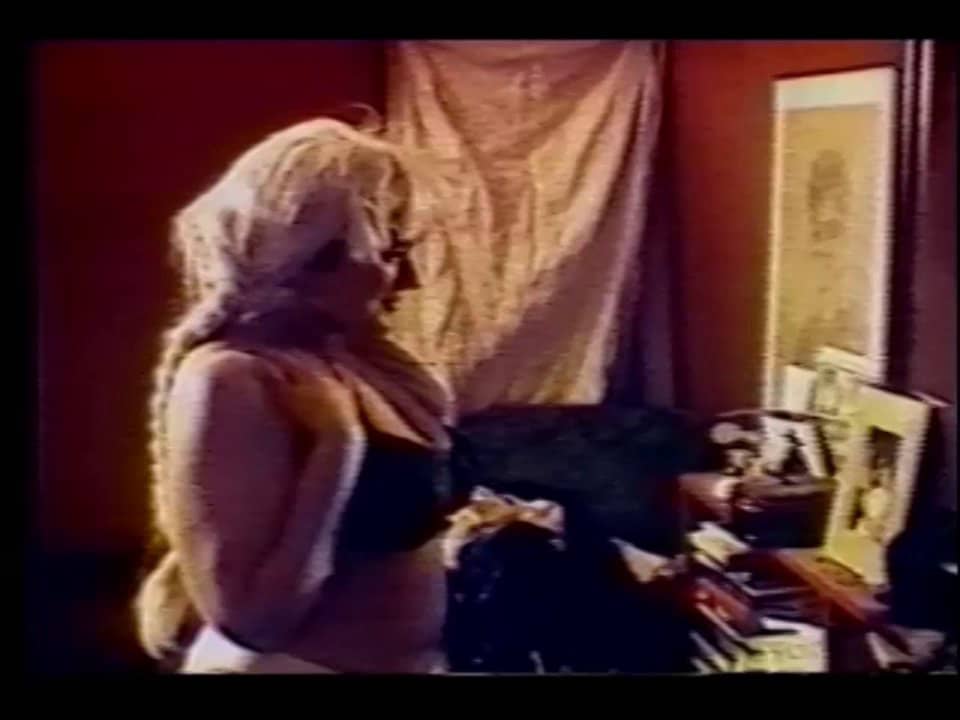 Cup Cake 1998, 3 minutes
A bevy of cake signs introduce the city, as if we were entering a metropolis of dessert. The lead character (named "Cupcake" in the artist's description) chooses from a dizzying array of turning cake selections. Temptation and the joys of choosing.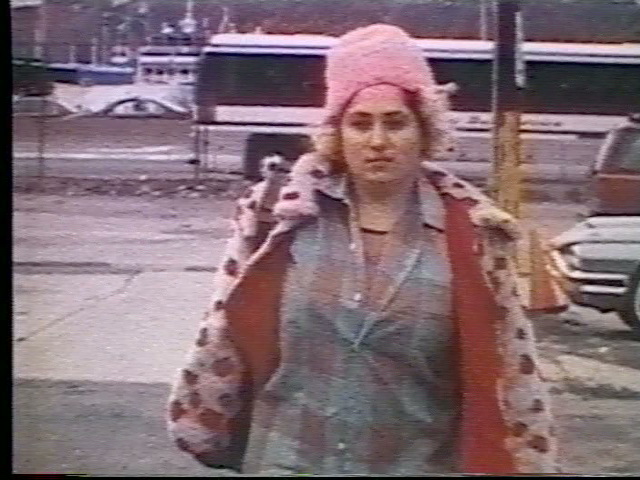 Candy Kisses 1999, 3 minutes
In a single shot, offering a pair of sticker girls in word-balloon conversation, the artist offers an economical dramaturgy of heartbreak. While the pictures never budge, the words conjure a full range of emotions, self-image, vulnerability, loss.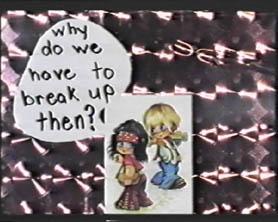 My Life in 5 Minutes 6:23 minutes, 2000
This animated autobiography sees the artist's animated avatar blinking away tears as she reviews family snaps and pics that offer previous versions of herself. She sings along in a reverb drenched track: "This is not poetry/this is my life."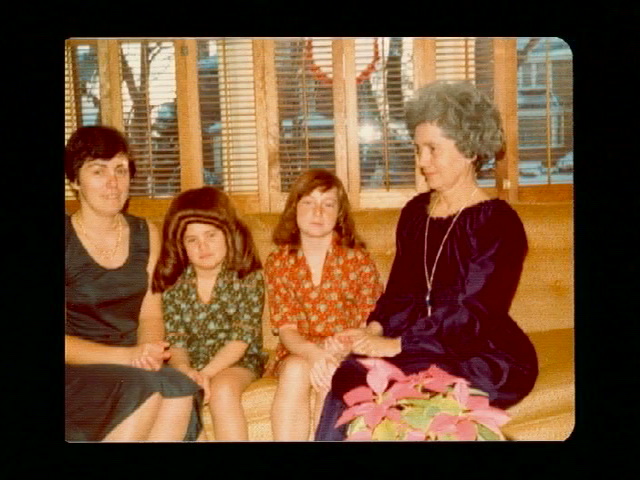 Bon Bon (with Lex Vaughn) 2001, 3 minutes
An animated candytown musters for a parade. Deftly shot, quickly moving, the lovingly crafted citizens (made of sugary cookies, marzipan bellies, jelly bean heads) all take their place as if we could really get along. A bevy of fantastical floats drift by the crowd, made of Cheerios and crackers and cookies. Happy time music provided by Matt Reid.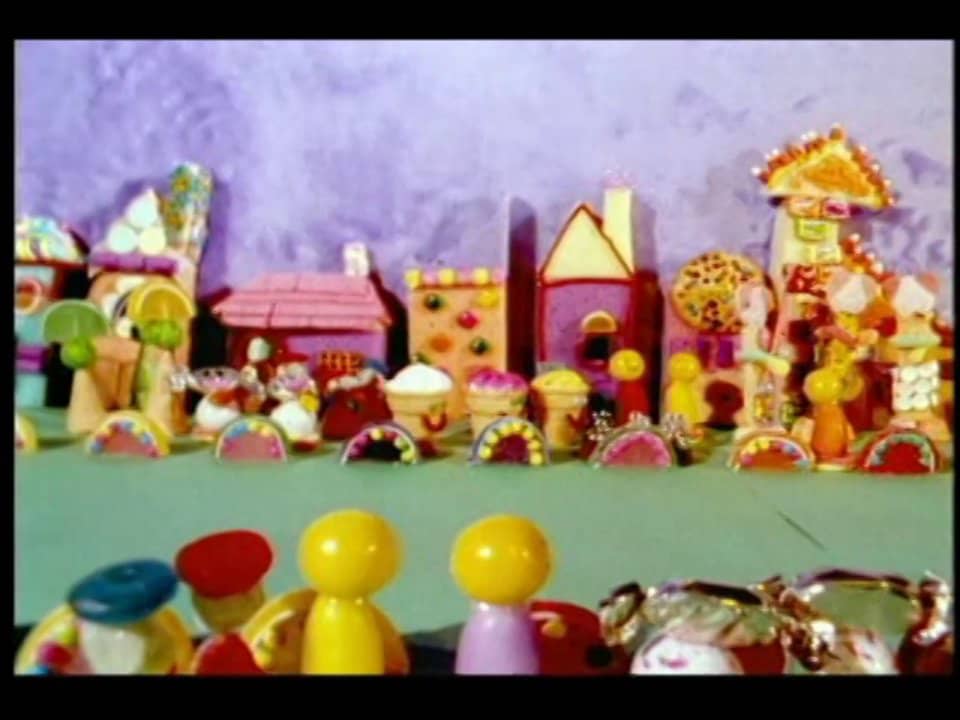 Precious Little Tiny Love 2003, 3 minutes
"I wish I didn't eat animals because they don't eat me." A four-screen movie, each offering a single view of a toy animal resting in grass or stones as the light changes.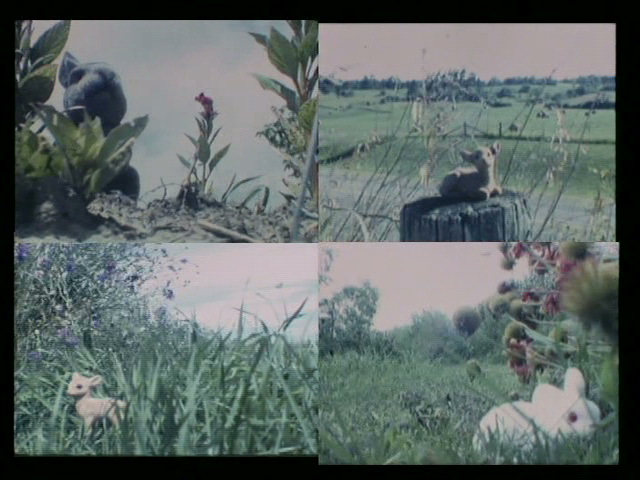 Sticker Lover 2003, .5 minutes
Sticking to stickers, letting them flash by, the smell of the glue, the colours, the message, the way it sticks.
Glitter (with Christina Zeidler) 2003, 1 minute
At a radioactive farmer's market a pair of dancers break moves as the super 8 camera absorbs the reaction shot one frame at a time. Interchangeable glamazons light up the north lands.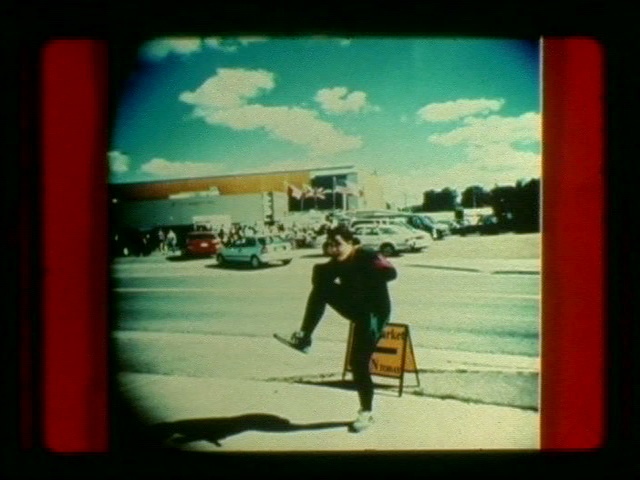 If Anyone Should Happen To Get In My Way (with Christina Zeidler) 2003, 3 minutes
The artist appears in a quartet of cartoon animal heads: bear, cat, moose – cavorting on the street, clothes shopping, walking home. A series of intertitles offer ironically muted behaviour warnings as she plots the softest kinds of revenge.
Free! Bake! Sale! 2004, 4:20 minutes
Pretty Porky and Pissed Off are a duo who have created a fat activist group at work since 1996. Fat does not equal ugly, lazy, unworthy, unhealthy! This anti-diet action was shot at Ryerson University in Toronto on March 8, 2004 on International Women's Day. Real life encounters produce an uncanny energy in the real time of political remapping. It all happens at the door, the portal, the entry way. Featuring Joanne Huffa, Allyson Mitchell, Abi Stone, Mariko Tamaki, Tracy Tidgwell, Zoe Whittall.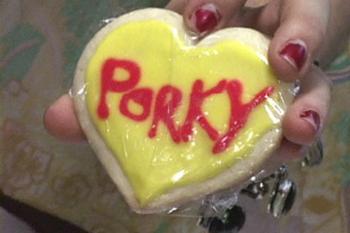 Melty Kitty 2006, 3 minutes, b&w
Shot in luminous black and white super 8, this single-shot timelapse movie allows us to watch a happy cat candle melt away as "Suicide is Painless" by Lady and Bird is sung on the soundtrack.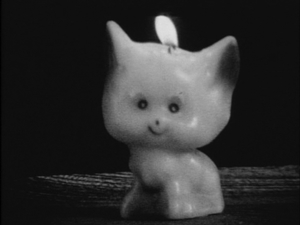 Unca Trans (with Christina Zeidler) 2007, 5:50 minutes
A single-shot monologue rendered as a pixilated super 8 short. Cast as part of a fictional historical archive, Unca recounts native land struggles that inspire local populations to battle the chemical company and reclaim rights.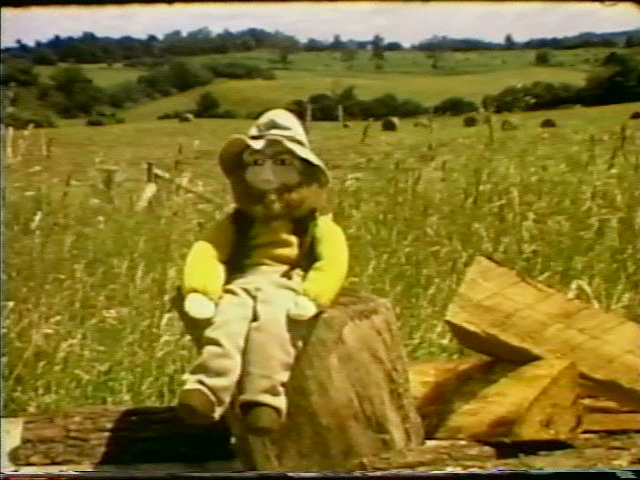 Foodie (with Fiona Smyth) 14 minutes, 2008, 35mm
How much is enough? Negotiating appetite in a hyper-capitalized world, the titular character Foodie (live action hero, animated subject, a drawing come to life) negotiates a city where every store and billboard scream "More." The beef cries while the monster salesperson offers samples. She savours the boob tube before turning into a cheeseball, temporary respite as it turns out. What she needs can't be bought, so she is forced outside the codes for happiness, made to wander until she recovers the monster goddess from the opening scene, home at last.
Dyke Pussy 1 minute 2008
On a turntable (is the artist turning the tables?), a porcelain cat turns and the electro-beat goes on, urging union.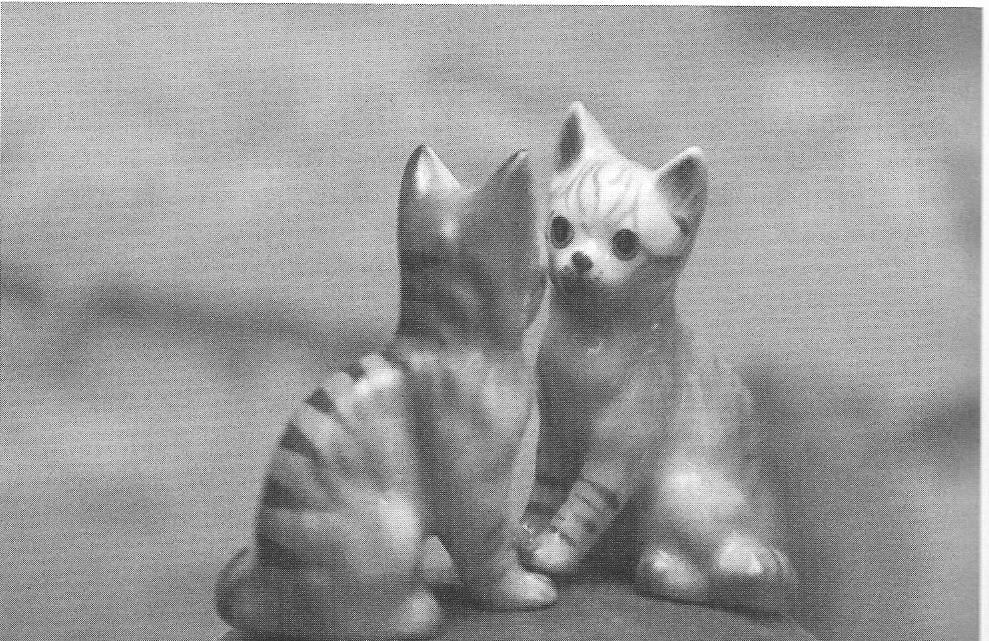 Afghanimation 2008, 6 minutes
Commissioned by the CFMDC (Canadian Filmmakers Distribution Centre) as part of their 40th year anniversary for a touring program called Regeneration, it paired contemporary artists with historical movies from the distributor's collection. Afghanimation was inspired by the work of iconic Canadian artist Joyce Wieland.
Working one frame at a time, using stop-motion pixilation, we see an anonymously made Afghan carpet which the artist slowly covers over with her own knitting, creating temporary frames within the frame, portals of exposure. This "carpet bomb" refuses the easy access of other lives – the voices of Afghan women speak on the soundtrack, though they are notably untranslated. A title announces that Canadians don't know what the Canadian army is doing in Afghanistan (troops were deployed in Afghanistan for twelve years).
"Allyson Mitchell's video Afghanimation is a sharp critique of the nexus between media and nationalistic propaganda (with a nod to Joyce Wieland in its tongue-in-cheek use of domestic textile as political metaphor)." (Canadian Art, November 2009)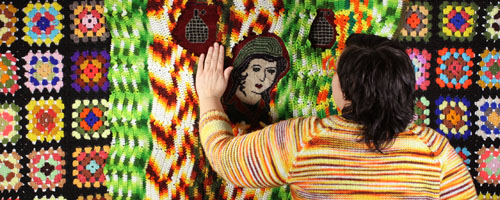 FAG Feminist Art Gallery 2014, 4:48 minutes
A collection of snapshots animates this tape that is one part gallery retrospective, one part manifesto. We are what we do. In 2010 Deirdre Logue and Allyson Mitchell created FAG (Feminist Art Gallery), a converted garage in their backyard dedicated to multi-platformed feminist expressions. In pitch-shifted voice-over Deirdre narrates the quickly moving photos of community gatherings. "FAG flags the fact that we are not a women's art project but a feminist one which is equally concerned with inequities and oppression around gender, as much as class, race and ability. FAG is feminist in its insistence and its resistance. It lives in the gap between studio, gallery, art, activism, sociability and home."
Killjoy's Kastle: A Lesbian Feminist Haunted House 2014, 13:14 minutes
"Processing tsunami ahead!" announces the semiotic hallways that lead participants through the artist's delirious pedagogical architecture. Copping its title from Sara Ahmed's meme "feminist killjoy" ("The risk of promoting happy queers is that the unhappiness of the world could disappear from view… We must stay unhappy with this world.") a series of interlocking performances and installations declaim a feminism of blood and ideas. Originally staged on Halloween night in 2013 as an AGYU offsite project. Mitchell's immersive maximalist liberation project is finely re-animated in a vid that vaults well beyond performance documentation.
5 karaoke videos by Allyson Mitchell (with: Deirdre Logue, Ginger Brooks Takahashi and Dana Bishop-Root)
2015, 15 minutes
Audience sing-alongs! Four artists were commissioned by the Art Museum of Portland to make five riot grrrl karoke vids to close out the Alien She show in 2015. GBT played in Le Tigre, DBR is an activist, together they run "General Sisters, General Store," a post-consumer food space in Braddock, Oregon.
Her's is Still a Dank Cave: Crawling Towards a Queer Horizon (with Deirdre Logue) 2016, 24:32 minutes
A stunning virtuoso turn from these two partners in life and art. A home movie where the library musings and theory shuffles are re-rooted in domestic space, in relationship. The tape insists that artmaking, and even the utopias it conjures, cannot be separated from the way we love, eat, or wash the dishes. It celebrates the hand-made, the make-shift, the provisional (no more monuments! unless they're made of cardboard and felt and wool), and everywhere there is ingenious invention and a generous good humour, particularly when the artists don flesh suits and hoist a giant-sized sharpie to underline their fave utopia reading bits from the oversized texts that surround them.