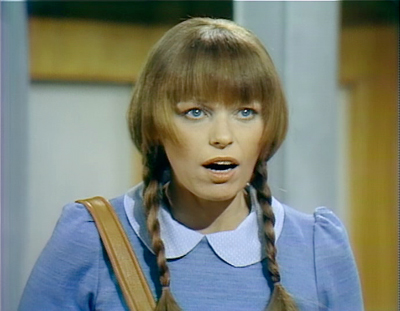 My parents understood that television required faith, and in my earliest years they couldn't summon the necessary conviction. But newly inspired by the space race, they gave in and purchased a TV shortly before Apollo 11 landed two humans on the moon. We watched in awe, even though it looked like something that might have been happening in my neighbour's backyard.
As a teenager the only TV I watched was Mary Hartman, Mary Hartman (January 1976-May 1977). Everything else looked like capitalism. Well, Mary looked capitalism too, but the show offered a bracing portrait of a system in decline. Was the build-up of yellow wax on her overdone kitchen floors more or less of a problem than her partner's chronic impotence ? This was a show that threw its arms around television, the characters were constantly plugged in, or busy reflecting their mirrors. In a dizzying, months long drum roll of dramatic escalation, Mary wins an on-air contest that attempts to locate America's most typical house wife. She is granted a cherished on-air spot, but the spotlights glow too brightly, and she has a nervous breakdown during the live broadcast. The next season was set in an asylum, as Mary tries to recover the dubious charms of the average.
Around the time of her on-air breakdown, Louise Lasser, the actor playing Mary, was picked up (in real life) for shoplifting thrift store items. It seemed her boundaries were dissolving under the gruelling shooting schedule of a daily TV show. Meanwhile my adolescent body woke up every day as something new and strange, with pointless erections that belonged to someone else, and ideas that floated across my skin attached to people long dead. Mary provided reassurance that I wasn't alone.
Today TV doesn't exist, though the idea of a series has outlasted it. The series I like most is the open screenings which are run here in Toronto by John Cresson and Adam Rosen. Anyone can walk through the door and show whatever they like, though contributions are encouraged to run less than ten minutes. It's an image of democracy, with all of the mess and boredom and good intentions the word implies. The nights are long, and there are too many visitors of the male persuasion, but down the alleyway at a long-running joint named CineCycle there is a seasonal attempt to allow screen time for someone like you, accompanied by a digital file or an old can of film. It means coming together in the dark in order to celebrate something very local, even as it maps out new neighbourhoods, new possibilities for connection and practice. We can't stay in our internet hideout forever, can we ?
written for
Saison Video 2017, online programme, LE RIDEAU ORANGE
16 – 29 octobre 2017