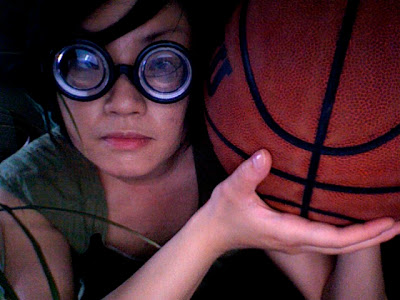 Lesley Loksi Chan: The Storyteller
One of the most important new voices in Canadian narrative cinema, Lesley Loksi Chan was born to make movies. Her genius is that she fully embraces, or so it seems, the place she actually is. No far away Telefilm dreams, no waiting for mountains of equipment, instead she crafts out of the circumstances of her own life an intimate, witty, thoughtful, touching cinema, often featuring her young boy and her sister as actors. Her whimsical dramas feature air tight voice-overs, exquisite framings and hand-made animations. Whether dishing a love story or leaning in close to hear the whispers that only a mother and son could exchange, Chan lights it all up with a breezy, sweatless gaze so fine you don't notice the bullet holes in your eyes until you stagger out of the darkness and find everything changed.
Dear Sister 6 minutes 2005
A lighter than air, faux doc about the artist's sister who turns out to be – no surprise here – a filmmaker. Her "almost-award-winning" titles include The Clock Haters and The Blind Microscope Makers of Macau. Adopting a slide show and tell format, her off the beam storytelling effortlessly draws together moments of a room, a blowing dress, the shadows of a fan, conjuring a universe of love, loss and family out of these simple materials.
i no i no 11 minutes 2005
Five early shorts from this essential filmmaker's treasure chest. The first offers what Gertrude Stein might have named "tender buttons." Are these the sweet everythings that lovers say to each other? The ones stuck in their own mirrors, but who can't help reciting their lines in company. This opening moment, drawn up in a single economical shot, and appearing nearly like animation, or at least choreography, sets the tone for the vignettes that follow. She re-voices the opening scene of The World of Suzie Wong, then delivers a harrowing series of assaults she titles "My Best Rape So Far." She wraps each of her pointed shards in children's materials and sprinkles them with magic dust so that these unbearable moments can be spoken and shared.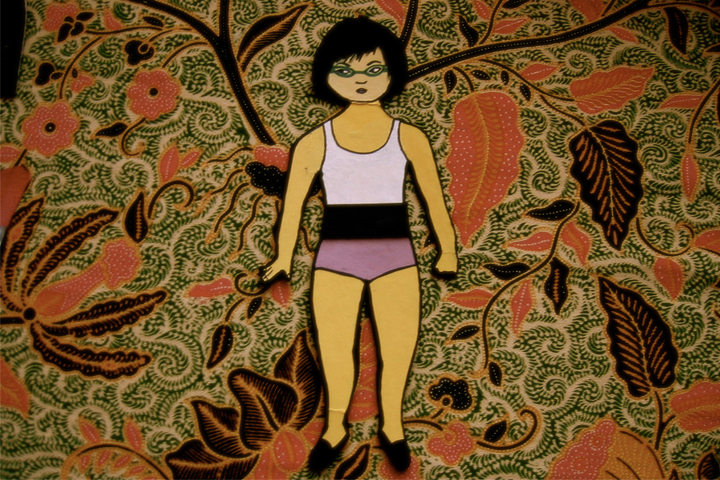 Make a Decent Meal, Lesley 2:50 minutes 2005
The artist appears in the kitchen, facing down the camera, waiting for the water to come to a full boil while the swing music carries us along. She digs into her apron and pulls a wooden spatula from her zipper which she masturbates with casual abandon. Excitement is registered via image multiplication, one screen becomes 4, 16, and then too many to count. The titles "who taught you/how to cook/like that" appear over an image so multiply reproduced that it appears as an abstract carpet weave. A riff on domestic mores and duties, Chan offers a cheeky remake of Martha Rosler's quintessential feminist video text Semiotics of the Kitchen (1975).
Have a Happy Birthday, Lesley 1:53 minutes 2005
The Hawaiian lounge music swings us into the mood. While a lonely spike of a kid's candle slowly melts into her cupcake, the artist slouches in the background, propped up against a map of the world. Her party dress of black and white spirals announces an occasion, the beginnings of expectation, hope. Finally she lights her smoke from the almost birthday cake and gazes out the imaginary window, ready for the next adventure. How does the artist manage to cram so much heartbreak into a single frame?
Pearlie Got the Boot 1:33 minutes 2006
Made as a music video for "Sprawl" by Calexico. A series of close-ups show a young Chinese woman (the artist's sister, as it turns out) putting on her boots, and then crying, gripped with the pain of refusal. Until she slips on her black wraparounds and strolls out the door, ready for the next act.
J.L. Raab's Autobiography of Love 2:24 minutes 2006
Never straying far from the artist's bathroom, this camped up domestic ode to loneliness and serial hope features another unusual biography. Paul Anka's hit Summer Gone plays throughout: "Summer's gone and no songbirds are singing/Because you're gone/Gone from my arms/Gone from my lips/But still in my heart." Over close-ups of sink, soap and scissors, the artist lays up titles that narrate her/his passions for Debbie, Elaine, Jaunita and Violet. Bits of their hair have been left behind as talisman and reminder that "I can give a decent haircut/But I'm not good at falling in love." By putting objects in the place humans generally reside, the artist empties out her subject, even language is another remnant that can be cherished or thrown away, as the haunting lure of popular culture inscribes impossible desires.
My Matsura 11:22 minutes 2006
Despite the traditional emulsion scarring of the novice hand-processor, the opening two minutes of this movie were so perfect I forgot to breathe and had to be resuscitated. It's a good thing there was a doctor in the house. The film's second movement offers the photographs of Frank Matsura, taken in the early 20th century, as a way to read the photographer himself, looking back through the lens. The subtitled sentiments are so crisp and tender and necessary that for an instant Matsura flickers alive in front of me, and then he's gone.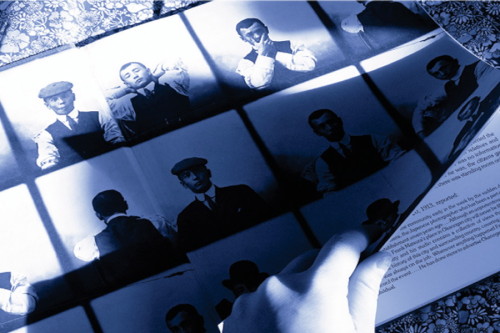 Compost Mon Amour 11:40 minutes 2006
Possible lives accumulate in this elegantly framed meta-narrative. Once again Chan's uncannily cinematic sense creates full blown scenes out of the most modest of materials. Playful and witty, every word in this voice-over driven romantic vigil is another perfect note, which the artist off-sets by having her mother read the whole thing. Another daring gambit that ensures a fine balance of charm and irony. It's all so beautiful, so casually perfect, that it must have been a thousand kinds of work. So why does it feel like everything here has been made at recess?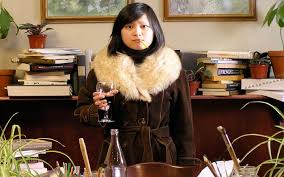 Bacon and Bovary 1:03 minute 2007
Made in the form of a trailer for a movie that will never be made, a suite of cropped prints show womens' hands reading books, particularly Flaubert's Madame Bovary. But while mother wants her son to wear gloves and read, Bovary inspires in him only the hunger to be a butcher. In a series of witty, briskly edited scenes, books and bacon become an alternating current.
Wanda & Miles 13 minutes 2007
A mother and son duet that is as perfect as a dollhouse. Chan grants her lustrous home movie settings a faux mythic framework, he is the boy who scratches his head whenever he sees maps, she is the eye-patched single mom who carries her child in a suitcase until he outgrows it.
There are many in the fringe who are busy lensing material, but few can match the one-light precision of these pictures, made with a lyrical and gently moving camera that illuminates one detail blooming after another. Perhaps it's because Chan is working with her son and sister, and so she can wait for the good light, or perhaps it is because she is busy shooting only in rooms she lives in, so she always knows when the good light will arrive. But her intimate framings and generous perspectives — occasionally punctuated by wonderfully crude animations or no-tech special effect flurries — grant a buoyancy to this story of loss and individuation.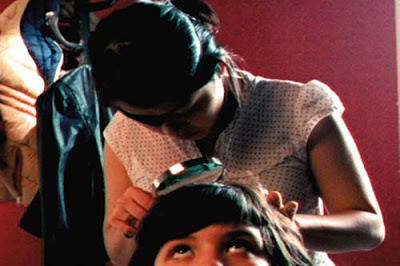 Traveling to Tuesday 23:04 minutes 2008
It's a family story, though brother appears only via text, dad is missing ("I thought I saw him today," texts one brother), while mom needs her "dirt" watched, though she never makes an appearance (is she perhaps that pile of ashes to ashes?). The film follows a young small biz operator manning the phones, making beanbags, drinking coffee. The hauntology involves kid paintings given to a dad who hasn't gone missing yet, the one who would read any book about foxes.
The unnamed lead appears in nearly every frame of this wordful psychodrama. He communicates with others only via his phone and while he lives in the grip of a teeming city, he has almost no interactions, never mind that he's so handsome, has obvious clothing skills and smooth telephone manners. The music gives it all a lighthearted feel, as if failure were not an option. This early missive about cell phone culture, and the new kind of lonely that social media would soon have us rushing towards, is a sly essay disguised as drama-less drama.
The artist notes: "This was made in 2007. I had gotten my first cell phone and I could not only make CALLS but I could also send TEXTS and this was obviously a big deal. At the first screening of this movie, someone in the audience asked what all the text popping up was and I had to explain what a text-message was. This was just one indication that the film had failed. It's ten years later now and text-messaging in films is so banal, but I hope you still find something else to enjoy in here!"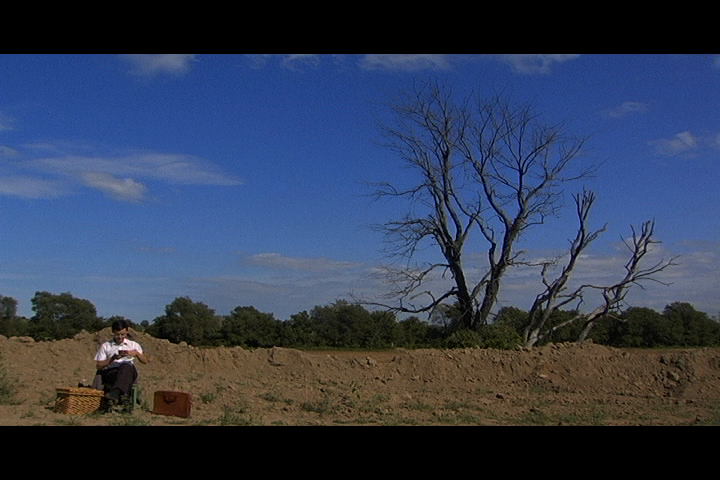 Curse Cures 10:43 minutes 2009
A hand-made animation about the garment industry sweatshops that so many new Canadian immigrants worked in. Particularly women. It's told from the inside out, with a few iconographic pictures and a collection of acetate texts. The filmmaker's hands hardly leave the screen, forever busy re-arranging new text lines or sweeping pictures out of the frame. "Should we be happy?" The luminous Astor Piazzolla lends his ear to the soundtrack. Love live analog filmmaking!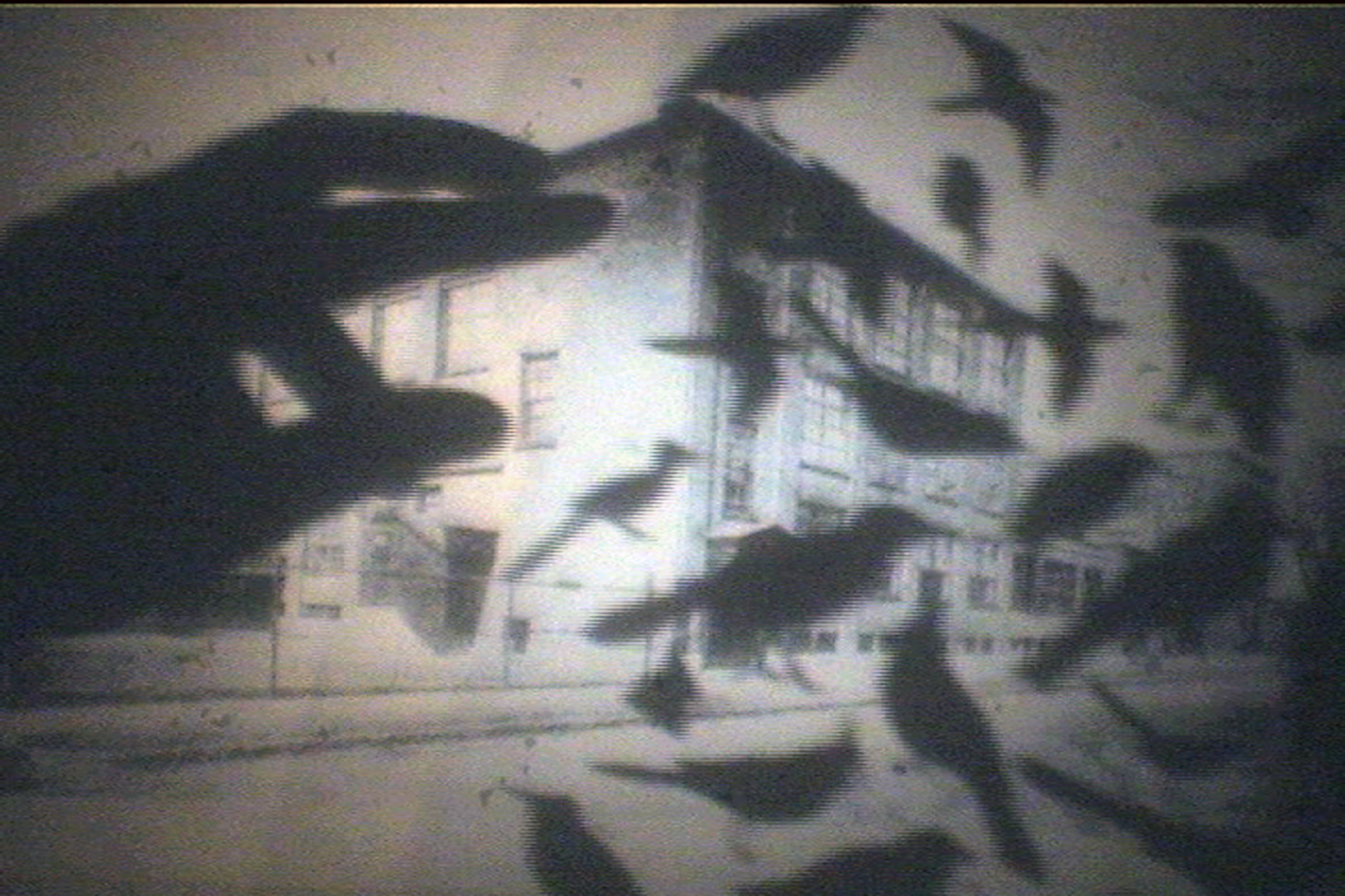 Live Long and Prosper 10 minutes 2009 (with Serena Lee)
An expanded cinema performance using two overhead projectors, a digital video projector, and two performers. Working in collabortion with Serena Lee, the artists sound off in Cantonese in a triple-screen extravaganza that is tribute and homage to their grandmothers and the lessons they were offered. Ironic instructionals offer tips on how to barter in Chinatown, speak with your neighbour, ride the city transit. Objects are placed on the overhead screens, moved around, swapped out, tea times, family rituals, quiet moments suddenly replayed in a larger-than-life arena. How might one live long and prosper?
Making Ladies 8:33 minutes 2010 (made with Dilia Narduzzi)
A doc about maximalist Toronto media artist and sculptor Allyson Mitchell as she preps her Ladies Sasquatch installation – a fake fur creature wonderland. The large-bodied sasquatch ladies are feminist exclamation marks and icons, celebrating their "different bodies," as the artist explains in a winning voice-over that drives the movie. Thrift store accumulations and found handicrafts are repurposed, blurring ideas of craft and art, high and low. How to turn what is overlooked, discarded and without value, or even feared and despised, and put these bodies at the centre of a new conversation? Mitchell's work provides a blueprint for how to love our monsters.
Redress Remix 66 minutes 2010
In this handsomely produced feature-length doc, a hybrid blend of animation and live action revisits looks at the 17,000 Chinese labourers brought in to do the dirty work on the building of the trans-national railway, and the racist federal tax designed to drive them out when the work was over. When the tax was finally dropped in 1923, it was swapped out for a law that virtually banned Chinese immigration. Historical grievances arrive via a series of eloquent Chinese-Canadian talking heads (and bodies) who describe the harrowing conditions, the apartheid separations, the city's forbidden zones. They are part of the family line, activists and artists, living reminders. It's the artist's first feature.
In order to big up the absent democracy, the movie (which was also released as a 3-part TV series) was launched with a website ("a living documentary") where viewers could soak up the original interviews, and offer their own feedbackings.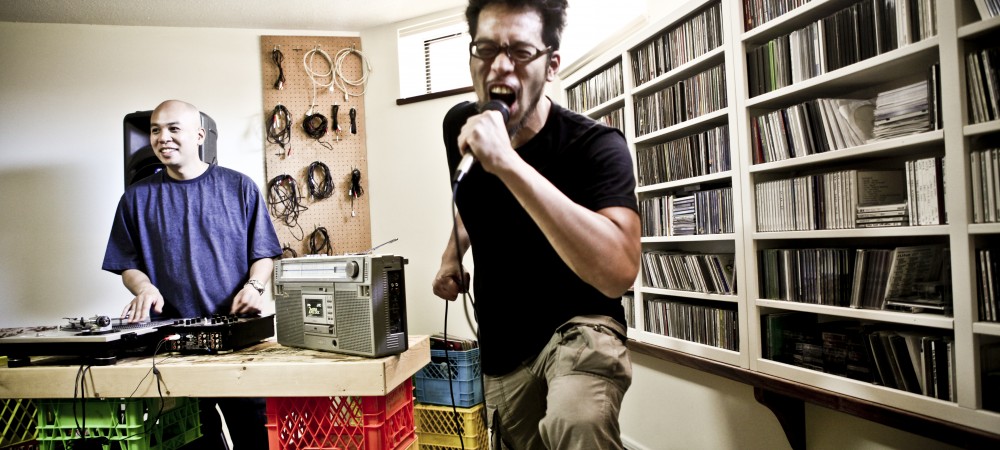 Suite Suite Chinatown 30 minutes 2010 (with Lillian Chan, Aram Siu Wai Collier, Heather Keung, Serena Lee, Howie Shia and Joyce Wong)
An omnibus collaboration between seven second-generation Chinese-Canadian media artists who were asked to respond to this four-word question: "What is your Chinatown?" It includes: Chinatown Overture by Howie Shia and Lilian Chan, Lipsync by Howie Shia and Lilian Chan, Pretty Lucky by Serena Lee, Auntie and Uncles by Heather Keung, Elizabeth Street by Lesley Loksi Chan, Plastic Future by Aram Siu Wai Collier and HOW TO PARTY by Joyce Wong. Their responses offer a fantastical kaleidscope of language lessons, musical interludes, animated knockabouts and home video cures. Chan offers a single image (made on the Elizabeth Street of the segment's title) of Toronto's original Chinatown with an accompanying voice-over musing about our ability to turn history on and off.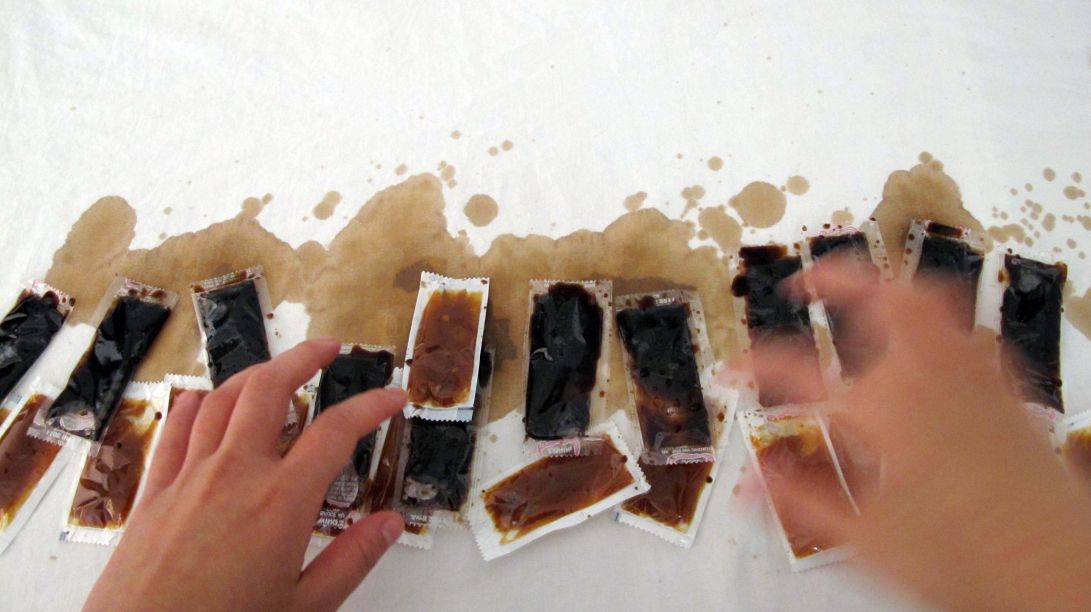 Breakfast :25 seconds 2012
In this humorous brief the artist combines the names of two popular breakfast items via onscreen titles. A parody of overchoiced breakfast menus.
The Masters 2 minutes 2014
After splaying out the (unpictured) hardcover of a book entitled "Drawings of the Masters 20th Century Artists," the artist lays down a series of carpet fluffs on its green ground. Tangles of thread and yarn, emphemeral and mysterious, the incongruous detritus of the everyday creates an airy collage across the masters unseen work. A tape roller cleans up the temporary and already forgotten trash, the stuff that lives are made of.
Frankie and Johnny 5 minutes 2015
A continually shifting series of abstract colour paintings glitch across the frame. According to legend, the popular song of the video's title of a woman shooting her man dead after catching him cheating, was inspired by real life events.
The artist writes: "Note about Frankie and Johnny: that one is actually part of a series. What happened is, I tried to download a bunch of films that have titles with two names (Frankie and Johnny, Bonnie and Clyde, etc etc etc) because I was wondering HOW DO PEOPLE DO THINGS TOGETHER and so I tried to download these movies from this website my classmate told me about on the first day of school (it's called Criterion but not the famous Criterion), however, when I tried to do it they all became glitched like that. So now I will never know HOW PEOPLE DO THINGS TOGETHER."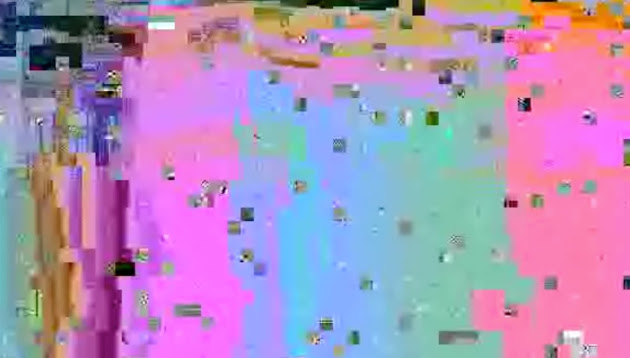 The Correct Language 9:39 minutes 2016
In this straight up doc, Jade and Megan, a pair of young ladies audition a suite of potential playmates for their feminist punk band (Sex and Violence by The Exploited is a fave). All done in master shots, sync sound, Hamilton interiors. Just learning the chords, no time to start but now.
Stutter 22:29 minutes 2016
For the past two decades Canadian conceptualist C Wells has been repainting traffic signs/lines on roads. White paint in hand, he carefully and deftly repaints the fading signs without filling in the holes or frayed edges. In what is essentially performance documentation, this simply shot movie focuses on Wells as he repaints two signs. Spoiler alert! The first reads: Look left. The second reads: Look rright. The soundtrack carries light jazz tuneups, or else street sounds, or the sounds of the artist's mother recalling UK roundabouts. Chan notes, "Some of these performances have been documented over the years, but not all. These films I'm making are part documentary and part fiction. One of the things I'm trying to do with these films is is re-imagining what an 'artist documentary' can be, following what I see C.Wells as doing for the field of painting… rethinking what painting can be."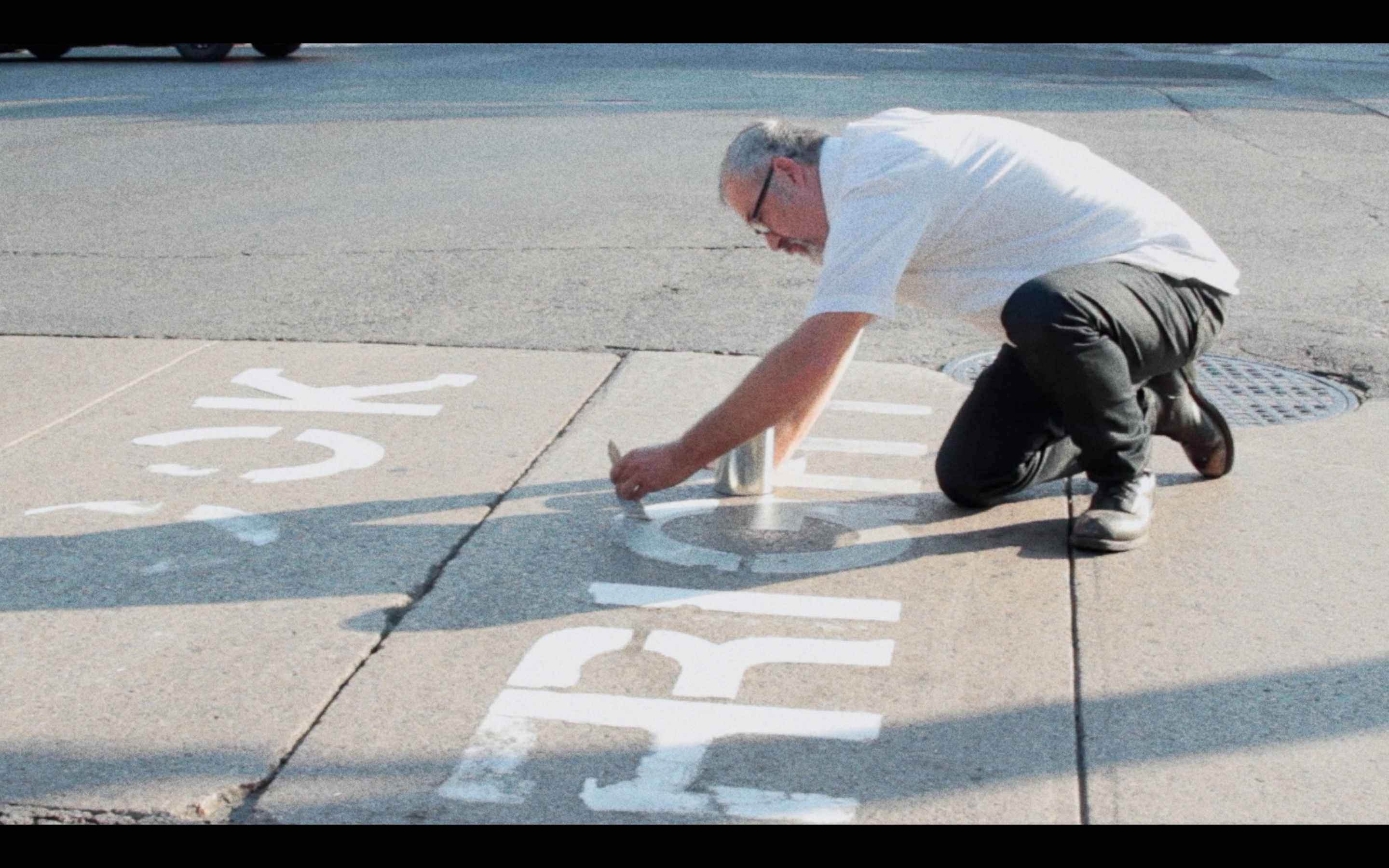 Odysseus 9:06 minutes 2017
In this modest brief about absence, a pair of lovers communicate via texts without really meeting up, a riff on the old wandering story of the primal nomad Odysseus, whose postwar navigations finally took him home, though not before shapeshifting adventures. The movie focusses on the two women who are left behind, his wife and mother. It begins with a series of scrolling black and white pics showing New York skateboarders. Penelope arrives at the apartment of Odysseus's mother Anticlea who is busy raising three young children. She's brought them a sub sandwich they that cut up and share, then she asks for Ody's plant, claiming he asked her to look after it. Anticlea is skeptical and relucant to give it to her, though she finally relents. When Penelope wrestles the plant into the elevator, she leaves Ody's skateboard behind in the hallway, a response to his initial text request to leave it there. Part home movie, part staged documentary/fiction, this hybrid confection brings us into the life of a family, and begins to ravel out some of the many stories hidden there.
By May 93 minutes 2017
May is a down-on-her-luck teen-something, newly pregnant, starting ballet classes, her lowercase life a newly plotless drift occasioned by the new generation growing inside. Lensed in a series of slow-motion master shots, the movie delivers a suite of domestic interiors, kitchens and living rooms abound frame quiet convos amongst friends, random encounters, girl talk. Presentation models (how should a gendered girl be?) abound, and between them the artist threads overhead projections and whispered intimacies.
The artist writes: "This is a feature-length film I've been slow-cooking — it's almost done — I just need to edit a few shots/cut shorter, and do sound mix. It's about a pregnant teenager who goes to live in a maternity home, a shelter for pregnant young women. It is part autobiography, part not. It is also an ode to the overhead projector as educational tool."