Mike Hoolboom and Jorge Lozano
May 3-June 29, 2019
Curated by Vicky Moufawad-Paul
Presented by A Space Gallery and CONTACT
Opening Reception Friday May 3, 7-9pm
Configurations by Vicky Moufawad-Paul
Configurations is a two-person exhibition that brings the parallel practices of Mike Hoolboom and Jorge Lozano into dialogue. Both are prolific and pioneering Canadian video artists that celebrate a hybrid, border crossing cinema. Their works are being brought together for the first time in a gallery for several reasons, not least of which is to create an opportunity for unlikely juxtapositions to produce an open field of reading for their viewers.
Grounded in an understanding of cinema as a daily practice of translation, these two men have found kinship with each other and are often jogging back and forth between their apartments to check out the latest version of their videos, offering feedback and critical appraisals.
Their backgrounds working in arts collectives initiated an integrated vision of production, distribution, and exhibition. A do-it-yourself ethos and an interest in evolving technological forms inform their work on a production level. Both of them have made more than 100 videos and, having continuously worked across decades, shape-shifting along with the massive changes in media production, they have embraced new forms and new contents.
They are both influenced by an experimental and personal relationship to the malleability and consequences of moving images, found footage, and archival images. Opening up new, and in turns fantastical and critical, approaches to the archives of formerly hegemonic institutions, their projects take on colonial medical practices and disaster relief, detourning them into something altogether new where unequal yet mutual desire may reside. Moments from the ever expanding frontiers of the image world is steadily recombined in order to resuscitate, recover, remember, or else change directions, in order to make moments visible again. Both Hoolboom and Lozano make work that usesthe form and content of lens-based practices to ask how images can help us to forget, and to struggle against forgetting.
The deeply committed debates around inclusion and identity in the late 80s was formative for both artists and they continue to make personal work that is grounded in the ever present political. Through visual poetry and philosophical meanderings and explorations, they ruminate on socially complex conditions. Lozano has dealt with the violence of his hometown of Cali, Colombia and Hoolboom has made work which situations AIDS in an embodied and political context. Both men continue to weigh in on the ongoing debacle of Palestine's stateless state. They have both made work about family, Lozano's Ima(genes) address the artist's mother, while Hoolboom considers his father in 27 Thoughts About My Dad. Both make portraits focusing on the marginal and the refuseniks; Hoolboom has made documentaries about his close friends Tom Chomont and Mark Karbusicky while Lozano has made short documentaries about his forever ailing cousin, and friends living illegally in Toronto.
Both artists push images to their limits: the celluloid deteriorates, the video becomes pixelated, and the voice loops, slowly stuttering: turning a simple phrase into a libidinal sigh for the unspoken cruelty of reducing a complex life into an image. Lozano and Hoolboom question and complicate boundaries while developing new configurations in the ways we understand the content and form of their practices. They defy genre while encompassing and serving up excesses of several conventional modes of address, always finding ways to implicate themselves in their work. They challenge masculine tropes (while re-inscribing others) and embody radical curiosity and independence. The work turns around a series of questions, which continue to open, inviting new views, the invention of new thoughts and perspectives, new forms for new contents.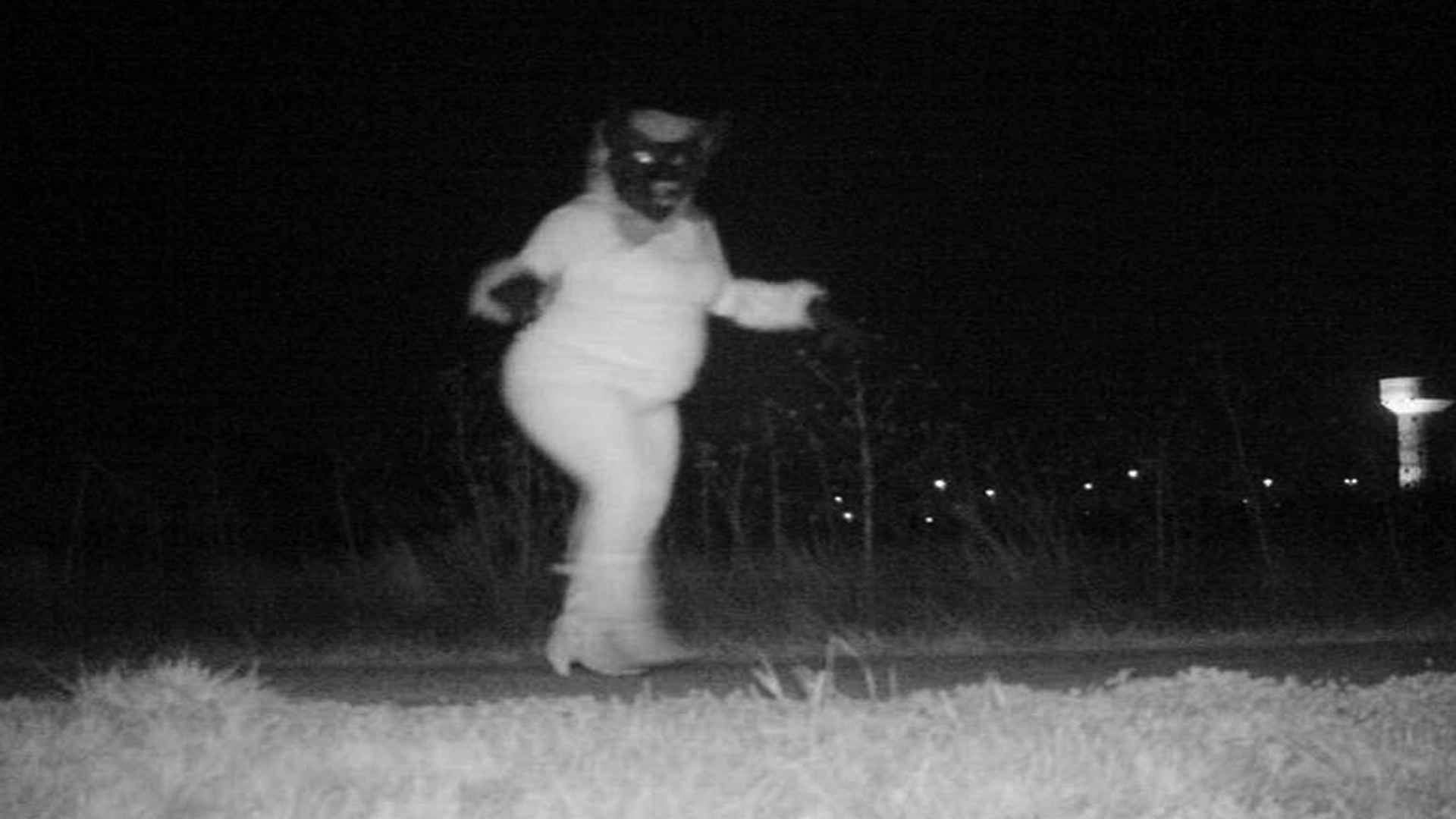 Mike Hoolboom
Threshold 6 minutes 2019
A detourned love poem by Ocean Vuong remixed for Palestine. The root of it all is a calling, a voice, which is followed through Gaza markets and tunnels until the cause of liberation can be seen clearly and embraced. Why do birds suddenly appear?
I Touched Her Legs remix 7:30 minutes 2019
Eva Marie Rodbro's embedded ethnographic maestro short, originally made in Brownsville, Texas in 2010, is given a fan remake. Night vision animal life and teen hangouts conjure a temporary and fragile collective, while conversation fragments, alternately performed and raw, shouted and whispered, collide.
Where the Night is Going 8:45 minutes 2018
"In Where the Night is Going Mike Hoolboom sketches out a post-apocalyptic space in which the social returns, where the viewer is surveilled for intimacy. Like a ship becalmed at sea and with Guy Debord internalized as apparition, Hoolboom conjures up a fog promising belonging, re-membered and re-configured with gesture and dance. Where Bergman's Hour of the Wolf stripped us bare this film promises a carnivalesque that our muted bodies cannot resist." Dirk DeBruyn
Wax Museum by Alena Koroleva and Mike Hoolboom 11:40 minutes 2018
In a suite of 15 scenes, most arriving in a single master shot, the Russian heroine renegotiates her pact with Russian capitalism, and the new bodies and relationships it made possible. Shot in Saint Petersberg during a sunny autumn, when our faces could still bear the old light.
Aftermath 75 minutes 2018
A four-part bio-pic that narrates moments from the lives of Fats Waller, Jackson Pollack, Janieta Eyre and Frida Khalo. This quartet of hauntologies reframes the cruel reductions of biography to focus on death and doubles. Repurposing archival texts (the diaries of Khalo, the testimonies of Waller's kin and familiars) as audiovisual graffiti, old voices are cropped and replayed as intertitles or voice-over fragments, lending a historic charge to images that dream across the present.
(S)he said that 14:48 minutes 2019
"Based on a talk by Paul B. Preciado entitled 'Pharmacopornographic counter fictions' at Tate Modern's The Tanks in London in 2013, renowned Governor General award-winning filmmaker Mike Hoolboom constructs an illustrated lecture with digressive overlays." Toronto Queer Film Festival
Scrapbook 18 minutes 2015
Lensed in Ohio's Broadview Developmental Center in 1967 by secret camera genius and audio visual healer Jeffrey Paull, Scrapbook tells the story of audacious autistic Donna Washington in her own words, as she encounters pictures of one of her former selves fifty years later.

Language, not territory 9 minutes 2019
In a suite of interlocking episodes, five women weigh in on growing up in capitalism. Poetries of survival are interwoven with an adaptation of Mary Oliver's iconic poem Wild Geese.
Supernatural Power 5 minutes 2018
Set in a Red Cross rehab centre in Vietnam, victims of the American war learn to walk on new prosthetic legs. The mystical faiths of destruction and providing assistance. Made during a Geneva workshop, using the archives of the Red Cross.
Hiro 11:38 minutes 2004
Part 6 of 7-part bio-feature Public Lighting (2004).
"A brilliantly edited, highly impressionistic segment on Japanese photographer Hiro Kanagawa as he looks for nighttime subjects and stumbles across a corpse." Robert Koehler, Variety)
"Hiro is a wordless psychodrama about a photographer haunted by atomic memories." Esma Moukhtar, Montevideo Catalogue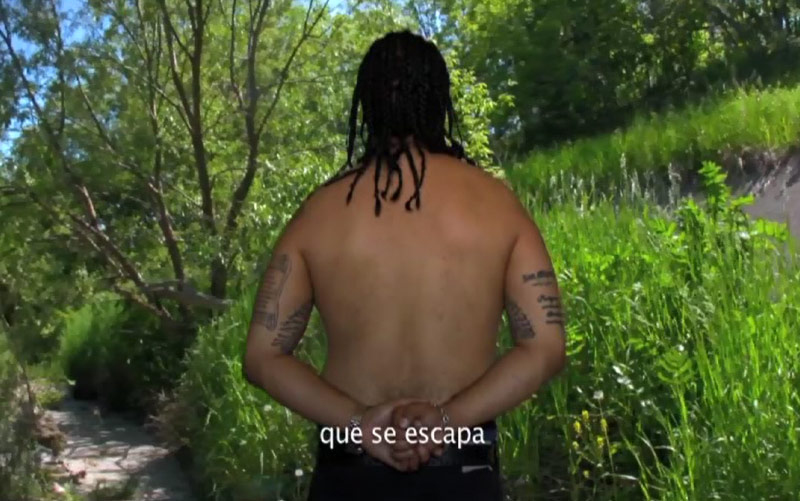 Jorge Lozano
Black Box 5 minutes 2006
A brief quotation from Shakespeare's The Tempest ("be not afeard") begins this walk through time and space, before the movie's title there is already a sentencing, a text that brings judgments, openings and closings. The movie pictures a deluge of memory, strolling through the architectures of the self, and the buildings that housed those selves, all in a flickering cascade of hand developed pictures. The artist's body, particularly his sandaled feet and sunglassed face, act as the anchor for the visual cascade. He is trying to hold a balance between past and future as he is pictured walking backwards, into a history of emulsion and projections and the ruined machines that lie mostly forgotten.
Watch My Back 20 minutes silent 2010
Harrowing tales from the neighbourhood. In a suite of four ten-minute portraits, the subject stands with their back to the camera facing a second image, which offers slow pans of what is close by and familiar, or else close-ups of tattoos and skin. A capitalized text appears in short, staccato phrasings offering testimony of migration from Nicaragua or Colombia, a corrosive and systemic racism in Canada, and lives rarely glimpsed in fringe media, filled with violence and poverty. The transcribed testimonies turn biography into poetry.
The End of Thought 8 minutes 2002
This autobiographical essay video, stuffed with inventive text overlays, shows the artist caught between the worlds of his former home in Colombia and his new residences in Canada. This place between is also a celebration of fluid gender boundaries, travels of the heart and body, even as paramilitary forces try to lock down territory and identity. A complex weave of personal and political, as if the body was already the body politic.
How To Make a Beach To Get a Perfect Suntan 4:13 minutes 2018
Made in collaboration with Alexandra Gelis. A poetic exploration of how to build a beach in your own home. A study about the business of sand and its destruction of ecosystems. Recorded with four cameras over a period of one year.
This mini-essay features a series of theme and variations that looks at sand as the basis for scientific optics (ground glass, telescopes and microscopes, it makes possible micro and macro worlds), and as part of the death drive. A bulldozer shifts earth to produce a new beach (in order "to get a perfect sun tan" as the artists remark in the ironic title), "sand mining" that destroys local aquatic habitat. Meanwhile Alexandra Gelis, one-half of the creative couple, performs a ritual action, taking sand from the newly formed beach and spreading it across the land where it came from, dust to dust.
Mode of Production 9:19 minutes 2014
A blizzard of hand-processed film shows a bird flying through a maelstrom of material detritus, the sky newly alive with emulsion burns. A quote from Paul Preciado points to behavioural codes that bind its users inside the prison house of form. A fiery porn relic, its surface cracked and filled with flickering prismatic colour bursts, draws bodies together and apart.
Tabula Raza 3 minutes 2009
In this tape the artist sends up John Locke's theory of tabula rasa – that we are born with a blank slate of a mind, so that "all knowledge comes from experience." Though he bends the phrase, displacing a single letter to produce "raza" or race. So much for blank pages.
The artist digitally slides into a series of "background" frames, wearing t-shirt slogans and in place of his head a Japanese momo doll face, blank of course, but digitally graffitied in Photoshop, each appearance offering a new translation of the world that he remains cut away from.

The End of Type (writers) 5 minutes 2016
"The End of Type (writers) is a deceptively simple epistolary work in which a man writes to his mother thanking her for teaching him compassion and selflessness. A single shot of swinging typewriter keys hitting paper unveils the mechanical graphic representation of his thought. In the staccato sounds of that typing, we discern the fading away of one technological era at the very moment we witness a message being created by it: a loving, haunted message sent out across some distant Gutenberg galaxy's outer edges to a mother faraway. And yet, as the writer wistfully observes, the irony is that she will not even be able to read it because she does not speak English. With precision and economy of expression Lozano illuminates, via the poignant, chattering argot of a now superseded machine, those overlapping, enmeshed 'in-between' states of the writer, the reader, and the words themselves. It is an evocative echo of the paradox of language and of cinema: we are present in it and yet we are not; we pass through it and it passes through us. As we pick our way through the words, we are better able to connect across our many internal and external borders, as well as to re-imagine our place here together in that strange, ceaselessly recreated Canadian space of the 'in-between.'" Tom McSorley
Lola's art 44:35 minutes 2009
Irreverent and transgressive: raw. A journey with one of Toronto's bravest and most unconventional individuals in the Latin community: Lola.
Notes from Below (made with Alexandra Gelis) 25 minutes 2019
Shot on black-and-white 16mm and hand processed, this home movie looks at domestic labour and then opens it gaze to university labour via a winter strike at York University. Incisive voice-overs weigh in on feminism, equity and representation. Rarely have these identity questions been raised or the personal and political so aptly conjoined in a hand-processing genre that remains dominated by white folks and their landscape abstractions. This movie is manifesto and challenge for change.
Movable Bridges 60 minutes 2019
A double-screen super-8 retro-intro-spective extravaganza. The artist looks back on past moments of political resistance in Toronto's demos and marches, reprises clips from early work like Cine Blanc and Tampon Thieves, and offers wayward geographies in this silent chaptered work, one of his finest and most beautiful.
Bios
Jorge Lozano is a Colombian-Canadian film and video artist. His fiction films have been exhibited at the Toronto International Film Festival and at the Sundance Film Festival amongst others. His experimental work has been exhibited at many international festivals and galleries. His practice includes the organization of cultural events, as well as video workshops for marginalized youth in Canada, Venezuela, and Colombia.
Mike Hoolboom is a Canadian media artist and writer. He was schooled at the Funnel, Toronto's former underground movie palace, and has made more than 100 movies since 1980. There have been twenty international retrospectives of his work, including recent turns in Russia, Portugal and Switzerland. He was the recipient of the Governor General's award in visual and media arts in 2017.