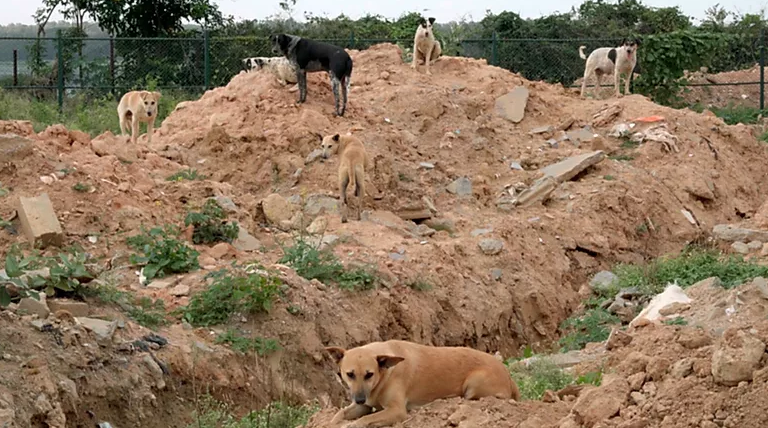 The Lake and The Lake is a patient, beautifully shot city portrait that is also a portrait of home. The young filmmaker, Sindhu Thirumalaisamy, lived in Bangalore, India, a smoggy industrial swarm of apartment towers. It is not the heart of the city that interests her, but its outskirts, the lake Bellandur that is perched alongside its edge, the largest in the province, a stone's throw from India's high tech centre, Silicon Valley of the east.
The lake is choked with dense white foam that is lensed with lyric abandon in the film's surreal opening. It appears like movie snow floating in the ghost light. In the artist's words: "bubbles of wealth surrounded by pools of neglect." Could something so beautiful be toxic? Even its shards, floating across streets like a child's daydream?
Patient frames lead us along its shores where we can examine a square metre of dirt, a posse of lounging dirt dogs, plants whispering in the breeze. The artist traverses the city's fringe, the liminal edge, as conversations with friends and strangers, experts and neighbours weigh in, along with a bevy of carefully crafted field recordings.
Her workshop time with Farocki has stood her in good stead, she takes the maestro's patience without his dryness, his arid wit, and offers a luxury of time, as if each shot had a narrative within it, all its own. A politics of singularity, a lens of curiosity and acceptance.
The lake is the frame she uses to bring the city into focus. We are greeted with a dance party on a ground of soapy suds, the camera suddenly quick panning, sending the bodies hurtling across the room in a blend of desires. A boat drifts across an excremental wasteland where "all the fish died in one month," after raw sewage began to be dumped in earnest. Workers harvest grass, fed by the foamy waste. Children invent playgrounds and new identities.
On a sunset balcony a friend or familiar poses her camera-phone against the skyline, and flicks through a hundred views, variations on a theme, offering a rosy hued, sundrenched beauty. But where is the garbage, the shit, the unwanted? Cropped and disappeared. As if one could become a tourist in the only city one's ever lived in.
In place of a polemic, a broadsheet, or an overview: there is a search. An attuning. A being with. Little surprise that the artist has a sound practice, not only because her tracks are so rich, but because this is a movie that invites us to listen to her listening. Such a deep and unexpected pleasure. As if there was time for that too.