January 10, 2011 – 7:29pm
Mike Hoolboom: Portraits
Monday January 17th + Monday January 24th 2011 7:30pm + 9:00pm (two double bills- see below for details)
DIM Cinema at the Pacific Cinematheque 1131 Howe St. Vancouver BC
TIX $10.50/$9.00 + $3membership
www.cinematheque.bc.ca www.dimcinema.ca
"The finest experimental filmmaker — or in his words, 'fringe filmmaker' — of his generation." Canadian Film Encyclopedia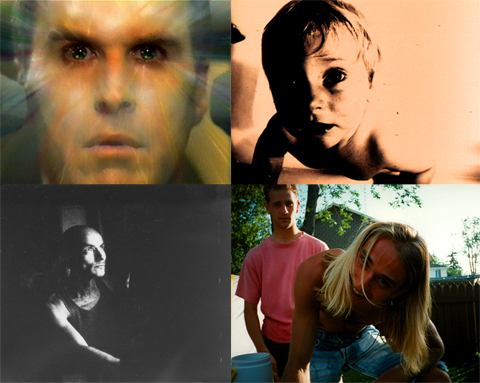 When Roland Barthes discovered a photo of his mother as a child in a winter garden, he dreamt about enlarging it ad infinitum in order to reach her very being in the finest grain and know her truth. However, enlarging distorts and ruptures an image; rather than revealing truth or essence, the apparition of a loved one scatters. Only the factuality of the photograph's technology and materials remains. In Mike Hoolboom's portraits, the essence of his friends and family is protected from this scrutiny. Rather, Hoolboom enlarges, through extraction, montage, collage and repetition, the image-likenesses of our collective past, present and future — our meta selves. Through this macro gleaning of our shared cultural image bank (home movies, photo albums, music videos, commercials, medical imaging, scientific analysis, Hollywood films), he regards the entwinement of his subjects in the mediums of representation, in the vast weave of truths and likenesses, in the complexity of being and not being in a world of reproductions and facsimiles.
Mike Hoolboom is a Toronto-based artist working in film and video. Widely considered one of Canada's pre-eminent experimental filmmakers, he is a prolific creator whose works have screened in more than four hundred festivals, garnering some thirty awards. He was the 2009 recipient of the Bell Award in Video Art, given annually to a Canadian artist who has made an exceptional contribution to the art form. Hoolboom has published a pair of interview books with Canadian media artists, Practical Dreamers: Conversations with Media Artists (Coach House Press, 2008) and Inside the Pleasure Dome: Fringe Film in Canada (Coach House Press, 2001). In 1998 he authored Plague Years (YYZ Books) a tongue-in-chic autobiography. www.mikehoolboom.com
MONDAY JANUARY 17th
7:30pm: Mark | 2009. Video, 70 mins.
A sidelong biography of Hoolboom's friend and long time editor Mark Karbusicky, animal rights activist, political vegan, punk maestro, and life-partner of performance artist and transsexual force-of-nature Mirha-Soleil Ross.
9:00pm: Imitations of Life | 2003. Video, 70 mins.
Imitations strains childhood through a history of reproduction, culling images from the Lumière brothers up to the present day in order to find the future in our past.
MONDAY JANUARY 24th
7:30pm: Public Lighting | 2004. Video, 76 mins.
How do we tell the story of a life? What cruel reduction of an image will stand for the years between a grave and a difficult birth? Public Lighting examines the current media obsession with biography, offering up "the six different kinds of personality" as case studies, miniatures, possible examples.
9:00pm: Tom | 2002-2009. Video, 53 mins. World Premiere of Newly Re-edited Version!
A portrait of Tom Chomont, a key member of the New York underground, notorious video artist, AIDS sufferer, and raconteur. Excerpts from hundreds of films — archival documents and Hollywood moments — stream past in a hypnotic rush, offering a subject whose skin is cinema, whose flesh-and-blood has been re-made into the picture plane.