LIFT's 30th Anniversary Commissioned Films
LIFT CELEBRATES THIRTY YEARS OF FILMMAKING WITH NEWLY COMMISSIONED FILMS BY THIRTY FILMMAKERS AND ARTISTS
Toronto, December 27, 2011—In celebration of three decades of filmmaking the Liaison of Independent Filmmakers of Toronto (LIFT) has commissioned 30 Toronto film veterans and emerging voices to make new works originating on or in the spirit of Super 8mm film. Some of the invited artists include Bruce Elder, a leading figure of the Canadian avant-garde; Nobu Adilman, accomplished actor, musician, TV host and producer; Mike Hoolboom, renowned avant-garde filmmaker; Midi Onodera, award-winner Japanese-Canadian filmmaker; and Susan Oxtoby, Senior Film Curator at the Pacific Film Archive. The completed films, videos and digital works will be presented over three nights in January at Jackman Hall.
With this project we are not only celebrating LIFT, but also celebrating film itself. When the end of film is pronounced on a daily basis, in favour of the newest digital hype, there is a beauty to the slow materiality of film in iconic yellow boxes and thousands of tiny pictures etched in silver. In 30 years the materials have changed but the clarity of vision and expressive desire has remained.
"Over the last 30 years LIFT has grown from a small collective to one of the foremost centres for independent moving image education and production in the world" said Ben Donoghue, Executive Director, LIFT. "The range and richness of the works we have commissioned capture what LIFT has stood for over the past three decades: a fierce support to independent practices for both aspiring filmmakers and established artists, and an equally passionate commitment to provide affordable access to production, post-production and exhibition equipment."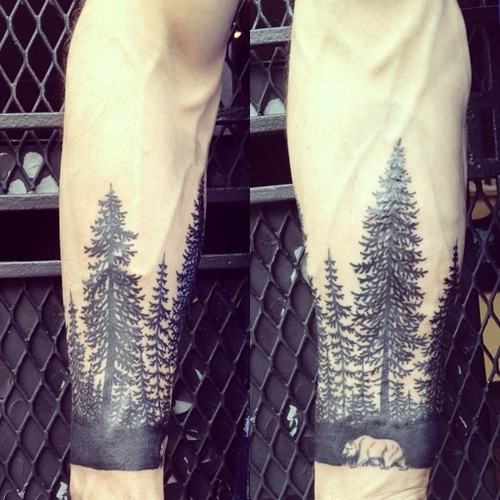 THURSDAY, JANUARY 19, 2012 at 8:00PM
Prashant Miranda, "In Memory Of The Northern Red Oak", 3:10
Mike Hoolboom, "Forest Walk", 8:00
Alan Zweig "30 Found Clips and a story I've told before", 8:00
R. Bruce Elder "Return to Nature! The True Natural Method Of Healing and Living and the True Salvation Of the Soul: Paradise Regained — The Core Of the Body — Water, Human Curative Power, Light, Air, Earth, Food, Fruit Culture", 7:20
Kika Thorne "Solidarity", 3:11
Heather Keung "Lifting for 30", 2:40
John Porter "Light Sleeper", 3:00
Adam Rosen and John Creson "ProMeTheeUs", 9:52
Marcos Arriaga "Assembly", 5:00
Christina Battle, "when the smog-filled wind began to howl", 4:55
FRIDAY, JANUARY 20, 2012 at 8:00PM
Midi Onodera, "The Grand Design", 9:25
Alison Duke "In Search of a World", 3:00
Greg Woodbury "Medical Test Chronicles: Victoria's MRI Story", 6:30
Ant Horasanli "Inhibit", 4:27
Raha Shirazi "untitled", 3:45
Jean-Paul Kelly "A Minimal Difference", 4:00
Jorge Lozano "Let there be Shadows", 8:00
Madi Piller "7200 Frames Under The Sun", 3:30
Ulysses Castellanos "Queen's Plate 2011", 6:40
SATURDAY, JANUARY 21, 2012 at 8:00PM
Susan Oxtoby "Diary 1993-94", 11:00
Alexandre Larose, "Portrait De La Place Ville Marie", 3:30
Chris Kennedy, "Towards a Vanishing Point", 8:00
Larissa Fan "The tide goes in, the tide goes out", 5:30
Julieta María "Pisando Fuerte / On Firm Ground", 4:00
Nobu Adilman "A+", 3:37
John Price "LIFE | DEATH", 10:00
Francisca Duran "Even if my hands were full of truths", 5:00
Scott Miller Berry "TBA", 6:00
Tess Girard, "Just Passing Through", 5:35
AGO Jackman Hall, 317 Dundas Street West (McCaul Street entrance)
Admission $8.00
LIFT's 30 x 30 commissioning project has been supported by the Initiatives Program of the Canada Council for the Arts (Media Arts Section).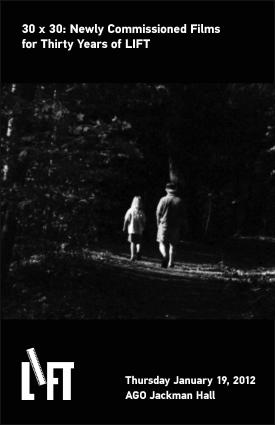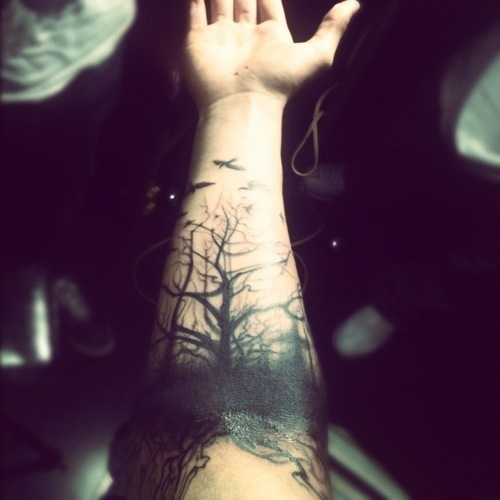 The Liaison of Independent Filmmakers of Toronto (LIFT) is Canada's foremost artist-run production and education organization dedicated to celebrating excellence in the moving image. LIFT exists to provide support and encouragement for independent filmmakers and artists through affordable access to production, post-production and exhibition equipment; professional and creative development; workshops and courses; commissioning and exhibitions; artist-residencies; and a variety of other services. LIFT is supported by its membership, Canada Council for the Arts, Ontario Arts Council, Ontario Trillium Foundation, Ontario Arts Foundation, the Government of Ontario and the Toronto Arts Council.