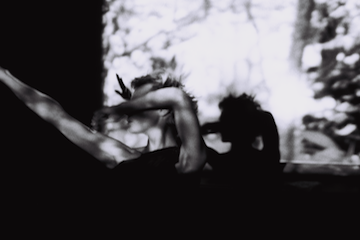 It Felt Underground: an interview with Annette Mangaard (May 9, 2013)
Annette: The Funnel felt like a small, secret society. We were underground. Today there are people who have big bad feelings about the place, there's a huge amount of emotion, even though twenty four years have gone by. I don't have those feelings myself, but others do. Like Ross McLaren. Well, he may not have bad feelings, but others don't feel so good about him. Some people thought they owned the Funnel, like Ross and his brother Gary, so at the end when Gary took all the equipment into his own space, it created bad feelings. I don't think it was legal.
Mike: Could we roll back a bit? You went to the Ontario College of Art.
Annette: Yes, but I didn't study film. I took printmaking, painting, woodworking. After school I lived in the Arctic for a year, and when I was about to leave I thought I should buy a camera and take pictures. I went to Henry's and bought a super 8 Sankyo camera and five rolls of film figuring I'd buy more when I got there. Of course, you couldn't buy anything out there, never mind film. When I came back from the Arctic, the footage wasn't so interesting, I was just fooling around like a kid because I was a kid. I was very isolated for a year: there was no TV, phone, radio, store, restaurant or bar. I vowed that when I came back (in 1983-4) I was going to make movies, and become an actor. This is what young people think, I can do anything. I corralled some friends into helping me shoot my first film, like high school friend Joanna Nokes. It was called She Bit Me Seriously (17 minutes 1984). I cut it together with a hand-cranked viewer and tape splicer. The soundtrack was played separately on cassette. It was shown at the Funnel as part of Cache du Cinema (curated by Dot Tuer, John Porter, Paul McGowan in 1985), a series where every member was asked to show the first film they had made.
Mike: How did you know the Funnel existed?
Annette: I lived in the east end, at Queen and Broadview, and the Funnel wasn't far away. I joined hoping to learn more about filmmaking. While I was there I met you, Ross, Mikki Fontana, David Bennell, John Porter… then I decided I would make a 16mm film so I rented a camera from the Funnel and learned how to use it there.
Mike: Midi Onodera was the equipment manager, did she show you?
Annette: No, she was not so friendly to me. She was a bit of a tiger, fierce, scary. I felt like I was always saying the wrong thing to her. She was hardcore, I was not so hardcore.
Mike: Was everyone hardcore? Was it an easy, friendly place?
Annette: The Funnel felt friendly and energized, exciting. Avant garde and underground. But it also felt a little cliquish. There was a core group of insiders that were special. Maybe because they were actually making films. I wanted to work in 16mm film, so I took my workprint, the copy made by the lab from the original negative, and cut it using rewinds and a viewer. I didn't know what I was doing at all. I kept throwing film all over the floor. Then I thought: this is so scratched and dirty, I'll just go get some more workprint. So I went back to the lab and they made me another print of the film. I cut both copies together and took the results to Catherine Rankin, the negative cutter, who phoned me and said this is a mess because you've used the same images twice. I said yes, those are the best shots. She explained that each shot on the workprint corresponded with a shot on the negative, and that she didn't have two negatives to match the two workprints. Obviously I didn't understand what negative cutting was. Following her advice, I had a duplicate negative made. I learned everything by trial and error, and the nice thing about the Funnel was that you could find people who could help you. There was a strong sense of purpose and community. I would work on my movies at the Funnel, cutting and optical printing, and members would drop by and feedback. Optical printing was a gift to me, the ability to rephotograph original footage meant that I could fix whatever mistakes happened during filming. I could redo it frame by frame. It took forever but it was great. I hand processed film there and bought my own little Russian tank. People were always willing to show you how to do something.
Mike: There weren't many members, sometimes no more than thirty, and ten had to sit on the board.
Annette: I was asked to sit on the board because there weren't enough people. David McIntosh was the director and it wasn't a happy time. He had bigger ambitions than many of the members. He wanted to expand the organization, with bigger budgets and more activities. I was twenty three, twenty four years old, everyone else knew much more than me. I remember a few years later when I decided to start the Images Festival I got together people like Lisa Steele and Kim Tomczak. We were talking about funding and I said, "The arts councils have to fund us, it's their job." And Lisa said, "Annette, they don't have to do anything." That's how naieve I was.
Mike: It's very unusual that artist-run centres fire staff no matter how incompetent they are. But the boards you sat on fired two directors in a row. But the boards you sat on fired John Porter, who was the director of The Funnel.
Annette: Everybody was always talking, it was a hotbed of intrigue. There were factions that didn't like each other, and some didn't like Ross. Ross and Anna were living together and then they split up. For such a small group there was a lot of infighting. What were people fighting about? What should the Funnel do next? Whose films should be shown? Board meetings were long and exhausting, everybody had a chance to have their say in a hot, airless room. People fought over control. David McIntosh left with bad feelings, there was a lot of tension and high feelings. Then we hired John Porter who was a nice, enthusiastic guy and one of the original members. Everybody already knew John of course. He got fired while I was away on a trip to Brazil. He called me the moment I was back and told me that he'd been fired, but that it wasn't legal because the entire board wasn't present. I had no idea he would be fired before I left. I had never even written a grant application, I'd no way of knowing who was doing a good job and who wasn't. I had agreed to sit on the board only because they needed another body. I told John I was sorry that I didn't know anything about what had happened. I felt really badly.
Mike: Did you show your work at the Funnel?
Annette: I was included in some group shows. They were usually packed, hot and sweaty affairs with uncomfortable screening and endless films. The beer would get warmer and warmer during the overly long programs, but at least it was cheap. The screenings were generally well attended. People stayed and talked afterwards, often about the work itself. But I was bored with a lot of the work, and wondered if I was the only person who found it dull.
Mike: Many artists came into town to show at the Funnel.
Annette: Su Friedrich stayed at my place. I was such a neophyte and she was so accomplished. I kept feeling oh no I'm saying the wrong things. I was very young and naieve. Did I feel judged? Yes. I put up others as well because I lived nearby. We didn't have an extra bedroom, but there was a large closet and I put a mattress on the floor. Better than nothing.
Mike: Did you do a lot of volunteer work at the Funnel?
Annette: Yes. I put up posters, went to meetings, took tickets at the door. I didn't project because I didn't know how.
Mike: Do you remember seeing video at the Funnel?
Annette: No. Film and video were two worlds with different aesthetics. Video art was political and performative, while film was lyrical and more abstract. There were differences in how people made work, talked about it, showed it.
Mike: I remember many nights at the Funnel watching movies without any people or talking in them.
Annette: This is true, but I worked with language. There was colour field work being made, and hand processed found footage movies and performances. When I first arrived at the Funnel people didn't work so much with found footage, but over the next few years (in the mid to late eighties) people would bring in large metal reels saying, "I picked this up behind the lab. I'm going to chop it up, turn it upside down, layer things together, scratch on it." Film was more material while video was immaterial. I was drawn to film for that reason, it was related to painting, you could touch it. In video people would set up a camera and start talking. I remember seeing Randy and Berenicci's installation at the Theatre Centre which featured a wall of monitors with people talking. The Vtape crowd were making socially engaged and political work. Filmmaking was more lyrical and allusive. Today the aesthetic is blended, but back then there was a large void between the two. Because I came from the art scene I would regularly go to galleries, if they showed video I would see it. But I didn't run into Funnel people there. The Funnel felt like a closed group, and the video community, even the visual arts community, felt far away.
When the Funnel started falling apart I joined LIFT (Liaison of Independent Filmmakers of Toronto), so I could use their equipment. LIFT was business-like and organized. It had a lot more equipment and felt industrial by comparison to the Funnel. Members were interested in documentaries and dramas. The Funnel felt like a family. I wasn't part of the core family at the Funnel, I was a second cousin, and welcomed in that role.
Mike: Can you talk about how the Images Festival began?
Annette: In 1986 I was on a westbound streetcar when Marc Glassman (former owner of Pages Bookstore, and film curator/writer) walked on. A number of local artists had been turned down by the international film festival and I said it's crazy, they don't show video art, they only screen a handful of local films. We should start our own festival and be inclusive. Marc said yes, why don't we? I got together a number of people, Marc was great because he knew film and video artists. Kim and Lisa, bh Yael, Marg Moores and Richard Fung came to a meeting. The idea was to show both film and video, particularly experimental work, and video art that was more political. TIFF felt far away and removed, this would be a festival for us. We'd been having screenings called New Waves of Cinema at the Rivoli that you and I cooked up and lots of people would come. Clearly there was an audience for this work. The Images Festival grew out of a need to show these two communities together.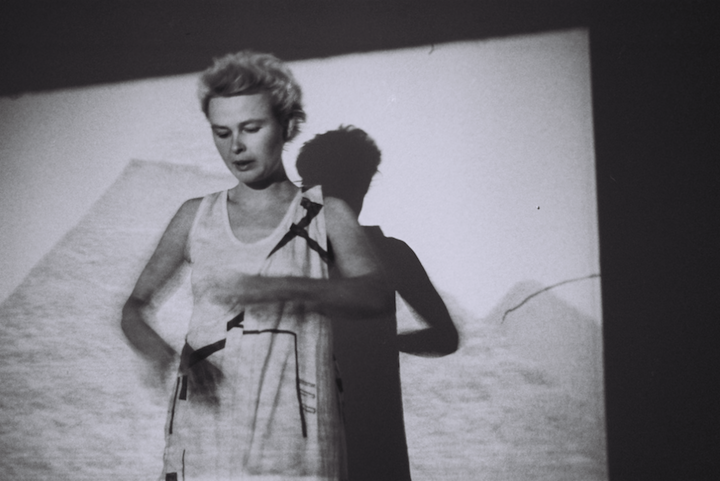 Annette Mangaard: Her Soil is Gold (1996)
Annette Mangaard's work explores the relation between a traveller's fleeting impressions and their dreamed double in art. The maestro of the oblique autobiography, she has culled events from her own life and refashioned them into meditations on power and femininity. Her movies have taken her around the world — from Egypt and Venice, the Arctic and Belize, all in search of a matriarchal lineage she is intent on reconstructing as an image of home. Her first films were made in super-8, while her more recent works have been made in 16mm. And while her early films take up the two genres most closely associated with the super-8 form — the home movie and the travelogue — her work in 16mm is informed by more overtly public concerns. She has increasingly turned to the family as the site of reproduction — of values, memory and character. With a keen wit and an eye for surreal juxtapositions, Mangaard shows us that the police are to society what dreams are for the individual.
Annette: I went to the Ontario College of Art between 1976 and 1980,mostly doing painting and printmaking. After I was through, I headed up to the Arctic for a year. I brought a super-8 camera along and that started my life in the movies. While I was there I was so lonely and isolated I decided that when I got back to Toronto, I would start doing all the things I'd always wanted to do — like act and make movies.
Mike: Why film?
Annette: It's a mixture of power and romance. The National Gallery boasts an average attention span per painting that's twice the time people spend looking at work at the Metropolitan in New York. At the Met the average time per work is one-and-a-half seconds, and at the National Gallery it's three seconds, but I need more than that. For an audience, cinema begins at the box office; they invest in the work, and then they wait for their return. And in a dark theatre there's no distraction; there are many ways to look at a film but only one direction to see it in. Finally, movies are a part of our lives. Everyone sees them, even people like my parents who have never gone to a theatre. Now with TV, the films come to them. Everyone can relate to what I'm doing because everyone watches moving pictures.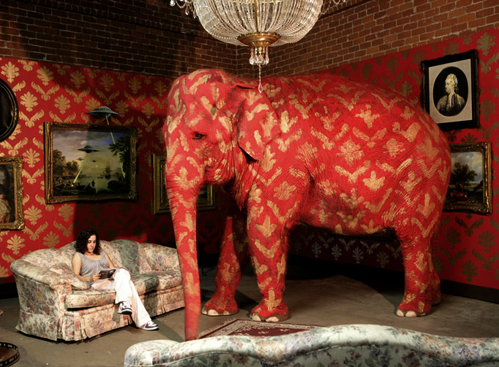 Mike: You didn't have any kind of training?
Annette: When I started making films I audited Ross McLaren's classes at the Ontario College of Art, but he didn't get into the technical side of things so I stopped going. I just needed someone to tell me how to splice, how to take a light reading, so I joined the Funnel Film Co-op and asked people there. I never studied film; I just picked it up as I went along. I don't like schools.
Mike: Is that when you started watching different kinds of film?
Annette: I never saw films analytically, as how-to demonstrations. I'd get so engaged, I'd just watch. I'm the kind of person who goes into a theatre, and even if the film is terrible, and I have to go to the bathroom, I won't go because I'm involved, I'm inside it. Sometimes I'd go watch films at the Funnel, and to tell you the truth, I had a hard time with a lot of them. Often I didn't understand what the filmmaker was getting at, or why different kinds of material belonged in the same work. I don't know if people feel the same ,about my stuff. I've given workshops in communities that don't see a lot of work and I never get that response. But maybe that's because my work isn't really experimental.
Mike: What does "experimental" mean?
Annette: Nobody knows. [laughs] I'm talking about experimental as a genre — filmmakers dealing with aspects of cinema (sound, image, grain) as pure objects of inquiry. Whereas I'm exploring something and using those devices to get inside the subject. The formal aspects of filmmaking are not what I'm interested in making films about.
Mike: Can you tell me about your first film?
Annette: I began several films at once. In 1984, I accompanied Eric Snell to an arts festival in Bath, England. He'd been commissioned to create a line out of pink plastic between two art galleries in Bath. It took two weeks to hang. It was raining the whole time, in freezing cold weather. We worked from sunrise to sunset on slippery English slate roofs, and I'm afraid of heights. [laughs] As I was there helping with the line's construction, I thought, why not shoot it? Line Through Bath (15 min 1984) was shot on super-8, edited on video, and then I packed it off to the artist. Now I don't even have a video copy myself, so the work's fairly invisible. Like A Dialogue With Vision (1990) it's a documentary about art.
Mike: And like Dialogue, it's focused very exclusively on the art itself, as opposed to its context. Given that this pink line re-marks the city it would seem an obvious impulse to document the setting and its population.
Annette: Maybe I'm anti-social. The same is true of A Dialogue With Vision. I don't know why I didn't shoot anybody looking at the art but it didn't occur to me. Bath begins with a series of jump cuts which show the town before the line runs through it. It ends after the line's completion and runs through a similar series of jump cuts.
Mike: You deal with art and artists a great deal in your work and your statement remains consistent throughout: that creation is essentially solitary, removed from the everyday.
Annette: When Eric built the line through Bath he had all kinds of people working for him, climbing buildings, searching out points where it could be tied off. But ultimately it was his decision — which cornices on which buildings would be tied off, with how much tension and how much material.
Mike: Did Nothing by Mouth (10 min super-8 1984) follow this film?
Annette: I worked on both at the same time. Nothing by Mouth is based on three poems by Karen McCormack, and the film is really an audio-visual duet of image and text. I walked with the poems in my brain and noted things I thought would fit. Then I would come back with my camera and start shooting. It was very relaxed and intuitive. Over the course of its ten minutes, the film describes a solitary passage through a number of spaces, drawn from glimpsed and isolated moments. The second poem, which gives the film its title, is given the most literal treatment. I had a friend who worked in a hospital and she snuck me in after hours to shoot. I'm wheeled into an operating theatre and put under an anesthetic, but you only catch glimpses of me — my feet are poking out from the sheets. I'd had an operation and almost died and this sequence replayed that experience. It has a feeling of doomed solitude, that you'll never wake up again. By showing my feet on the hospital bed as it's wheeled into the operating theatre, I suggest the body of the patient. But by withholding its representation, by not showing this body, I allow the viewer to enter into it, to feel it as I did.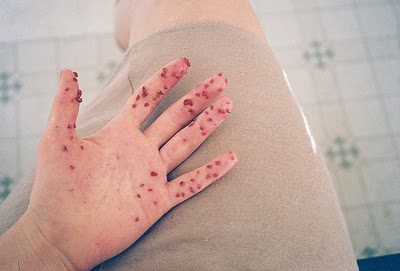 Mike: What does "nothing by mouth" mean?
Annette: It's a sign nurses put over your bed when you're having an operation — you can't eat or drink, so you're fed intravenously.
Mike: Tell me about She Bit Me Seriously (20 min super-8 1985).
Annette: I talked a couple of friends into shooting and acting. I wanted to make a film about sex using two women who would talk about men in very different ways.
Mike: So this wasn't scripted?
Annette: It's all real, very natural dialogue. We'd usually drink a bottle of wine and then roll the tape recorder. I hadn't been in a relationship for three years, and she'd just been through a bad one so the timing was right. I felt that unless there was a deep intellectual bond you shouldn't have sex, and she just wanted to go out there and do it all the time. So the film carries these two sides. Each side is represented by themes that symbolize our differences. My character is always making pasta, looking for recipes, shopping, cutting, drying pasta. The other woman is constantly seeking out new and exciting places to play pinball. The pinball metaphors are accompanied by these very blatant sexual images: like a big pneumatic drill boring into the pavement or shifting the throttle of a car. In the end, you see assembly line chickens getting their guts sucked out of them, which shows that you're fucked either way. [laughs]
Mike: What does this say about sex?
Annette: [laughing] I thought at that time it wasn't a good thing — that you couldn't be happy and have sex. Any way you look at it, someone is either sticking something into you or taking something out of you.
Mike: The visual metaphors are so obvious, yet because of the way the soundtrack is broken up, you don't know who's speaking or about whom. It offers details of these women's lives without any sense of the whole picture. And somehow the visuals work off these fragments.
Annette: The music's important as well. About two-thirds of the way in we see a woman punch up a tape called "Tell Me About Your Love." It goes: "Tell me about your love — is it possession, is it passion, is it destruction, is it deception…"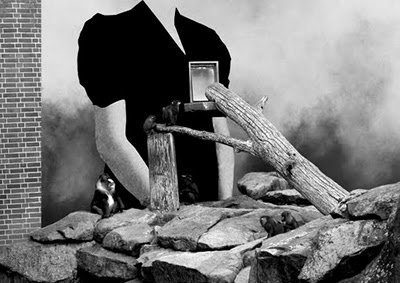 Mike: What about the opening passages?
Annette: They're home movies of me as a child. I'm wearing little sunglasses and dancing with a doll. I wanted to suggest a vulnerability and innocence. In the end, the opposite's happened because you're seeing workers on the assembly line sticking nozzles into dead chickens. The film moves from innocence to experience using a home-movie style.
Mike: With your later work you've been successful in getting it shown but your earlier stuff is relatively unseen. How come?
Annette: I didn't think of doing it and didn't know how. But now I realize that unless the films make money, I can't continue anymore.
MH: Why the change?
Annette: I'm older and have different expectations. When I made She Bit Me I lived above a fish store in Kensington Market with no heat and it smelled so bad no one would come visit me. The rent was cheap, but I don't want to live like that anymore.
Mike: Did you think of yourself as a filmmaker when you were making these early films?
Annette: No, that happened about a year ago. [laughs] My first screening was in the spring of 1985 at the Funnel's "Cache Du Cinema" which showed over 100 films in seven nights. If you were a member of the Funnel, you were asked to screen your first film, so I showed She Bit Me Seriously. I was very excited, but there were some people who spoke with my friends and said it was terrible. I was devastated. I didn't really know what I was doing. I never learned how to make "films," but I had a gut feel the film worked. I was hurt when they called it unprofessional. Now I think it's one of my best films.
Mike: One of the great ironies about independent film production is that the clumsy, dramatic-style shooting with lights, cameras, cables, and crew obliterates its environment but creates a very accessible surface for its audience. Rushing out with your super-8 allows you to move in concert with your surroundings, to become a part of it, but this kind of film work creates a very alienating surface for audiences.
Annette: People understand stories. I'd like to use a mix of constructed scenes and spontaneous shooting — that's the way A Dialogue With Vision developed. We shot a great deal with the crew, but I also shot with my Bolex, and we ended up using a lot of that. The spontaneous stuff gives it a more intimate, personal, human aspect.
Mike: You've always worked very hard — where did the motivation come to make stuff that wouldn't have a public life, that didn't even offer the slim returns that age and reputation bring?
Annette: Innocence and determination. I really enjoyed the making, and the feeling when you finish is unbelievable. I'm not sure that's true anymore. I've become a lot more critical, and when I've finished something, I feel the film isn't enough. It should be more complete, or larger, or more together. I used to be very naive about cinema and could therefore continue. When I started in 1984, I was happy to work at the library three days a week, not own anything, drift, make these films.
Mike: Why did you shift to 16mm for Her Soil is Gold (10 min 1985)?
Annette: I wanted to make 16mm films then the way I'd like to make 35mm films now. I was tired of being excluded from programs because my films were made in super-8. They simply couldn't be shown anywhere. If you sent them to a festival, you might get a film back or you might receive a can of spaghetti. I wanted something more permanent. I still love the look of super-8, but between the limited possibilities of post-production and impossible exhibition, it was time to move on, to go public. The work needed to become more accessible and that was partly reflected in the larger gauge.
Mike: Can you describe Her Soil is Gold?
Annette: It's about a trip to Egypt which is shot in super-8 and optically printed. It moves through the streets of downtown ,Cairo, into the suburbs and out to the pyramids. I thought it was a laugh that the pyramids are in the suburbs! Then it moves onto a boat in the Red Sea where tourists float towards a little white-sand island and make a barbecue.
Mike: Tell me about the title.
Annette: "Her" is Egypt, and "Her soil" is the stepping ground for thousands of years of riches and ruin. Like a typical Canadian, I understood its history in terms of its geography.
Mike: The film is careful to make a distinction between the urban poor of Cairo and the pyramids beyond, a distinction based on money. The pyramids were built for the rich by their subjects, and while the poor continue to work in the shadow of these monuments, the pyramids are never revealed as a part of their lives. On the other hand, the tourists are also cut off from these pyramids. The history of these fairy-tale leftovers has been replaced by travel posters and King Tut greeting cards. Both groups are alienated from the past, the first because of their wealth, the second because of their history.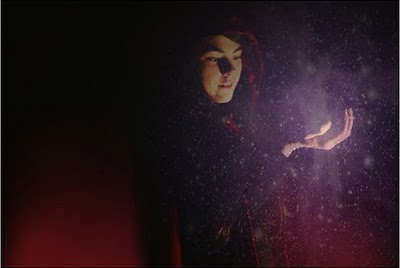 Annette: I've always had this image in my mind of what the pyramids would look like. And when I got there I thought they looked just like all the pictures, only the pictures were better!
Mike: Over the centuries we've accumulated an enormous image archive of ancient Egypt. Today we mummify with our cameras. Your images are a part of this long line of pictures. How do they relate to what's gone before?
Annette: I don't think mine were any different, I probably took them from the same angle. No matter how the camera approaches, we never learn any more about them — they're simply sitting there. And this place where knowledge stops — where you can't understand anything more — that's death. There's never any question of understanding death, only accepting it.
Mike: You recite a text in the film — what's that about?
Annette: There's been a very heavy tourist industry in Egypt for hundreds of years. The text relates the destruction that tourism has wrought over the centuries. The film closes with the tourists on the boat and a song by The Palace At 4:00 A.M. called "White Guilt." The title says it all. But I still felt like an invader. That's one of the reasons I'm more interested in fiction now — it avoids the ethical problems that plague any kind of documentary making. And much of experimental film shares a documentary base. When I lived in the Arctic, I didn't shoot much because pulling out a camera would have been the biggest faux pas in the world. So the film that I'm making about the experience, Let Me Wrap My Arms Around You (28 min 1992), narrates my own feelings but shows a more exterior view. It doesn't push into people's homes. The only shots of other people come from a public day of celebrations, games and sports. Anything else would have been trespassing.
Mike: How do you feel about the camera in your own life — when it's introduced into intimate situations?
Annette: Let Me Wrap My Arms Around You includes footage of myself and my lover, though not in a particularly intimate way. I felt strange about it and debated endlessly over using it or not. Finally, I made a video copy and sent it to him and he laughed and thought it was fine, and then I felt okay. I wouldn't have included it if he felt he was being used. I decided to make a fiction out of it and leave the explicitly personal material out. I don't want to use my life to make autobiographical work anymore. If I was making She Bit Me Seriously today, I'd turn it into a drama. I just wouldn't ask someone to expose themselves for a film like that. Making personal work and entering a foreign country are both acts of appropriation. You're not living your own life anymore; it becomes a script for the film you're always working on.
Mike: Can you describe There is in Power… Seduction (5 min b/w 1985)?
Annette: Like She Bit Me Seriously and A Dialogue With Vision, it features two women. The first is a corporate type complete with business suit, heels, and purse. She sits in an office behind a grand desk filled with telephones and files. Her voice-over narrates a series of meditations or axioms on power. It runs through everything from body language to answering the telephone, showing how these simple gestures express power. The second woman is seen through a projected slide of the jungle, moving to music. It's very lyrical and abstract, often using in-camera superimposition to suggest a soft-edged seduction. Her voice-over narration is taken from a book called Aphrodite, and the passage concerns the preparations of a courtesan. She employs a slave to braid her hair, rouge her nails, soak her skin in oils. These two situations run parallel, comparing the corporate and the sexual, office power and bedroom power.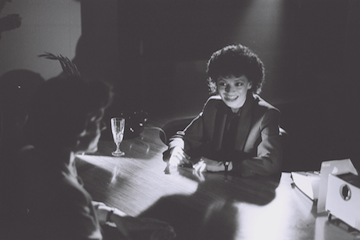 Mike: There's a whole series of divides in the film — between the mythical and contemporary, passion and reason, decoration and utility. But by the end, the binaries seem aspects of the same thing.
Annette: The voice-over is the bed track. It's the bed for the viewer — you lie down there, it's comfortable. Both women exercise power, and even though they arrive there from different directions, the effect is the same.
Mike: Both women are cut off from the world that's surrounding them, like the protagonists in the rest of your work. They're photographed in studio settings. The woman behind the desk suggests the ego at work, while the other seems to exist entirely on the surface of her body.
Annette: I feel the veiled woman is finally more seductive because of the tone of the voice-over, which is very soothing and quiet. And the uncertainty of her shape demands that the audience imagine the rest of her. The woman behind the desk is all there. What you see is what you get, so there's a balance between the two. They come together across the splice bar and their mutual pursuit of power. Power exists in the smallest things we do — having breakfast, tying shoelaces, replacing lightbulbs. What these two women make explicit is the way power already inhabits our bodies, and knowing that means we can exercise it when we want to.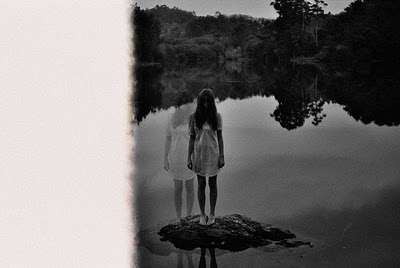 Mike: Can you tell me about The Iconography of Venus (5 min 1987)?
Annette: Iconography deals with representations of the ideal and the way this has come to reside in the bodies of women. I collaged a number of women photographed in super-8 with artists' renderings of Venus through the centuries. There's Princess Anne in England getting out of her limousine, an old woman in Greece walking along a wall, a pianist, a woman slowly moving in a tub bearing reflections of leaves and branches, a woman paddling a canoe, and crowds of photographers gaping at the Mona Lisa. The soundtrack is an operetta — I wrote the words and Suzanne Palmer sang it a cappella.
Mike: The Venus of the film's title relates to a number of Venuses shown in the film: the earth mother Venus of Willendorff, Botticelli's Venus, the Mona Lisa, but also yourself. You open and close the film by laying the film's titles, lettered on transparent sheets, over your own stomach. How do you relate to these Venuses?
Annette: I feel I've been set up by society because of the way I look. As a woman, I'm surrounded with images I'm expected to copy and it's very intimidating. And then there's pressures about having kids before a certain age, after which your body becomes even less perfect. I'm not as concerned about all this as I used to be, but when I was nineteen I felt overwhelmed, and the film returns to that time in my life. You're only a body, a surface, and if there's something not quite right, then you don't get work. It has to do with paying the rent.
Mike: Tell me about the portraits.
Annette: I was trying to show the life that resides behind the image, to depict something of the character of these women. I didn't want to take the traditional documentary route of having them tell their stories. I wanted to use the materials of the film in a distinctive way, like a signature, to underscore their activities. The woman seated at the piano is pictured very blue, and because there's no sync, what's emphasized is the gesture of her playing, and I underlined this by slowing the picture down with the optical printer.
Mike: Each of the women seem quite enigmatic. The woman who is walking by the wall — where is she going? What is the canoeist rowing towards? Or the pianist playing?
Annette: I simply wanted to suggest that the everyday activities of these women are every bit as mysterious as the Venuses who will not speak. The contemporary women emerge from the old, but with the addition, now, of character.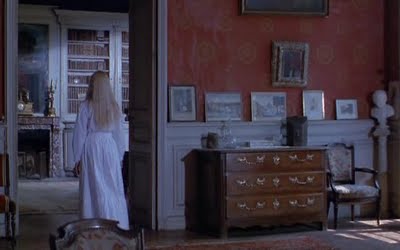 Mike: Some feminists would argue that the only way to unravel a troubled history of images of women is through a movement of separation.
Annette: But I'm not a feminist, though I believe and work for many of the same ideals. These images don't make me a feminist — that only comes in the intent of its production, distribution, exhibition.
Mike: Is it a problem being a woman filmmaker in Toronto?
Annette: If you're dealing with the independent community, it's not a problem, even though there is a boys' club. I don't like to call my work "experimental," but it gets put into that very male-dominated category. I can't say whether we're thought less of, but perhaps with older filmmakers our work isn't taken as seriously.
Mike: Why are there so many more men than women?
Annette: Audience accessibility is one reason why women aren't moving into avant-garde film. Another is that the avant-garde is perceived as a closed community.
Mike: Do you feel it's closed?
Annette: Yes, it shows in people's attitudes. These attitudes have emerged from the work's academic base, its masculine history of division, and the fact that it's a very small pot. The more people who dip into it, the worse for those already there. So people are encouraged to stay away. Another reason fewer people are making experimental films is that the avant-garde is getting older and they have new needs of security and stability which require a more accessible work, work that isn't so "experimental." The survivors are looking around as the smoke clears and thinking, "I need a little more now, I need to make some changes in theway I work, in the way I live."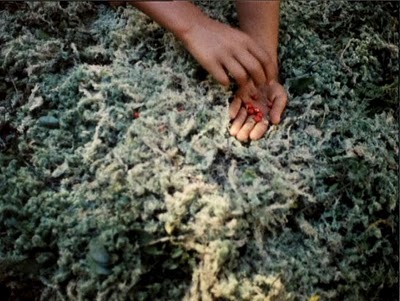 Mike: Your first three 16mm films — Her Soil is Gold, There is in Power… Seduction and The Iconography of Venus — all contain historical references without making these references explicit. Historical detail enters your work with your next film, The Tyranny of Architecture (10 min b/w 1987). It's also a return to the more overtly autobiographical concerns of your super-8 work.
Annette: All my work is autobiographical, Tyranny more explicitly perhaps than some of the earlier films. The story I tell on the soundtrack begins with my family moving to Canada when I was four and living in a tent, then goes on to describe my homes from Queen Street to the high Arctic to central America. The film's beginning describes an architecture sympathetic with its surroundings, feeling close to nature in the tent. At the end of the film, I talk about wandering into a village where people are living in grass huts and the feeling of closeness returns. This is contrasted to the place where I'm staying in the village, a stone church that admits little of the outside.
Mike: The image track shows a juxtaposition of two kinds of pictures — the first taken in Venice, the second in Nefta, a holy oasis in Tunisia. Why these pictures with that story?
Annette: In Venice there are a lot of buildings which are very close together. There's very little space for people because the architecture is the city. I photographed it using superimpositions to increase the feeling of claustrophobia, and the sense that these buildings are only in dialogue with other buildings. Whereas in Nefta, people fill the space. The dwellings are simply there as a temporary shelter for the meeting of communities. It's photographed single frame in super-8. I carried the camera in a pocket underneath my clothes with just the lens sticking out because I didn't want people to see I was shooting. This camera has an intervalometer on it which automatically shoots single frames at variable rates — one every four seconds, or four minutes or whatever — so you can just set it up and let it go. The Nefta shooting basically follows the rhythm of my walk in optically printed freeze-frames slowing my back-and-forth motion. This super- 8 shooting contrasts with the in-camera superimpositions shot in Venice. There I used elongated pans and tilts, often pointing the camera up into the buildings to avoid any sight of people. I developed all the footage myself in a little Russian tank.
Mike: There's an image that opens and closes the film — it shows a woman in Nefta, her face covered with a dark veil.
Annette: You can ascribe any symbolic meanings you want, but I used it because I thought it was a great image. [laughs] It shows a woman standing at the edge of the Sahara Desert.
Mike: How does the feel of the open horizon or living without walls relate to filmmaking?
Annette: Standing inside the adobe dwellings in Tunisia or the huts in Belize, I felt both inside and out. In the same way my work has a structure, a frame, in which people come to sit for a time, but while they're inside they're expected to negotiate some of their own way, to bring to the work their own histories and emotions. I'm not making work that looks like a one-way street. There's always room to move in there, and it's room that you make for yourself.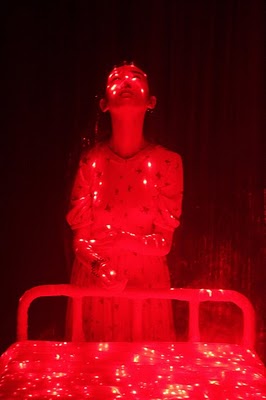 Mike: How did Northbound Cairo (27 min 1987) start?
Annette: I wrote the script first and pre-visualized the whole thing. I saw it all in my head before we started shooting. I didn't work with professional actors, which is part of its downfall. I knew how I wanted them to say the lines, down to the intonation, the pauses, everything, and they mimicked me, just like I pictured it. We rehearsed four weeks, meeting once or twice a week. It's about a family driving up north — a father, mother, and two teenagers. The father is an installation artist whose inspiration comes from a summer house on Georgian Bay. He employs a younger artist to come up with the family to document his work and its origins in nature. This young man is joined by a woman. The two finally arrive at a hotel, have sex for the first time, and the woman feels their relationship has been cemented while the man feels more distant than ever. Upset over his indifference, she abandons the car and walks away alone. All of the driving sequences take place in a fake car with a large front-screen projection showing images of Egypt, Turkey, Greece, Cairo, and Paris behind them. They speak in a parodic fashion about the possibility of art making versus family/financial responsibilities. If you get the jokes, it's quite funny, but I find that people have to see the film three times before they hear the humour. Everyone's too distracted by the passing landscape. There's so much happening in the film the audience finds it difficult to follow.
Mike: The family seems hopelessly caught up in their own monologues, never really connecting with one another. They've learned to live as a family using a coded call and response that never threatens their easy-going surface of amicable eating. At one point, the young daughter is trying to explain her loneliness to a father who can only respond to the fixed image he has of her, an image that can't permit her alienation and solitude.
Annette: Most families are like that. Talk in my family has to do with dinner, what's on TV, and what I'm wearing. We can't talk about the meaning behind the film I just made. Do people in families talk about their real feelings? My experience is that they don't; this kind of intimacy is reserved for friends or passing strangers. And this feeling of intimate distance is rehearsed in Northbound through parody. Ruled by their stomachs, they eat in the place of relating, and I think this is quite normal. Eating is a great social convener that assigns everyone a place and function — it suggests an order that may never exist anywhere else.
Mike: Two people in the film exist outside the family: Max and Mara. Max is the cynical younger artist. Mara is a bright, friendly art student. What could she possibly see in such a bastard?
Annette: I don't think he's that bad — he's got sexual appeal, he's smart, and has some very incisive things to say. And I don't think the woman, Mara, is that terrific. Granted, she's funny and outgoing, but she's also a bit of an airhead, a wide-eyed innocent. The film traces her move from innocence to experience, culminating in her decision to leave a bad situation and become self-sufficient.
Mike: She's the only one in the film who manages to acknowledge the strange landscapes. At the film's close she steps out of the car, looking like a cross between King Tut and Blondie, and walks towards an enormous, overlooking sphinx.
Annette: I wanted to show the family's indifference to their surroundings, an indifference they show in their personal relations as well.
Mike: Why all the Egyptian stuff? Mara looks Egyptian, shots of Cairo play behind their drive, they build a sandy pyramid, Max watches the pyramids on TV…
Annette: It was done for fun. I called it Northbound Cairo, contrasting the strange and familiar, forcing this Canadian family to drive through exotic locales on their way to Georgian Bay. The landscape that passes behind them moves from urban, downtown settings through factories, suburbs, pastoral farm lands, and, finally, arrives at the pyramids. It's a progression that tracks back into history, showing the decline of our feeling for the land. But even as they're ignoring what's around them, as soon as they hit the beach they make this pyramid. It's as if they've unconsciously absorbed this travel footage, mimicking it in spite of themselves. The film's black-and-white sequences signal a shift, and these begin after their arrival at Georgian Bay. Once again, the black-and-white scenes signal reality for me, and the characters speak with one another in a much more natural fashion.
Mike: There seems little hope offered in the film about the making of art — a theme Northbound returns to over and over again. Each person's view seems to lead to blindness instead of insight, isolation instead of community.
Annette: Will art making only end up alienating the people who make it? I hope not, what else would I do?
Mike: How much do your films cost?
Annette: Nothing by Mouth cost $150, She Bit Me Seriously $300, Her Soil is Gold $1,000, There is in Power… Seduction $1,000, The Iconography of Venus $1,000, Northbound Cairo $7,000 and A Dialogue With Vision cost $46,000. I've made nine films and never received any type of funding from either of the arts councils. I paid for all the films myself, except for Dialogue. That meant that everyone who worked for me never got a cent, and I always scrounged and cobbled things together, and I feel the work's suffered for it.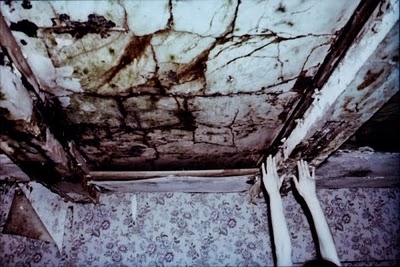 Mike: Is there no way to make a different kind of work which could strike a new balance between your life and your art?
Annette: I hope filmmaking offers that possibility. I feel that A Dialogue With Vision (25 min 1990) is a move in that direction. I think it has the potential to sell. It's exactly what I wanted to make. It's true to the artists and accessible at the same time.
Mike: Why these two artists?
Annette: I met Spring Hurlbut in Brazil while she was making a piece. I was very impressed and thought it would look terrific on film. We spoke about making a film when we got back to Canada. That was four years ago. I'd seen Judith Schwartz's work earlier — her shadow plates and concrete body impressions. It speaks of people and their relation to materials, about the way a body fills a space. I looked at other artists and considered a lot of different kinds of work. I thought about shooting men but felt there were already lots of films about male artists, and I wouldn't have the sexual barrier with women artists. When a woman talks to a man there's always sex between them. And I just couldn't bear working in intimate spaces over a long period of time with a man, with this kind of tension. Who needs it? Sometimes I feel the same with men on my crew, that they use my gender as a means to get what they want, when it's really what I want that matters. I employed as many women as I could on the shoot but it was difficult to find enough who were qualified.
Mike: Why two sculptors — why not choose performance artists, video artists…?
Annette: The film isn't about sculpture, or even Spring or Judith. It's about making art. The film doesn't say where they're from, how long they've been making art, where they show, or their place in the contemporary art scene. I wanted to show the making of art without all that dressing. At one point it was a drama about a man and a woman who were caught inside a relationship, intercut were scenes of Spring and Judith, their art acting as a metaphor for the relationship. I shot a couple of scenes and canned it. It just wasn't fair to the artists. Then there was the version of the film with a voice-over which spoke of a third person struggling with creation, and that was me trying to make this film. That voice-over was in the film until Christmas (the film was finished in April) when I finally decided to toss it.
Mike: Why two years to shoot?
Annette: It took the artists that long to get their work together. Spring had a commission when I began the film, but it kept getting postponed and lost in red tape. She has to go through as much paperwork to make a sculpture as I do to make a film. She couldn't get the money or the city's permission to build it. Judith went through a creative slump. She just wasn't feeling inspired and wasn't feeling good about herself or her work. We spent a lot of time talking about artmaking. This was all compounded by my own depression over my personal life.
Mike: Did you show the film to them while it was in progress?
Annette: Several times, and it was very difficult. They'd never seen themselves on film and weren't happy with how they looked or how their work appeared. So I had to make some moves because the film is a celebration, not a burial. But sometimes it was difficult to find the line between what was okay and what wasn't. For instance, after watching one of her drawings on film, Judith said, "I really don't like that drawing and I don't want it in there." And I'd say "I really like it." And she'd say, "Well, I'm the artist, and it's my work, and it's representing me, and it's shit." And we'd argue back and forth, and finally I took it out. In retrospect I agree with her. It wasn't her best drawing. Hours of dialogue were transcribed and I selected moments I felt were meaningful, revealing, relevant. But when they heard it, there were always objections for one reason or another, and I had to decide whether they were right or just over-anxious. I got a lot of other opinions, and one of the best came from Kim Moodie, an artist in London. At the time Judith felt like the underdog, and we couldn't see why. Kim said it was because Judith was always saying negative things about artmaking, its difficulties and uncertainties. Meanwhile, Spring is climbing ladders singing, "I love being an artist!" So we had to go back into the tapes and remake the balance, to find positive material that wouldn't change what Judith was saying. The act of editing was very collaborative; we tried to build a consensus around the film at different stages.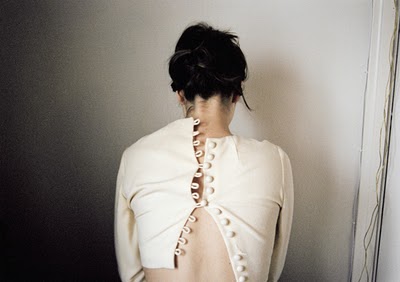 Mike: You began with an art documentation film, moved into personal, experimental work, made an experimental drama, and now a documentary. What's next?
Annette: I've scripted a ten-minute drama about abortion, and I'm still working on Let Me Wrap My Arms Around You. That doesn't mean I wouldn't make another documentary, or something people would call experimental. My interest as a filmmaker is in making work without respecting genres. I'm trying to convey a message, and whether you do it by showing two women making art, or a group of actors reciting lines, or by photographing people in a foreign country — it's all the same in the end.
Annette Mangaard Filmography
Line Through Bath 15 min super-8 1984
Nothing by Mouth 10 min super-8 1984
There is in Power… Seduction 5 min b/w 1985
Her Soil is Gold 10 min 1985
She Bit Me Seriously 20 min super-8 1985
The Iconography of Venus 5 min 1987
The Tyranny of Architecture 10 min b/w 1987
Northbound Cairo 27 min 1987
A Dialogue With Vision: The Art of Judith Schwartz and Spring Hurlbut 25 min 1990
Let Me Wrap My Arms Around You 28 min 1992
94 Arcana Drive 22 min 1994
Fishtail Soup 90 min 1996
Originally published in: Inside the Pleasure Dome: Fringe Film in Canada, ed. Mike Hoolboom, 2nd edition; Coach House Press, 2001.