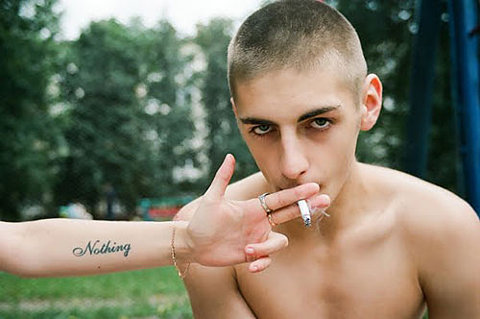 Written for a retrospective at the Portugese Cinematheque, 2006
Throughout his work, begun more than twenty years ago, Mike Hoolboom has devoted special attention to the combination of disparate materials. Public Lighting, in this sense, is exemplary. Hoolboom reconciles various types of images — original images made by him (usually video), with all sorts of "found footage," be it properly "footage" (film material) from old films or more contemporary fiction or documentaries, professional or amateur, or from the televisual "flow" and/or videographic (news footage, advertisements, music videos). It is an exciting diversity, and the same could be said about Hoolboom's work with sound.
Images are resized and reinvented (see, for example, what Hoolboorn makes of a music video by Madonna in the fourth episode of Public Lighting), but also re-appropriated, "marked," fearlessly playing on the edge of "erasure," while leaving on them an effective registration of overlap. The pictures are free to speak of their origins while carrying at the same time the unmistakable signature of their author, and the operations the author has carried out on these pictures. These creative techniques are drawn from and tease out the possibilities latent in digital video technology, with its emphasis on copying, mixing, reclaiming and recycling, and the possibilities that this newly refound material can be digitally altered, its time frames shortened or lengthened, its colours adjusted, its flows and rhythms remade. It is a work conjuring a palimpsest, a writing over, and writing through pictures. And in this sense there are similar concerns and stylings between Hoolboom and the video work of Jean Luc Godard, particularly his Histoire du Cinéma series.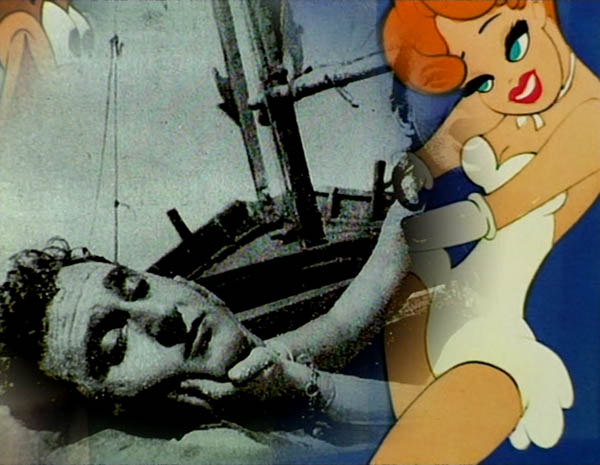 In Public Lighting we find a movie divided into seven parts, all of them discriminated and autonomously entitled, and all of them, despite the methodological similarities and continuities, with a strong individual identity. The organizing principle is announced by the title of the film: "public lighting." The first images of the film follows the title rigorously, as if realizing (or, rather, turning into metaphor) the author's procedural theme: light unveiling publicly a set of people and places. Figure and ground are rarely separate, for instance the episode about Philip Glass proceeds as a portrait of New York City, while in Tradition the narrator struggles with the distant closeness she finds from her own Chinese roots. This suite of portraits contains a sly self-portrait of its author, who is busy erasing each subject, even as they appear, as if the entire project of biography were an alternating measure of concealing and disclosure, hiding and showing. And in its collection of stories, the fictional and contrived nature of the thing we name as the self is drawn to the viewer's attention again and again.
Several times the portrayed subjects also provide the voice of narration. These are the people close to Hoolboom, like the writer Esma Moukhtar who stars in the first episode (Writing). In other chapters (and this is mostly the case in the Philip Glass and Madonna portraits) this proximity has to be invented. Ironically, perhaps, this is where Hoolboom works in a more clearly personal way, and offers a trail of self portraiture. The offscreen voiceover is replaced by subtitles that nonetheless play the same role. In the chapter on Philip Glass, the text provides elegiac fragments, while remaining attentive to his music and personality (and the presumed conjunction between the two).
In the chapter devoted to Madonna a new character is invented — a fan who had once been the occasional lover of the celebrated American singer. He is writing her years after their dalliance, when he has newly discovered that he is HIV positive. For several reasons, this the most complex episode of the film. It sets into motion the image-making machinery around Madonna (her personality and laboriously constructed public images which appear in this film as camera scrums and facial posings), and it is set in the 1980s, before the appearance of the drug cocktail when AIDS almost certainly meant death. It is unique in its approach to AIDS, as Hoolboom wrote after making the film "When we encounter the brief montage of a young dancer who appears in a series of quick fade-outs, I think it's difficult not to read this as a premonition of his own death, that he is making his last stand here." Combining a pair of David Fincher directed videos with clips from In Bed with Madonna, he creates an intimate portrait of longing and grief.
Writing about the Hey Madonna episode, Hoolboom named it "audiovisual graffiti," an apt enough term for his entire cinematic project. There are other modern tags that might be usefully applied, there is something like a VJ or remixer sensibility in these dizzying visual collages. But Hoolboom is not simply searching for fanciful effects or mechanical mixings. There is also a profound humanity behind all this, an ethical view. These ethical relations work to structure Public Lighting, granting it strength and plenitude.