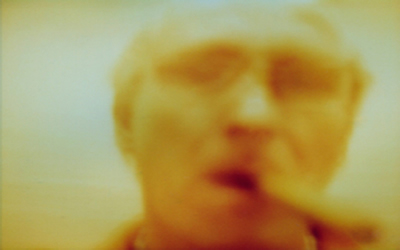 Pleasure Dome
Sunday July 17, 2016 Monarch Tavern, Toronto
Canadian Film Institute and SAW Video, Cafe eX
November 4, Club SAW at 67 Nicholas Street
In February 2014 we lost our friend and long time fringe movie artist Mike Cartmell to cancer. His son Sam has been digging into his archives ever since, and has uncovered a secret website, mysterious writings, and a trove of never released movies which will be seen tonight for the first time. Guided by his love of Herman Melville and later, Lacan and Maurice Blanchot, Mike was an orphan whose identity quest was strained through critical theory, and whose movie work was literary, sensual and experimental.
Mike began making Super 8 films in the 1970s, made a quartet of movies around Melville in the 80s, completed an hour-long accompaniment to experimentalist American poet Susan Howe in the 90s, and worked for years on Shipwreck Theory, a multi-part vortex of translations and adaptations. The evening will be hosted by one of the many who considered Mike their best friend: Alan Zweig, who will tell tales and share never-seen-before Mike outtakes from his seminal movie Vinyl. Mike's handsome new book Disasterologies, a collection of his essays and writings published by the Canadian Film Institute, will be available free to all comers.
Shipwreck Theory
When his second marriage ended suddenly and unexpectedly, Mike found himself alone, broke, living in a hovel of an apartment on the bad side of Buffalo. The word he liked to use to describe his situation was: shipwreck. At his wake, which some of you may have attended, Mike's sister described how Mike slept in Moby Dick-themed sheets and pillow covers, how his father read him the book when he was just a few years old, and how he would play at being Captain Ahab and boss around his sister, who played the rest of the crew. Mike has had a very long relationship with Mr. Melville, perhaps the nautical theme in the first series of movies we're going to watch comes as no surprise.
After tracing the use of shipwreck in literary history (from The Odyssey to Moby Dick), Mike outlined plans for a new series of movies in a 2002 Canada Council grant: "For instance, since shipwreck entails loss, dispossession, abandonment in the sense of being 'cast-away,' the series might include sections dealing with the break-up of a marriage, or shattered love, or the collapse of a livelihood and the poverty that ensues, or catastrophic illness, or the destitution of old age, or abject loneliness, or lacerating depression."
Sounds like fun, right? He worked on and then abandoned the project in the 2000s. He created four headings for his Shipwreck Theory project: The Reading, The Writing, The Knowing, The Meaning. Within each of these headings, there are several movies. For instance the section called The Reading includes three movies: Clay Shards Bind Clay, Blin and Art by Riven. in each of these movies Mike takes already existing texts and cuts into them, extracting moments that he rearranges to create his own text. He offers us a picture, an image, of what a reader could do, of how a reader might respond to work.
We're going to watch three short videos, two are from the second section of Shipwreck Theory called The Reading. They were shot at least in part up north in an island universe Mike called "the camp," a communally owned mini-island-getaway. In What Talking Means we see a woman floating in the lake, and the camera focuses on her belly because she is pregnant with their son-to-be Jazzbo. Pregnant with meaning, what is contained, hidden, what is not immediately evident, the way silence is the most important part of speech, are themes Mike explores in What Talking Means.
In the next movie we'll see, we watch a man climbing out of the water, Ulysses as imagined by Theo Angelopolous, his face stunned and disbelieving. And beside him a strange almost-guitar player with a face that is uncannily like Mike's. The third movie is a valentine to Michael Nelson and Montaigne, a brush with death, a walkabout.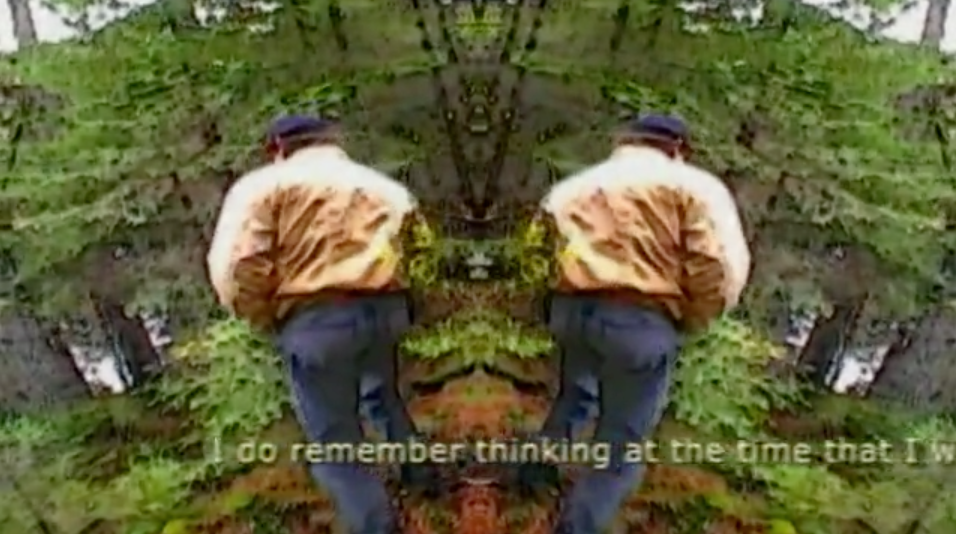 Susan Howe
Mike met Susan Howe in Buffalo in the early 90s and they became friends. Susan tried to live her mother's dream and entered the theatre in Ireland, then came back to America and became a painter, introducing more and more words into her work until she finally dropped the paint and kept on with language, becoming one of America's pre-eminent poets, often associated with the language school. She was crazy about Herman Melville so she and Mike had a lot to talk about, and she was a great reader, in fact, her writing came out of her reading, and her own writing was fragmented, intensely personal, sometimes hermetic, and this gave Mike a lot of permission. A lot of Mike's writing happened inside school structures, here was someone who was breaking with all that. Mike made two movies with Susan, a short one that we're going to watch tonight, and a long one called The Incompatibles. By incompatible he meant: film and poetry, mother and son, himself and Susan.
Here is a Mike in a letter to his pal Mitch: "I'm not sure how loudly I was moaning when you phoned the other day. I may have said I hated the film, but was on the verge of finishing it. I may have said I hated Susan. All of this was true, but things have changed.
The next day (I think it was) a guy tried to break into the apartment at 11 in the morning. I guess he didn't know I was home. Anyway, since I didn't have a handy baseball bat, I just yelled at him as he was beginning to come through the window, and he ran away. I'm not sure he could have made it through in any case since I have those gizmos that prevent the window from being raised very far. I didn't get enough of a look at him to be able to identify him, so I didn't bother calling the cops. But he was wearing a Buffalo Bills jacket, which just goes to show you.
The upshot of this was that I couldn't sleep despite having been awake all night working. And I felt somehow violated, and threatened. My friend Ron in Mobile, the retired psychoanalyst, told me in August that he thought that the island was an important symbol for me (my camp is on an island, I've made two films recently – Ithaca and Ithaka – where island and returning home feature prominently), which he thinks pertains to the mother, to some insufficiency regarding the mother or mothering. No big surprise there. For some reason this stuff came to mind after the near break-in. And I realized that this was what I needed to have as part of the film, as its "hook," so to speak. This would be what would make me stop hating it and begin to think again that it was worthwhile."
Narratives of Egypt
In 1983 mike began working on a series of four movies that would be collected under the title Narratives of Egypt.
As an orphan, as someone who would never know his own name, he might have been particularly interested in Champollion's deciphering of the Egyptian hieroglyphs because the key to it all was found in the cartouche, the name of the first movie we're going to watch in the series. A cartouche is a line drawn around a series of figures or letters which spell out the name of the king. And this name became the key to unlocking the entire language. As Mike would say later: you are named by your language, a language names you. So the name is the key to the whole Egyptian language, in the same way that your name is the key to your own life. Except of course if you're an orphan, and you don't know your name.
In his Cartouche movie he looks at his old friend Cathy, and her name begins with the same 'ca' as cartouche. The pyramids were funeral monuments, and this movie is Mike's funeral monument to his pal Cathy. Late in the movie, he summarizes his grieving for her in a series of titles: ca-tharsis, ca-thexis, ca-thedral. These titles are a way of extending or elaborating her name. We see Cathy's face upside down, and is it only me, but it starts to look a bit like a pyramid. And she is smiling, but almost biting down on her lip, as if she's concealing a secret. This moment is slowed down and repeated using rephotography. The secret was her ca-ca-Cathy's cancer. The repeated text is from the sound and light show at the pyramids of Giza.
We're going to see two of the movies that made up Narratives of Egypt, like much of Mike's work it was left unfinished. The second and final movie of the evening is called In the form of the letter 'X'. It shows a slightly younger version of his son Sam running towards the camera, intercut with titles from Herman Melville's Pierre. Mike was obsessed with Melville, and adopted him as a kind of father by translating his own name "Cartmell" as a meeting place of carts, a crossroads, an intersection, an X. Melville is likewise a meeting place of villages, a crossroads, an X. The movie is about the name of someone who doesn't know their name. The shape of the movie is like an X, you see the pictures rightside up and upside down, a strategy often used in Narratives of Egypt. The pyramids are tombstones, so perhaps it's appropriate that the soundtrack is by the Zombies.
The first movie is seven minutes long, the second is five minutes long. I'm really glad you could all come tonight.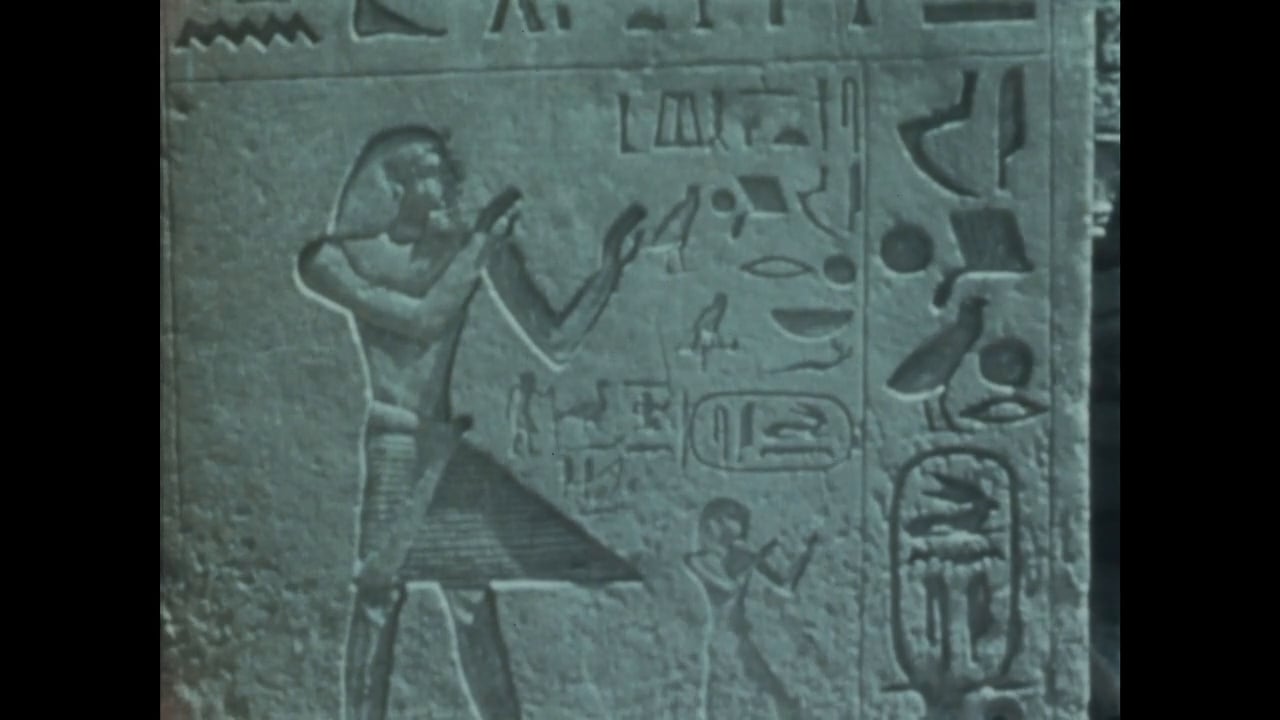 Mike Cartmell intro by Alan Zweig
What Talking Means 7 minutes 2006
The Star That Ought to Guide You 3 minutes 2005
O, Fortuna 14 minutes 2007
I Built a Cottage for Susan and Myself 11 minutes 1993
Cartouche 7 minutes 1985
In the form of the letter 'X' 5 minutes 1985
Shipwreck Theory
Shipwreck Theory is an unfinished video series composed in four parts: The Reading, The Writing, The Knowing, The Meaning. Each part contains several titles. These works remained a closely guarded secret until very recently, unearthed and newly digitized.
The Reading: Clay Shards Bind Clay, Blin, Art by Riven
The Writing: The Science of Singularity, What Talking Means, O, Fortuna, Epistolary
The Knowing: Ida Lupino, Tohu Wabohu, Room, Thick Bone Like Katanga, Western
The Meaning: Kletis, Vocables
What Talking Means by Mike Cartmell 7.5 minutes 2006
An old movie theatre intertitle reads "Patrons are requested to refrain from talking during the performance…" We hear Godard saying "Silence," from the opening moments of Contempt (1963). Who is speaking, and who is remaining silent? Is talking made out of silence, the silence of the spectator, the words that can't be said. Becky's pregnant belly is the focus of the early, quick cutting montage, Jazzbo waits as a promise in her floating form. When the scene settles into a woodland interior cabin, a moment from their happier days together, a song says "I never will go back to Alabama," a reference to their shared residence in Mobile, before their painful separation. She wants to tell him something, but she holds herself back. The quick montage from earlier in the movie repeats (a sexual scene, two boys sharing a secret look, birds passing overhead), before moments from Tarkovsky's The Mirror (1975) are replayed, showing a stuttering teenager whose fractured subjectivity is reflected in his language. He is temporarily healed via hypnosis and repeats the words, "I can speak." Becky returns as the sphinx, the "symbol of the symbolic," still unspeaking as the camera waits. The secret of their shared child, and the two separations that have not yet occurred – between mother and son, and between the two parents. Are these unspoken separations, these cuts, "what talking means"?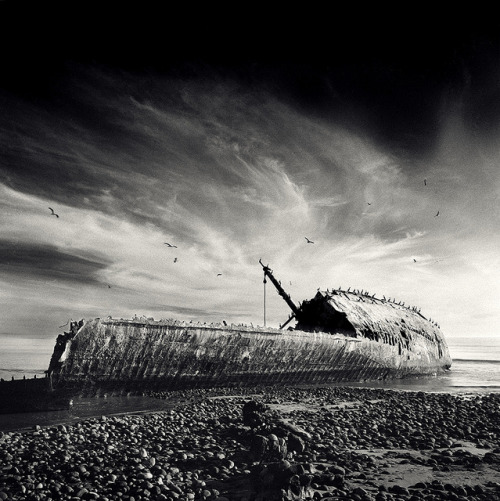 The Star That Ought To Guide You 3 minutes
his orphaned work was part of Mike's original Shipwreck Theory set, then temporarily set aside when he remapped the project. It opens with a Polaris missile, which was a missile built in two-stages, and was intended for use as a "second strike" counterattack. Doubles and doubling are at the heart of the matter here. The left screen replays Theo Angelopoulus's contribution to the omnibus feature Lumiére and Company (1995) showing Ulysses waking from a long sleep and staggering towards the camera, looking deeply. On the right hand screen an older gent plays a stringed instrument (in two parts, the right hand makes chords while the left strums and picks), and sings "Troubles" a traditional folk song. "Oh lordy me, oh lordy my/See you when you haven't got a dime/When your trouble is so deep that you can't eat or sleep/See you when your troubles just like mine." The title derives from the etymology of the word disaster, which means that the navigator, the sailor, is separated from the star that ought to guide one.
O, Fortuna 14 minutes 2007
A tale of Mike's friendship with Mickus, sung up at the camp, the island getaway, the last mother, the picture divided as they were not, the lines of flight scrolling until Montaigne dies and then returns in order to birth the project of self-portraiture. The filmmaker practices death. Mike's obsession with chiamatic doubling continues in the picture's split, even as he heals it by running his touching comrade ode across it. "Even in your dying, and despite my state of wreckage, I was accruing benefits, coming closer than I had ever been to death, your death, watching you sink from the safety of the shore, and soaking up the knowledge to be had, the macabre poetry of it."
Susan Howe
Mike struggled for years between his prodigious reading habits and his movie making hopes. How could someone so dedicated to the word make movies? In Susan Howe he found a mentor and transitional figure, someone who might help him reimagine a filmic avant-garde that held silence as its greatest virtue. Howe is a poet, essayist, critic, a prolific writer whose bold formal interventions have continually rubbed at the materiality of language itself, spraying and spreading words across the page in different constellations. One of the great poets of her generation. Their friendship deepened after Mike shared his love for Chris Marker's Sans Soleil, an essay movie that became a clue for how they might proceed with their own work. An essay, a trial, an attempt, a collection of fragments. The essay was a forgiving form, open even to fringe poetics. The poet returns as a historian.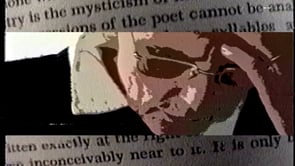 I Built a Cottage for Susan and Myself 11 minutes 1993
The question of an artist's style haunts this miniature, which would provide the basis for his hour-long home movie Non-Compatibles (2002). Shot in a single afternoon, we see the poet at her desk in Buffalo, New York, speaking and gesturing, remarking on names (a favourite and shared preoccupation), the Hi8 camera glued to its digital solarization setting. A title overlay cribbed from Thoreau reads: "The talent of composition is very dangerous – the striking out the heart of life at a blow, as the Indian takes off a scalp." It is an often-repeated maxim, though we can see, in the fragments of page views offered later, that Thoreau describes a slaughter of Indians by white men, a slaughter that is then covered up by its reversal (it was the Indians who were scalped, not the whites). The poet sounds out words like gunshots from her desk, firing from the places that history has left behind too quickly, taking Thoreau apart word by word (from her book Singularities (1990).
Narratives of Egypt (1984-87)
In 1984 Cartmell began Narratives of Egypt (1984-87) a four-part series that deals with the father (Prologue: Infinite Obscure), the son (In the form of the letter 'X'), the lover (Cartouche) and the mother (Farrago). The act of naming doubles as theme and organizing principle.
Cartouche 7 minutes 1985
Cartouche is an audio-visual tombstone for his friend Cathy (Ca-thy, Ca-rtouche) whose pyramidical face is offered in between glimpses of Egypt and whaling and sex. A repeating phrase from the Sound and Light Show at the pyramids of Giza animate the work: "You have come tonight, to the most fabulous and celebrated place in the world." In other words: a funeral. The cartouche was used to decode hieroglyphics on pyramids, they showed the name of the ruler in a circle. Once this name could be identified, it became the key to unlock the entire language. As if the name was at the root of language itself, or as Mike said more than once, "a language names you." Ca-thy. A series of intertitles summarize the project: ca-tharsis, ca-thedral, ca-thexis. In the voice-over there are repeated conjurings of the figure "X" – "Cartmell" means a meeting place of carts, an intersection, a crossroads, an X. And Melville means a meeting place of villages, a crossroads, an X. The voice-over announces "You saw the crosspile outdoors." It speaks of a double architecture, one above ground, one below, these two architectures meeting as if they were an X. I have no idea what this movie means, and I never get tired of watching it.
In the form of the letter 'X' by Mike Cartmell 5 minutes 1985
The second film in the series, In the form of the letter 'X' is a signature – a filmic equivalent of Cartmell's name (which is reduced by exhaustive transcription to a simple X). X is the mark of those who cannot write, or who do not know their own names. Photographed over time against a backdrop of the Canadian Shield, X shows Cartmell's son Sam running in slow motion towards the camera, and, in the film's second half, away from it. The shape/structure of the movie is chiasmatic, part of the old avant-garde dream of creating movies that could be run backwards and forwards. The movie is in two parts that form an X. The music is taken from a Zombies tune whose opening riff is looped and repeated, held in suspension until the song breaks into its opening lines over the final image: "What's your name? Who's your daddy?" Intertitles lifted from Melville's Pierre relate the tale of a graveyard search, a hunt through pyramids, only to find that the caskets are empty.