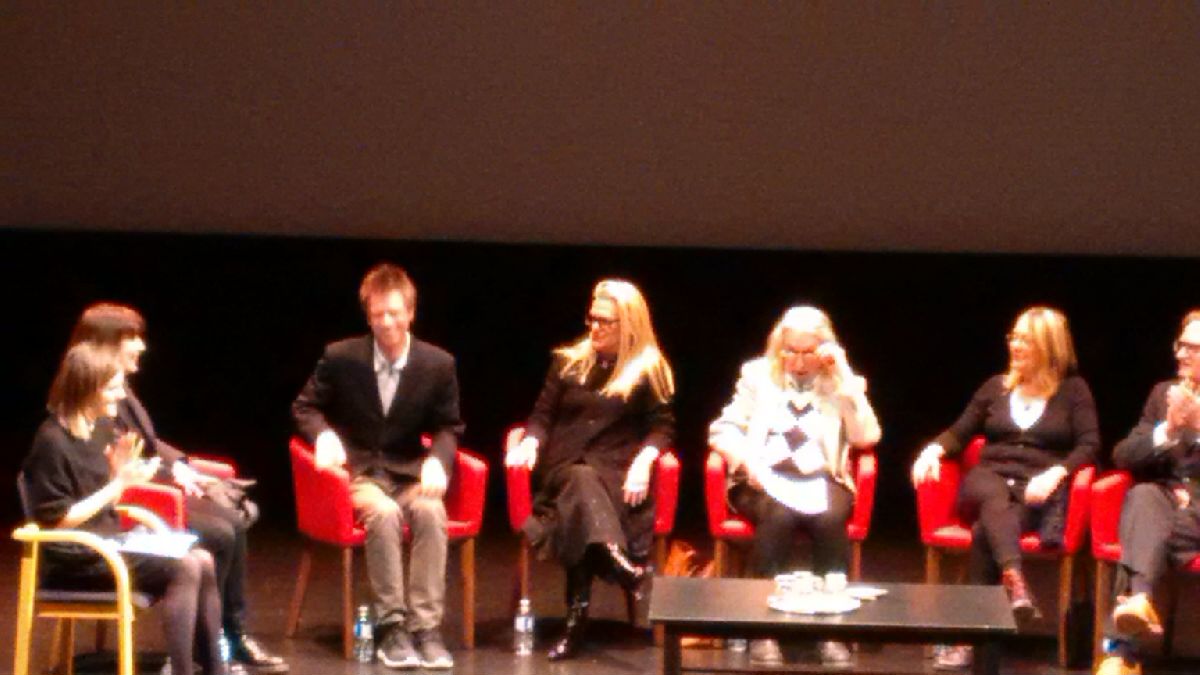 Nomination Statement for Governor General Award by Chris Kennedy
For the last thirty-five years, Mike Hoolboom has been one of the most prolific and influential filmmakers in Canada. Inhabiting an area of filmmaking that he has dubbed "fringe"—a hybrid between experimental, avant-garde, personal and political filmmaking, Hoolboom has produced over 80 films and videos, of which 10 are feature-length. While the term "fringe" may describe a marginal identity, Hoolboom's films have had a significant impact on the cultural moments in which they appeared, particularly in regards to his missives from the position of a HIV-positive man. His films over time have described a rapidly changing Canadian cultural landscape with an aesthetic argument that is also political, articulating liberationist struggles for marginalized sexualities, identities and health status. While often angry, his films are also enveloping – an embrace towards a fluid cultural identity of multitudes that he has also modelled in his tireless advocacy of the work of his peers. Hoolboom has been able to harness the creative potential of the contemporary ubiquity of the moving image—his key composition structure has been the found footage collage—to describe life's potential despite often staring deeply into death's abyss.
Hoolboom emerged in the early eighties out of Sheridan College and immediately installed himself as a member of the Funnel Experimental Film Theatre, Toronto's infamous fringe film collective that ran until 1989. During the Eighties his films took on the material questions of experimental film—light and grain and filmstock—and quickly developed them into larger questions about who the audience may be and how they will respond (unlike many experimental filmmakers, the audience is always in Hoolboom's thoughts). This period culminated in his first major work, the humorous White Museum (1986), which consisted of 33 minutes of clear leader and a narrator addressing the audience about what he wanted them to see. The film wryly interrogated the power and privilege that filmmaker has in relationship to the audience in the cinema and related the idea of seeing to the pictures we form in our mind when a story is told.
In 1988, Hoolboom learned he was HIV-positive which lead to a creative burst in activity, making almost 30 films in the next six years. His films became even more personal, focusing largely on the AIDS crisis and the stories that revolved around it. Paradoxically, at a point where he focused on subject matters that were still outside the mainstream, his films became more widely rewarded. He won two best Canadian short film awards from the Toronto International Film Festival in quick succession, first with Frank's Cock (1993) and then Letters from Home (1996). Cameron Bailey (TIFF director), said at the time, "With more than 75 challenging, sometimes brilliant, films to his name, Mike Hoolboom is Canada's most important avant-garde filmmaker since Michael Snow. He's won the Toronto International Film Festival's prize for Best Canadian Short Film twice in three years. In the years since he learned he is HIV-positive, Hoolboom's work has taken on a new urgency, going to the dark places suggested by his favourite themes: sex, movies and the Canadian state."
In the new millennium, his work became longer and more intricate, often weaving layers of scavenged footage with personal stories and philosophies. On one hand his work became macro—reflections on the image culture that has rapidly absorbed us. On the other he began making intense and thoughtful portraitures. Panic Bodies (1998), Imitations of Life (2003), and Public Lighting (2004) all looked at a life saturated by movies. Tom (2002), Mark (2009), Fascination (2006) and Buffalo Death Mask (2013) presented the lives of queer vanguard filmmaker Tom Chomont; vegan activist and artist Mark Karbusicky; video artist and scene-maker Colin Campbell; and painter and longtime HIV activist Stephen Andrews.
Although most of his films and videos have been designed for the cinema, he has occasionally made work specifically for the gallery, most notably in The Invisible Man, a large-scale installation piece that was commissioned by the Art Gallery of York University in 2006 and travelled internationally.
As this narrative reveals, Hoolboom has never sat still. He is a constantly working, updating older pieces and releasing new works at a prodigious rate, which in turn has generated an outpouring of well-deserved accolades. His CV lists over 70 awards, including the Toronto Arts Award for achievement in the Media Arts (1999), The Bell Canada Award in Video Art (2009) and Lifetime Achievement Awards from the Mediawave Festival in Gyor, Hungary (2008) and Curtocircuito in Spain. His first award was received early in his career, for his 1985 film Book of Lies, and has continued to a pair of awards at the Ann Arbor Film Festival for his film Scrapbook (2015), pointing to the continued relevance of his work to contemporary audiences.
Many artists in the network of experimental and fringe community have recognized the value of supporting other filmmakers' work, but Hoolboom has gone well beyond the norm. Since his days at the Funnel, which had its own exhibition space, Hoolboom has presented and written about the films of others. He served as the Experimental Film Officer for the Canadian Filmmakers Distribution Centre during the 80s and 90s, building the international reputation of Canadian film. He co-founded Pleasure Dome in 1989 and boldly reimagined the Images Festival as its first Artistic Director in 2000. He produced two volumes of interviews with experimental filmmakers that further gave voice to the myriad practices of the Canadian film scene (Inside the Pleasure Dome: Fringe Film in Canada, Coach House Press, 2001 and Practical Dreamers, Coach House Press, 2008). He also edited and co-edited monographs for other significant filmmakers in Canada's scene, including previous Governor General Award winners Barbara Sternberg and David Rimmer. Finally, he spearheaded the web-based project, Fringe Online (www.fringeonline.ca), a web-portal to fifty websites developed in collaboration with Canadian media artists. Hundreds of documents have been made digitally available for the first time, most of them uncovered and transcribed by Hoolboom. He has also created websites for Colin Campbell, Roberto Ariganello and Mike Cartmell after they died, each site contains exhaustive script transcriptions, interviews, essays, clips and photographs. And he has recently uploaded extensive websites combining historical and present-day content for the Funnel (experimental film collective), CEAC (Centre for Experimental Art and Communication) and Freud Signs (a legendary experimental film screening collective that existed in 1977). He has served as a primary interlocutor for his peers, helping build a visible presence for Canada's diverse experimental and fringe media scene and inspiring the next generation of artists to follow in similar paths towards exploring and broadening the possibilities of media art.
Mike Hoolboom is deserving of the Governor General Award in Media Arts because the density of his accomplishments as an artist and filmmaker over the last thirty years. It is a recognition of his place as a key figure in Canadian filmmaking scene, as practitioner and advocate, who has not only developed a historically important body of work, but who conceives of this body in a way radically different from his peers (nationally and internationally). It is a body that is shape-shifting and contingent, continually reworked and re-edited, "brought up to date." This artistic body of work as a living thing is a true testament of the life-force of the artistic process and the greatest model of what art can achieve over the course of an engaged, forceful and unrepentant lifetime.