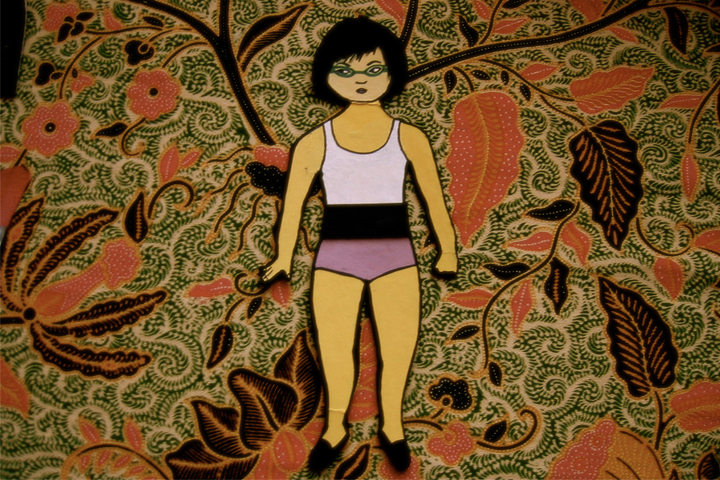 Winnipeg Cinematheque June 23, 2017
One of the most important new voices in Canadian narrative cinema, Lesley Loksi Chan was born to make movies. Her genius is that she fully embraces, or so it seems, the place she actually is. No far away Telefilm dreams, no waiting for mountains of equipment, instead she crafts out of the circumstances of her own life an intimate, witty, thoughtful, touching cinema, often featuring her young boy and her sister as actors. Her whimsical dramas feature air tight voice-overs, exquisite framings and hand-made animations. Whether dishing a love story or leaning in close to hear the whispers that only a mother and son could exchange, Chan lights it all up with a breezy, sweatless gaze so fine you don't notice the bullet holes in your eyes until you stagger out of the darkness and find everything changed.
Breakfast :25 seconds 2012
In this humorous brief the artist combines the names of two popular breakfast items. A parody of choices.
Dear Sister 6 minutes 2005
A lighter than air, faux doc about the artist's sister who turns out to be – no surprise here – a filmmaker. Her "almost award winning" titles include The Clock Haters and The Blind Microscope Makers of Macau. Adopting a slide show and tell format, her off the balance beam storytelling effortlessly draws together moments of a room, a blowing dress, the shadows of a fan, conjuring a universe of love, loss and family out of these simple materials.
My Matsura 11:22 minutes 2006
Despite the traditional emulsion scarring of the novice hand-processor the opening two minutes of this movie, were so perfect I forgot to breathe and had to be resuscitated. It's a good thing there was a doctor in the house. The film's second movement offers the photographs of Frank Matsura, taken in the early 20th century, as a way to read the photographer himself, looking back through the lens. The subtitled sentiments are so crisp and tender and necessary that for an instant Matsura flickers alive in front of me, and then he's gone.
i no i no 11 minutes 2005
Five early shorts from this essential filmmaker's treasure chest. The first offers what Gertrude Stein might have named "tender buttons." Are these the sweet everythings that lovers say to each other? The ones stuck in their own mirrors, but who can't help reciting their lines in company. This opening moment, drawn up in a single economical shot, and appearing nearly like animation, or at least choreography, sets the tone for the vignettes that follow. She re-voices the opening scene of The World of Suzie Wong, then delivers a harrowing series of assaults she titles My Best Rape So Far. She wraps each of her pointed shards in children's materials and sprinkles them with magic dust so that these unbearable moments can be spoken and shared.
Wanda & Miles 13 minutes 2007
A mother and son duet that is as perfect as a dollhouse. Chan grants her lustrous home movie settings a faux mythic framework, he is the boy who scratches his head whenever he sees maps, she is the eye-patched single mom who carries her child in a suitcase until he outgrows it.
There are many in the fringe who are busy lensing material, but few can match the one-light precision of these pictures, made with a lyrical and gently moving camera that illuminates one detail blooming after another. Perhaps it's because Chan is working with her son and sister, and so she can wait for the good light, or perhaps it is because she is busy shooting only in rooms she lives in, so she always knows when the good light will arrive. But her intimate framings and generous perspectives – occasionally punctuated by wonderfully crude animations or no-tech special effect flurries – grant a buoyancy to this story of loss and individuation.
Curse Cures 10:43 minutes 2009
A hand-made animation about the garment industry sweatshops that so many new Canadian immigrants worked in. Particularly women. It's told from the inside out, with a few, iconographic pictures and a collection of acetate texts. The filmmaker's hands hardly leave the screen, forever busy re-arranging new text lines or sweeping pictures out of the frame. "Should we be happy?" The luminous Astor Piazzolla lends his ear to the soundtrack. Love live analog filmmaking!
The Masters 2 minutes 2014
After splaying out the (unpictured) hardcover of a book entitled "Drawings of the Masters 20th Century Artists," the artist lays down a series of carpet fluffs on its green ground. Tangles of thread and yarn, emphemeral and mysterious, the incongruous detritus of the everyday creates an airy collage across the master's unseen work. A tape roller cleans up the temporary and already forgotten trash, the stuff that lives are made of.
Compost Mon Amour 11:40 minutes 2006
Possible lives accumulate in this elegantly framed meta-narrative. Once again Chan's uncannily cinematic sense creates full blown scenes out of the most modest of materials. Playful and witty, every word in this voice-over driven romantic vigil is another perfect note, which the artist off-sets by having her mother read the whole thing. Another daring gambit that ensures a fine balance of charm and irony. It's all so beautiful, so casually perfect, that it must have been a thousand kinds of work. So why does it feel like everything here has been made at recess?