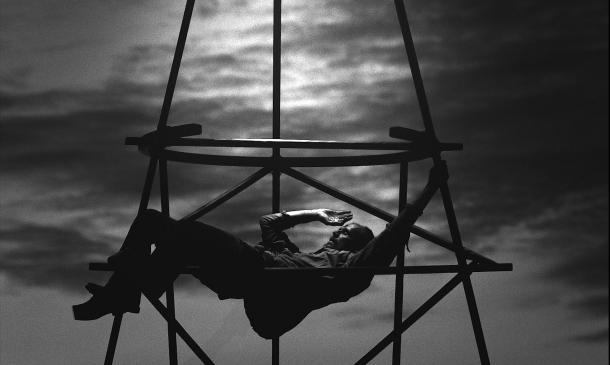 Festival du Nouveau Cinema, Montreal, October 6, 2018
TIFF Lightbox, Toronto, Dec. 5, 2018
An 88 minute screening: a survey of the award-winning films of Phillip Barker.
An accompanying 200 page colour book: over 12 international writers, interviews, behind the scenes photos and sketches.
I Am Always Connected 4.5 minutes 1984
"The film closes with a third shot in which the creature seems to bid a humourous farewell, not only to a pseudo-surreal iconography, but also to cinema itself, as if, in fact, it had never needed any props to dissolve the boundaries of the dream factory. This film is like a toolkit dealing with the pre-histories of cinema, particularly in painting." Yann Beauvais
A Temporary Arrangement 12 minutes 1995
"A young woman is 'beheaded' in an extraordinary manner as nine cameras fracture her face into a series of grids and visual patterns that delineate distinct psychological spaces that constitute a shifting sense of identity." Atom Egoyan
Regarding 4.5 minutes 2002
"Barker's core intervention is physical, planned and constructed in pre-production and as a result appears more 'real.' It is not 'real.' It is measured and informed magic." Dirk De Bruyn
Soul Cages 21:31 minutes 1999
"The pleasures of capture, framing, holding, for both captor and captive, framer and framed, holder and held. Profound human wishes to be safe, cradled, rescued – and perhaps to tempt danger in order to be rescued – resonate in the eroticism of this film." Laura U. Marks
Malody 12.5 minutes 2012
"We're in a diner, once the inspiration for a Saturday Night Live skit, only the regular staff has been replaced by a single oldster behind the counter, where he faces his young charge, and then there's a girl on the far end. That's me, of course." Emily Vey Duke
Dredger 16.5 minutes 2015
"Here, these interstitial moments usually left unsaid or omitted emerge – the peripheral, personal detail or Barthesian punctum – but even then only obliquely so. 'Atmosphere,' Barker told me, 'is a character.' Uncontainable, ephemeral but distinct." Helen Lee
Shadow Nettes 17.5 minutes 2017
"…the full force and power of the subject at hand, to capture an image of oneself, the manipulation of said image to capture its quarry and ultimately, to not only capture it, but indeed, create it out of one's own image." Greg Klymkiw
Phillip Barker introduction
When I watch his movies I can feel my ribs slowly expanding, a warm glow takes the place of appehension. The short movies of Phillip Barker are a welcome antidote to anyone who feels too certain of what artist movies should look like.
His hybrid practice begins in the 1980s with a haunting dread. He had already decided to wander the globe with as little money and as much imagination as he could muster, and slowly those rootless nights delivered him to a single image that would pursue him, threaten him, drive him at last to begin the act of making moving pictures. Truffaut remarked that one is always remaking one's first movie – I don't know if that obtains here – but I can feel this animal haunting and heat run through all of his work.
When I met him he had already abandoned screening situations like this one, he was occupying a building next to CITY TV on Queen West, and impossibly, had made a movie in 35mm, chopped up the frames into 9 parts, and projected each bit into separate windows overlooking the street. When the split-screen movies weren't showing they were swapped out by shadow play performers, the whole thing perfectly synchronized like a ballet. The strangest thing of it was that all this accumulation of work and capital should have produced something airtight, or at least tight, grimly determined, but here instead was a frolic of pictures, a frisson of aimless beauty. Let's look at her looking at the goldfish defy gravity a moment longer. It seems he had turned everyone on Queen Street into magic.
Phillip returned to the cinema only after he had come to the fork in the road, and said yes to both sides. Yes, he would work as the art director for his pal Atom Egoyan's movies, and yes he would continue to pursue his own image-oriented shorts that looked like dramas, but refused the plot, that were shot like real movies with actors and sets, only there was no 3-act structure, no narrative arc to carry us through the storms of interpretation. Instead, we are left to make our own connections.
There is a loneliness that dreams through these pictures that feels old, something invented maybe even before the internet, though of course as my masters Jeff Bezos and Tim Cook taught me, nothing of any importance was invented before the internet – except maybe… a solitary quest that we can only take when we come together, that might bring us to places or experiences that words can't contain.
Because in that place my whole body turns, my whole body turns into a question. And this question doesn't beg for a knowing reply, answers only throw away the beauty of a body that is opening to what it hasn't decided yet. This body, this question, asks that we grant attention to the turn. The way one moment turns into another, the way one face turns into your face. The turning itself is the unspeakable thing, the thing that your animal shadow is driving you towards, the foundation of a newly invented minor cinema. Chubby Checker lived inside the twist. Phillip lives inside the turn. Please join me in welcoming Phillip Barker.