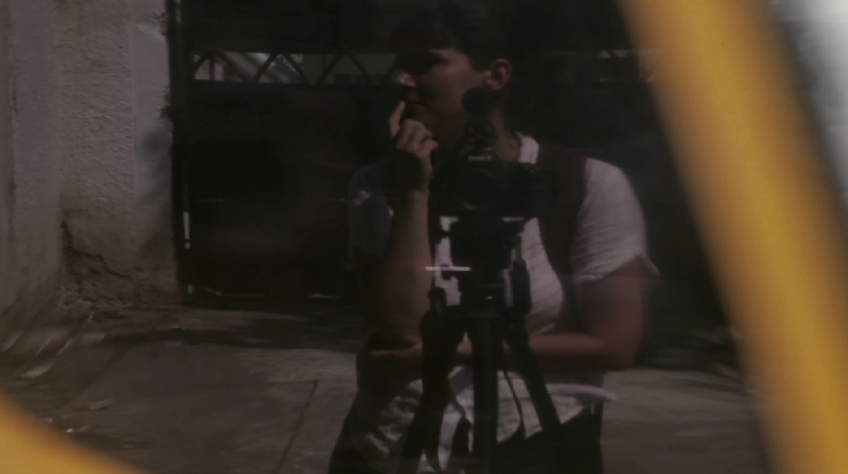 Pleasure Dome
April 27, 2019
Arcadia Housing Co-op, Performance Space, Toronto
News from the South
NextGen South American artists reinvent the diary form using digital poetries to conjure new fragilities and alliances. The state is also a body, and these interfaces, too often cruel or else filled with a pleasure that can hardly be contained—all this is explored via digital mirrors and memorials to past selves.
Program 1: Adventures of the Self
The first program features the work of three women: Adriana Garibay from Mexico, Verónica Abarca from Chile and Juliana Lobo from Brazil. Adriana and Veronica offer troubling double takes on the diary genre, while Juliana looks deeply into the line-up at Cuba's famous ice cream stand using a single frame in an updated structuralism.
Metamorphosis by Adriana López Garibay 18:08 minutes 2018
Coppelia by Juliana Lobo 23 minutes 2018
Same Shadow by Verónica Abarca 20 minutes 2018
Metamorphosis by Adriana López Garibay 18:08 minutes 2018
The artist arrives in Cuba and begins to find there the remnants, the vegetation, the fallen buildings of her own imagination, her lost childhoods, her future selves. She undertakes a diary enterprise that collapses past and present, merging the body of the maker with the bend of the trees or the flow of traffic. The glimpse of light as the day is falling. Using quotations, bad romance and a Mexican angel-double, she creates not a path but a clearing, a temporary outpost to look out from.
Coppelia by Juliana Lobo 23 minutes 2018
Using a single framing, the artist returns again and again to the famous ice cream store line up in Havana. Getting in is not the point, she has left destination behind, the hope is the public spectacle of the waiting itself, the temporary formations of communings and communities that stand, lie, kiss, fall apart and dance in the day and night time of a waiting that provides its own unexpected pleasures.
Same Shadow by Verónica Abarca 20 minutes 2018
Haunted since childhood by a dreamed double, the artist creates a suite of episodic encounters where her shadow can come out and play. Whether in a dreamy pixillated childhood playground idyll, a midafternoon tussle between self and other, a hand-processed black and white dream escape or else a lively brace of lo-fi animations, each scene offers a new possibility or proposition. What if? Could it look like this? Say hello to analogies for living. And what if the double is a parasite, their life more fulsome, more handsome and fully grown, than the original, whose only refuge/consolation is in the making of pictures?
Program 2
Camilo Constain: The Engineer
Camilo is a camera maestro, a patient looker with a deep sensitivity to bodies and light. Home is Bogota, where he helms a small-scale production outfit, making music/industrial vids. But in the days and nights between he uses his camera to dream. He has recently completed a suite of new work at the fabled international film school in Cuba. He's a young artist, and like too many of his South American comrades, his work is unknown in this city/country. He's made a beautiful self-portrait, a haunting nightime drama, alongside ruminations on gender and politics.
Ylojiko 7:05 minutes 2018
For the eye it seems 12 minutes 2018
Democracy 6:24 minutes 2018
Selfportrait 6 minutes 2018
The Nox: the red rose in darkness 6 minutes 2018
Untitled 5 minutes 2018
The Fragility of Bubbles 10 minutes 2018
Ylojiko 7:05 minutes 2018
A dance brief featuring black clad movers in a fixed frame. They enter one at a time, each with a signature movement, repeated with variations over three minutes or so, until all of them wind up in a single, interconnected heap. And then the entire thing replays backwards, each carefully undoing their prior actions, not entering now but exiting the frame, until it is perfectly empty, a place of traces and memory.
For the eye it seems 12 minutes 2018
Here is a drama puzzle. An enigma wrapped in a tall tale. A series of beautiful if seemingly unrelated set pieces show death at work, a young man lifting weights, a couple lying in bed together. These intimacies are mixed together as if parts of the same world, and it turns out there is a master narrator after all, an aged fantastic who smokes cigars and ruminates on destiny, even as he insists on being the author of all we have witnessed. Could these different lives find their origin, their vanishing point, in the body of a single person? Himself the stand in, the temporary avatar, for viewers everywhere.
Democracy 6:24 minutes 2018
In this performance art miniature, the artist appears as a besuited weeper, like a suitor whose attentions have been spurned. From the left speaker pronouncements from the left wing candidate, from the right speaker pronouncements from the right. Either the pro-business killers or the left wing killers. What kind of choice is being offered here? Every word is also a slap, delivered by the citizen, who turns the other cheek.
Selfportrait 6 minutes 2018
The key to unlocking this picture puzzle is simple: every frame is a self portrait. The lone tree tormented by rain storms. The soap suds converted into starry galaxies. The lonely silhouette of the artist on the gloomy stairs. The diary blowing in the wind. The figure in a yellow rain jacket standing in a rainy field. The loneliness and self searching are here, along with the touch of the natural and unnatural worlds. The artist's many faces emerge in a succession of carefully composed frames: sober, precise, haunting.
The Nox: the red rose in darkness 2:07 minutes 2018
Begun as a freeform adaptation of Anne Carson's collage-poem about her brother, Nox is shot only at night, where a series of long exposures, or flashlit expressions show a body in frantic search, a crushed multi-limbed insect, until the artist appears prone in the shower, lying as if dead as the water pours over him. When he reappears his face is mock bloodied, stained and smeared. Experience is sticking to him, the ugly actions of the past must now be worn on his face where everyone can read it. Here is the lost and enigmatic brother, still a question mark, still retreating from any story that might contain him, far from the lure of family.
Untitled 4:52 minutes 2018
The artist appears in drag in this single-shot performance for camera. They look into the camera, offering selves and perspectives, then bursting into a babel-like song, filled with a wordless emotion, outside meaning, or beside it. The movie even refuses its own naming. Song as caress and angry rant and pathos-laden seduction.
Judith Butler: "Performativity has to do with repetition, very often with the
repetition of oppressive and painful gender norms until they mean something else. This is not freedom, but a question of how to work the trap that one is inevitably in."
The Fragility of Bubbles 10 minutes
An intimate and luminous portrait of Verónica Abarca, herself a shape shifting movie artist from Venezuela who is continually trying on different faces and guises. What long ago rupture might have occasioned this need to create fluid presentation models? In a sequence of simple frames, the two artists sit together so that the unspoken can find a home at last.