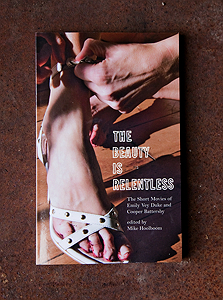 Book launch of The Beauty is Relentless: The Short Movies of Emily Vey Duke and Cooper Battersby presented by Pleasure Dome/MOCCA at Cinecycle, Toronto, June 15, 2012 and the Festival du Nouveau Cinema, Montreal (October 13, 2013)
Please join us to watch three video wonders from Emily and Cooper. They'll be here in person to dish the inside scoop, as well as signing copies of their new book, The Beauty Is Relentless, edited by Mike Hoolboom and published by Museum of Contemporary Canadian Art and Pleasure Dome. 8 pm video program followed by outdoor reception. $10 Admission price includes the all-colour book!
I Am a Conjuror (9 minutes 2005)
Being Fucked Up (10 minutes 2001)
Beauty Plus Pity (15 minutes 2009)
"Often working with the disconnects between human and animal – and their urge to reconcile the sterile mechanics of our world versus the intuitive viscerality we keep buried within – their dark sense of humour has yielded a slate of bizarre taxidermies, installations, videos and sculpture, all tinged with a gutsy, mystical longing that's sweet, sinister, hilarious and disturbing all at once." Murray Whyte, Toronto Star
The Beauty Is Relentless: The Short Movies of Emily Vey Duke and Cooper Battersby
In this collection of scripts, creative writings and critical missives, their word smart blend of home spun animation, bedroom pop philosophy songs, and glam personas by the galore get the full treatment. Imagine threesomes, daddy's porn, fame, and the importance of animals served up on a private TV station. The book is both smartful and stylish, featuring Electric Animal author Akira Lippit on the couple, Czech film scientist Andrea Slovakova, video legends Tom Sherman and Monique Moumblow, music writer Terence Dick, queer avatar Sholem Kristalka and video dad Steve Reinke. Novelists Claudia Dey and Kyo Maclear lend wit and grace. There are also a pair of fully illustrated video scripts, a hilarious tell-all interview with writer pal Sara Hollenberg, a suite of unpublished writings by Duke (including I Hate Orgasms) and a collection of commissioned artist's pages.