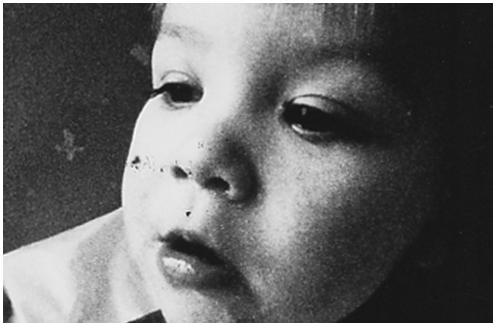 Canadian filmmaker Mike Hoolboom is one of the key figures of the "fringe cinema." He is also a writer with an obsession for images, whether in his work as film critic and promoter or in his more autobiographical writing. The movement of images, a memory surfacing, sexuality, AIDS and Canadian politics are some of the recurring themes of his work, although there is more to it than that.
From the very first frame, any Mike Hoolboom film will take us into a world that is at once familiar and yet completely unique. What makes his work so different is this ability to evoke the everyday with all kinds of things which are then transformed into a unique vision. Objects so-to-speak floating around are worked on to their fiber, and in this way, from one film to the next, a corpus is built up in which images and sounds respond t each other and are deposited in successive strata, denser and denser layers of meaning that end up drawing a veil over their origins by presenting them as if for the first time (again).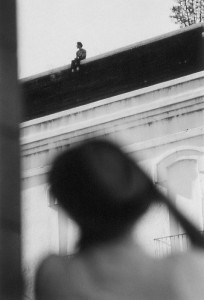 For Mike Hoolboom the cinema is more than just a medium. It is a medium for emotions: "It is physically two-dimensional but emotionally three-dimensional." Thus the cinema sets in motion relations and situations that far from reproducing reality actually construct their own reality that is updated at each showing in a process rather like dipping. We plunge into a characteristic visual universe in which the filmmaker's body is at work-its distinctive marks, the memories that fashion it, no less than that of the cinema and video. Traces of development, solarizations, overlapping process shots and sliding layers are required to generate worlds from which a voice rises up. Mike Hoolboom's cinema manufactures universes that renew our specific memories by charging them with collective reminiscences through multiple shots of a city (Tom), of stars (Hey Madonna), or advertisements (Imitations of Life). This is a task of re-appropriation, not diversion. Mike Hoolboom restores a memory or stories or makes them up. The filmmaker's body inhabits the image through the many depictions of sex, mostly using found footage. AIDS works on representation as, in modifying bodies, it registers priorities that have moved Mike Hoolboom's cinema on to other places, to more urgent business, even politicizing it. His work is not that of an activist, but of a committed filmmaker for whom the representation of the body and its desires through a sexual plurality is part of the fight against the Puritanism of Ontario, of Canada, and brings up political issues. To show bodies fucking from found amateur or industrial footage of gay or straight pornography is to do genealogical work on the proliferating representations of sexuality which most of the time are passed over, so as to bring out the contradictions inherent to the system. It is also a way of questioning the history of representations and how they come to us and shape us. The filmmaker uses autobiographical material to raise social issues, and calls into question the possibility of a narrative in the future. Hence his emphasis on the density of short forms with sustained rhythms.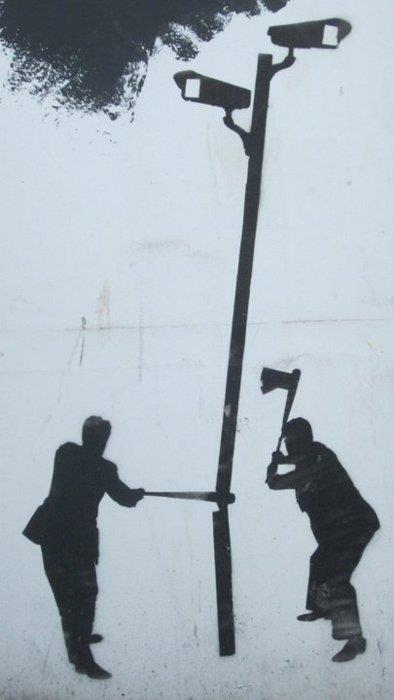 For Mike Hoolboom, it is precisely because he places all types of images on a par that he has no trouble working with porn movies, Hollywood blockbusters, newsreels, trailers, advertisements and family films. It all comes down to what you do with them. What he does with them is to (re)produce bodies. From the raging torrents, signs emerge, out of the flood of images and the swirl of textures, cities and faces appear then vanish in order to reappear in a different form later on, transformed by the pulsation of treatments and sound vibrations. In this regard, the first sequences of Imitations of Life are perfect examples of the strategies used to instill fresh impetus in these images so often seen before, tired old shots revitalized by slow motion and editing, lending them new meanings in the process. We are literally immersed in an audiovisual world that calls upon the entire history of cinema. These snatches of cinema are the reflection of a world made up of images involving pictures of reality that are more or less distant or in the future. In every case they create a future past that is sometimes the hallmark of found footage movies. Mike Hoolboom recreates a world of the present form images manufactured at an earlier time. It is a matter of re-appropriating in order to build a future that AIDS prevented from envisioning. Today this future that seemed pure science fiction is the filmmaker's future. He thrives on the telescoping of shots of disappearing cities, appearing and fading bodies, the accumulation of hand shots, while voices-a woman's and a man's-lead on to partial interpretations of these flights of images. Images, sounds and insert titles are interlaced so as to create a time for memory, which is not other than the future past which inscribes its own return in a coming nostalgia.
(Originally published in Reprocessing Reality catalogue ed. Claudia Spinelli, Nyon, 2005)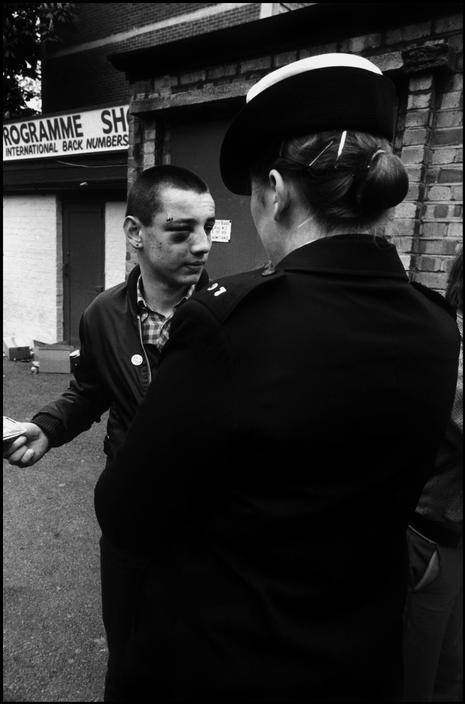 Hoolboom by Yann Beauvais (February 2005)
Mike Hoolboom, cinéaste canadien, est l'une des figures essentielles du fringe cinéma. Il est aussi un écrivain hanté par les images qu'il s'agisse de son travail de critique et de promoteur du cinéma, ou bien de ses écrits plus autobiographiques. Le mouvement des images, le surgissement d'un souvenir, la sexualité, le sida et la politique de l'état canadien sont quelques-uns des thèmes récurrents de son ?uvre qui ne sauraient cependant s'y réduire.
Chaque film, de Mike Hoolboom nous plonge, dès la première image, dans un monde, qui est à la fois distinctement unique et cependant familier. La singularité de l'oeuvre tient dans cette capacité à convoquer le commun à partir d'éléments de toutes natures et de les transformer en une vision unique. Ces objets quasiment flottants sont travaillés dans leur chair même, afin de composer de film en film,un corpus ou les images à la manière des sons, se répondent et déposent par couches successives, des strates de sens de plus en plus denses qui finissent par voiler leurs origines en les constituants comme premiers.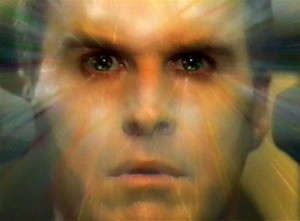 Le cinéma n'est pas pour Mike Hoolboom restreint à un support. Il est le support des émotions : «il est physiquement bidimensionnel mais émotionnellement tridimensionnel.» Ainsi le cinéma met en motion des relations et des situations qui ne reproduisent en rien la réalité mais construisent une réalité actualisée à chaque projection selon des modes proche de l'immersion. On plonge dans un univers visuel caractéristique, dans lequel le corps du cinéaste est à l'oeuvre : ses marques distinctives, les souvenirs qui le façonnent, autant que celui du cinéma et de la vidéo. Les traces de développement, les solarisations, les recouvrements de transparences et le glissement de couches sont requis afin de générer des mondes à partir duquel une voix s'élève. Le cinéma de Mike Hoolboom fabrique des univers qui renouvellent nos souvenirs spécifiques en les chargeant de réminiscences collectives par la multiplicité des vues d'une ville (Tom), des stars (Madonna)…, publicités (Imitations of Life). Il s'agit d'un travail de réappropriation, et non pas de détournement, Mike Hoolboom (re)constitue une mémoire, des histoires. Le corps du cinéaste habite l'image à travers les multiples représentations sexuelles qui sont majoritairement des found footages. Le sida travaille la représentation comme, il modifie les corps, il inscrit des priorités qui ont déplacé le cinéma de Mike Hoolboom vers d'autres lieux, vers d'autres urgences, le politisant même. Son travail n'est pas celui d'un activiste, il est celui d'un cinéaste engagé pour lequel la représentation du corps et de ses désirs à travers un pluriel sexuel fait partie d'une lutte contre le puritanisme de l'Ontario, du Canada et expriment des enjeux politiques. Montrer des corps baisant à partir de found footages amateur ou industriel, porno gay ou hétéro c'est travailler généalogiquement les représentations proliférantes de la sexualité, qui sont la plupart du temps évincées, afin de faire surgir les contradictions inhérentes du système. C'est aussi interroger l'histoire des représentations et comment ces dernières nous parviennent et nous façonnent. C'est à partir de l'autobiographique que le cinéaste interroge le social, et remet en cause la possibilité d'un récit au futur. Dès lors il privilégie la densité des formes courtes aux rythmes soutenus.
Pour Mike Hoolboom, c'est parce qu'il n'a justement pas de hiérarchisations des images qu'il n'a aucune difficulté à travailler des films porno, des films hollywoodiens, les newsreels , les bandes-annonces, publicités et les films de famille. Tout est question d'usage. Ces usages (re)produisent des corps. Des torrents impétueux, des signes émergent, dans le flot des images et le tourbillonnement des textures, des cités, des visages apparaissent puis s'évanouissent afin de resurgir plus tard, sous d'autres formes ; métamorphosées par la pulsation des traitements et les vibrations sonores. À cet égard, les premières séquences d'Imitation of Life sont exemplaires quant aux stratégies utilisées pour redynamiser ces images si souvent vues, ces clichés ressassés auxquels le ralenti, le montage octroient une nouvelle dynamique porteuse d'autres sens. On est littéralement immergé dans un monde audio-visuel qui en appel à toute l'histoire du cinéma. Ces éclats de cinéma sont le reflet d'un monde constitué par des images qui mettent en scène des images de réalité plus moins distantes ou à venir. Dans tous les cas elles créent un futur antérieur qui est parfois la marque du cinéma de found footages. Mike Hoolboom recrée un monde présent à partir d'images fabriquées antérieurement. Il s'agit de constituer en le réappropriant un futur que le sida ne permettait pas d'envisager. Aujourd'hui ce futur qui semblait pure science fiction est celui du cinéaste. Il s'épanouit dans les télescopages de plans de disparition de ville, apparition et dissolution de corps, accumulation de plans de mains, alors que des voix : celle d'une femme et d'un homme induisent des lectures partielles des envolées d'images. Les images, les sons, les intertitres s'entrelacent afin de créer un temps du souvenir, qui n'est autre que celui du futur antérieur qui inscrit le retour dans une nostalgie à venir.