Frank's Cock 8 minutes, 16 mm, 1993
"This is one of the most assured films I have ever seen. In the simplest of frames, in monologue, Vancouver actor Callum Rennie plays a man remembering his lover lost to AIDS. Hoolboom fills his words with blood and the space behind Rennie with blood-rich images. Eight minutes of pure, perfect cinema." Cameron Bailey, NOW Magazine
"The overwhelming losses brought about by the AIDS crisis have, in recent years, stimulated a body of artwork of extraordinary passion and urgency. In Frank's Cock, Mike Hoolboom, one of Canada's most prolific experimental filmmakers, uses multiple screens as a backdrop to a man, facing the camera, telling the story of a relationship severed by AIDS. The visuals are hypnotic-here, the stark beauty of an individual, shot in black and white, is juxtaposed with a stream of impressionistic colour images. In a beautifully modulated performance, Callum Rennie plays a character whose lover, Frank, is dying. The emotional tenor of Rennie's monologue builds delicately but steadily, as the details of his relationship with Frank unfold, an achievement which is particularly significant given the film is only eight minutes long. Frank's Cock deservedly garnered Hoolboom the NFB Award for best Canadian short at the Toronto film festival." Karen Tisch, Take One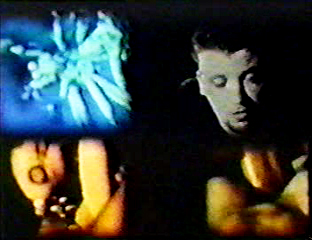 "In Frank's Cock, a man talks about his friend Frank in a bold, funny, moving monologue about being born, living, fucking and dying as a gay man. Frank was queer from birth. He loved sex, he changed the world, and he died. Another of Hoolboom's casually brilliant pieces of writing, Frank's Cock is a sharp elegy to a lover lost to AIDS. Callum Rennie performs the monologue with appropriate wit and remembrance, and Hoolboom marries his words to a simple, formal design that incorporates abstract and pop styles." Sandra Cunningham, Toronto International Festival
"…a masterful split-screen reminiscence of a dearly departed-and one of his most memorable attributes." Steve Kokker, Hour
"Awarded Best Dramatic Film at the Ann Arbor Film Festival, Frank's Cock deals with the issue of AIDS and is an elegy for the recently departed Frank. Although a relatively straightforward piece, its strength rests in the emotional and soul-bearing delivery of memories from his lover. Controversial and provocative, the monologue intensifies and the screen splits, the images becoming more explicit-images that progressively anticipate, stimulate, then illustrate the intimate recollections contained in the dialogue of Frank's lover." James Twentyman, In the Picture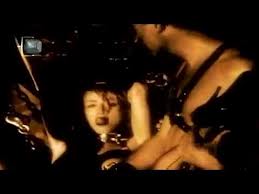 "A funny, touching narrative about one man's love and lust for another mingles with notions of perspective, physicality and looking. Frank's lover talks frankly to us in one section of the screen. With black spaces and the gradual increase of sexually explicit spaces, Frank's Cock becomes a universal statement about love, loss and fucking in the age of AIDS. Hoolboom also lets us write our own stories, kick starting us with tantalizing (and troubling) sex play." Sue Whitelaw, Brother/Sister
"Frank's Cock is cited for its evocative images, its impeccable writing and mise-en-scene, for its moving depiction of the universal human experiences of love and loss in the age of AIDS." Best Canadian Film Award, Toronto International Festival Jury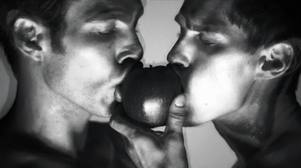 A foursided look at AIDS, a first person testament that is alternately funny and sad, relating the meeting of two lovers and their sexual adventures. As the story of their life is told by its survivor, the screen divides into four scenes revealing the storyteller, footage shot inside the body, a montage of performance art and gay porn. This division within the frame replays the effect of the virus, multiplying its deadly effects in a phantasmagoria of loss. An elegy for a friend.
"In Frank's Cock a man talks about his friend Frank in a bold, funny, moving monologue about being born, living, loving and dying as a gay man. Frank was queer from birth. He loved sex, he changed the world, and he died. It's a poignant and graphic depiction of gay sexuality, and sadly, gay loss." Atlanta Film and Video Festival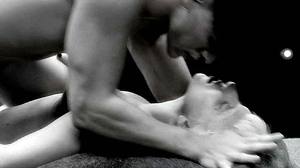 "At the top left, the face of a man in black and white. In front of the camera, he talks about his friend Frank, their homosexuality, their close friendship which death brings to an end. The image is gradually composed of one, two, three other frames (microscopic views of cells, fragments of faces and naked bodies, pornographic close-ups of men making love). With a multiple soundtrack (soul songs, sound effects), Hoolboom disturbs one's sense of sight and hearing (where to look, what to listen to?) and sketches a portrait by using effects and the juxtaposition of lacunal and provocative elements, which reconstruct memories of the loved one he has lost." Jean Perret, Visions du Reel Catalogue
"This elegiac short video is a song of mourning narrated by a survivor (played by Callum Keith Rennie) of a romantic relationship that abruptly ended with the death of his partner. It relates the story of two lovers, one who is dying of AIDS, the other trying to come to terms with immanent loss. Shown in a split-screen format with simultaneous images of gay pornography, human embryo formation, and video clips, it forms a striking visual metaphor. Establishing a connection between a viral infection and the maelstrom of feelings associated with the loss of a loved one, the film alternates between feelings of happiness and despair as it commemorates — and keeps alive — their ten-year romantic and sexual relationship." (Fringe Dreams by Karl-Gilbert Murray, Festival of Films on Art Catalogue)
"Frank's Cock stars Callum Rennie who speaks to us, with enduring warmth, of his lover Frank. While Callum occupies the top left corner, three other quadrants of the frame pulsate with blood, Erotica and gay porn, their rhythms suggesting the ecstasy and commonplace of the everyday. Frank was a man who knew what he wanted, with a choice of fantasies: rookie/coach, older brother/younger brother, sailor/slut, slave/master and father/son. "I picked older brother/younger brother and three months later I moved in with him. We've been together ever since…" Mike Hoolboom has produced a script so genuine, we feel that we too would have lived with this man. Wrapped inside the blanket of their relationship, Frank's death comes as a pull of tears. And his death from AIDS leaves us hole." "My Own Hole" by Kika Thorne, LIFT Newsletter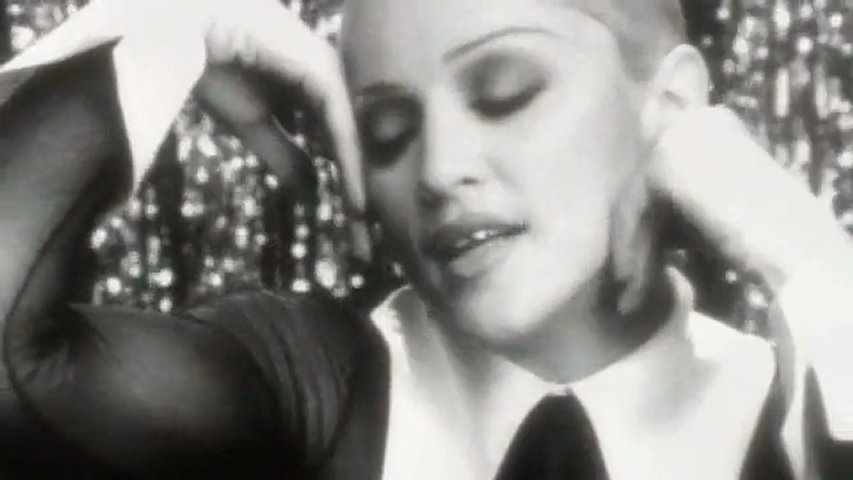 "Frank's Cock came out of a series of films produced by Alex MacKenzie through Cineworks in Vancouver. Alex commissioned various Vancouver filmmakers to make a film with 150ft of 16mm (with only three splices permitted) on the theme of "Breaking Up." The series also included pieces by Velcrow Ripper, Alex MacKenzie, Mina Shum and Mary Daniel and was shown at the Vancouver International Film Festival in 1993. Hoolboom's piece is extremely complex given the technical restrictions. It consists of four separate panels of concurrent 'narrative' with one being an in-sync continuous, almost documentarist, nostalgic monologue about Frank's cock. Hoolboom subverted the technical restrictions by initially shooting the talking head and the three concurrently running images on video. This was handy for the various takes that were needed to get the monologue exactly how Hoolboom wanted it. It was well worth it because it is this monologue that relentlessly drives the whole film and delivers its exquisitely written impact. The other three strands include images of people fucking, microscopic abstracted images of cellular activity and appropriated shots from Madonna videoclips. To get the stuff onto 16mm he later refilmed all four edited strands in makeshift conditions using borrowed equipment in a small preview room at the NFB. He then only took one take. Such is his relentless resourcefulness." Dirk DeBruyn, CTEQ, National Cinematheque Guide, Melbourne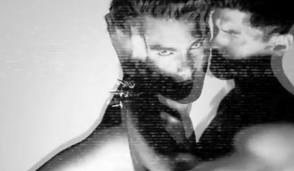 "Mike Hoolboom's contribution to the Vancouver omnibus film Breaking Up in Three Minutes is a dazzling, dangerous, extremely explicit split-screen assault on love and AIDS, juxtaposing Madonna's banned video with sex ed films, gay porn and a tour-de-force monologue by Vancouver actor Callum Rennie." Jim Sinclair, Pacific Cinematheque
Joey was a pal from PWA (Persons With AIDS), a member-run joint that provides info and services by and for those who've become positive. As usual in places like this there were endless envelopes to be stuffed, medical info to be jammed into the computer, numbers to be counted. We spent most afternoons talking and he related, bit by bit, the story of how he'd come there, about his best friend and lover who he'd met in a bathhouse group fuck, and how they'd gone home together even though he didn't like to do that – liked to keep his sex and life separate. Somehow they'd fell in love, moved in together, proved inseparable. Until his partner came down with a dry hacking cough that wouldn't quit, and when he booked in to the doc it turned out he had AIDS, and there wasn't much time left. We shuffled off to the roof to share a cigarette and cry and he said you should make a film about this, not one of those dumb flicks where someone becomes positive and everything else in their life drops out, as if they'd never been anywhere but the AIDS ward, but a real movie. About love. I went home and wrote a script and worked with an actor. Joey said he didn't want to be in it, didn't want people pointing at him and whispering – and Callum Rennie ate the words every day for breakfast, until they came out of him like he'd been living this story all along. This is a film for Joey.
Awards: Best Canadian Short Film, Toronto International Festival, 1994; Golden Leopard, Locarno Film Festival, 1994; Best Dramatic Film, Ann Arbor Film Festival, 1994; Best Gay/Lesbian Film, Albany International Festival, 1995; Award, Interfilm Festival, Berlin, 1995; Second Prize Experimental, Big Muddy Festival, 1995; Honorable Mention, University of Oregon Queer Film Fest, 1994