Lacan Palestine 70 minutes, 2012
Put all the images in language in a place of safety and make use of them, for they are in the desert, and it's in the desert we must go and look for them. Jean Genet
Palestine is like the cinema: it's searching for independence. Jean-Luc Godard
"A mind boggling achievement by Canadian artist Mike Hoolboom, who has been called 'the greatest found-footage master of the era.' Skilfully assembled from existing film material, Hoolboom conjures visual allegories and cut-up counter-narratives around a notion of Palestine as "a land that is not a land." Mining a wealth of material from TV news, documentary, fiction, and fantasy film, Lacan Palestine is a visual roller-coaster, with Hoolboom using cinema to suggest Palestine as a place of recurring psychological-colonial-projection – a space whose conquest is here spectacularly relived in celluloid waves of armed crusaders, legionnaires, Mongol horsemen, biplanes and machine guns. But as the title suggests, this is more than a mere collage. Layered, often deeply personal, and frequently challenging, the film intersperses its newsreels, desert fantasias, and historic encounters with psychoanalytic ruminations on subjects from patricide to John Coltrane, and from the elusive nature of joy to what Hoolboom calls the "loveless love story" staring Moses, Abraham and Jacques Lacan. Dizzying in its technical and conceptual density, Lacan Palestine is truly incomparable cinema." Nick Denes, London Palestine Film Festival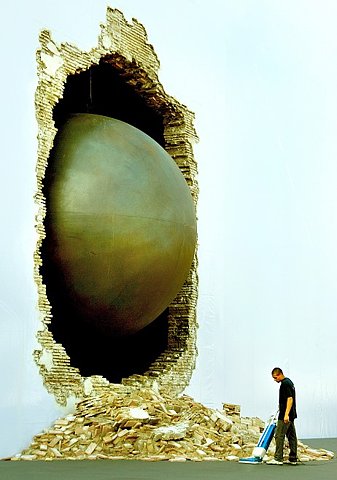 "The grand prize goes to Lacan Palestine for its immersion in a complex subject that arrives via a montage that is subtle, sensitive and strong. Its great visual richness emerges from impressive iconographic research. In spite of its diversity of images, this fluid work carries an insistent theme of personal history that makes us identify with a fate or destiny, creating a persistent, high wire hum." Festival International Signes de Nuit grand prize jury statement
"Fantastical images and semantic collages reveal film as a vital medium of memory. Biblical texts and the metaphor of symbols, Hollywood narratives and literal imagination, a wall of segregation. Like cinematic images emerging from the desert of the consciousness to stimulate our imagination, so too is Palestine searching for its borders and its autonomy. Hoolboom shows Palestine as the setting of a love story without love – with Moses, Abraham, and Jacques Lacan in the main roles." Jihlava International Documentary Festival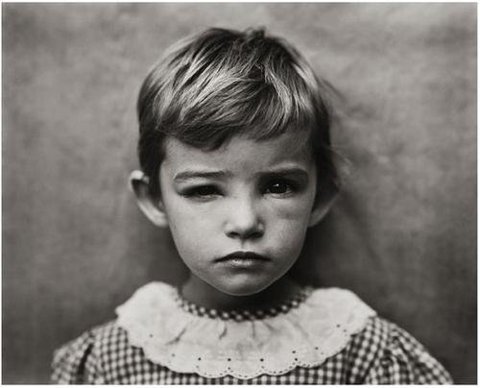 "Palestine. The Palestinian territories. The State of Palestine. Simply naming this territory is an intensely complex matter. But beyond the horrific newspaper headlines, extremely tense relations with neighbouring Israel and our commonly held views, what exactly do we know about this land that is fighting for statehood and about the daily life of its inhabitants? How do we imagine and, more importantly, understand its history, present and future? Weaving together found footage from Palestine and elsewhere, Canadian filmmaker, writer, novelist and experimental jack of all trades Mike Hoolboom tries to piece together the puzzle by creating a collage that is as unsettling as it is fascinating. Adopting the demanding film essay format, this film reinvents the art of editing, using it as a tool to better grasp the various facets of an elusive reality. Lacan Palestine is a dizzying, symbolic, lively and meaningful blend of history, culture, sociology, geography and art (featuring excerpts of video art by Velcrow Ripper, Elle Flanders, Tamira Sawatzky and Dani Leventhal), structured around the psychoanalytical and autobiographical musings of filmmaker Mike Cartmell. All the elements are drawn together in a sensitive, allegorical vision of what freedom could look like." Helen Faradji, Festival du Nouveau Cinema
"The term essay film is sometimes used a bit too easily, but this really is one. Skillfully cut and pasted from existing film material, the film provides a complex picture of Palestine. The land that is not a land, but does have inhabitants. An improbable place for love. The foundation of Palestine has a long and difficult history, characterized by a continuing battle for the right to exist. In this cinematographic essay, entirely composed of found-footage material, the history of a land without land is sketched, with its painful relationship with its neighbour Israel. Epic scenes from features, iconic news footage of historic moments, the ever-changing map of Israel, video art by Velcrow Ripper, Elle Flanders and Dani Leventhal, but also very personal recordings of everyday survival, are linked together by the psychoanalytic reflections of filmmaker Mike Cartmell, based on his own painful personal history. From his background as an adopted child, he wonders when you become someone, and how society can emerge from individuals; he compares the functioning of a complex society with that of John Coltrane's jazz combo, in which even five super-egos managed to achieve harmony. In Mike Hoolboom's view of Palestine, love and violence exist side-by-side, as a matter of course." Gertjan Zuilhof, International Film Festival Rotterdam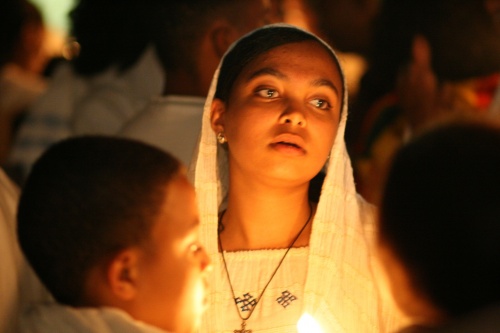 "Canadian Mike Hoolboom's Lacan Palestine also deserves a definite mention – a real feat of technical and conceptual mastery. Combining existing footage including fiction, fantasy, documentary and TV news, Hoolboom layers together a "visual rollercoaster" (LPFF) around the idea of Palestine being "a land that is not a land," weaving together Abraham, Moses, crusaders, Jacques Lacan, John Coltrane, machine guns and psychoanalytic ponderings." Steph Robinson, Reeling the Real
"Lacan Palestine is a film that examines both our notions of Palestine and of ourselves. It is made up entirely of archival footage – news reports from the West Bank interrupted by amateur footage and video art, chunks of text mixed with film clips of Moses in the desert, hordes of Mongols, and blood-thirsty crusaders – a representation of Palestine's shifting state of being and history. Another main thread is the reflections of Canadian director Mike Cartmell. Based on his own youth as an adopted child, he contemplates on how an individual is formed and whether a society made up of individuals is able to function. The title of the film recalls philosopher and psychoanalyst Jacques Lacan, and the film emphasizes the psychological dimension of the Israel/Palestine conflict, through our myths, dreams, and notions. A demanding, inspiring and touching film that is guaranteed to affect those who allow themselves to be drawn in by it." Tromso International Festival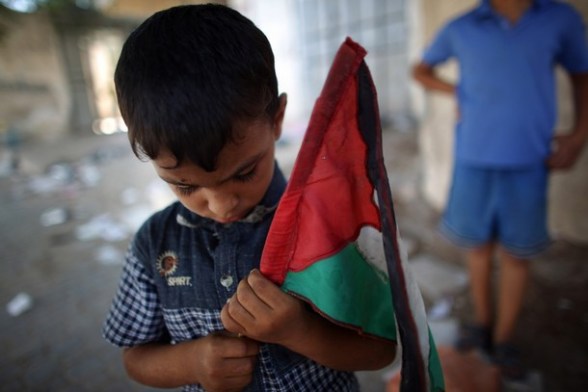 "Long-time VFF favourite Mike Hoolboom returns. A master of collaged film works, he continues to make the kind of film that is much easier and delightful to experience than describe. In Lacan Palestine, he has turned his eye to the state without a state, bringing together history, interviews and experiences into a stream-like fest for not only the eyes but the mind." Victoria Film Festival
"A stalwart of Toronto's experimental film community, Mike Hoolboom presents the first hometown screening of Lacan Palestine, a typically weighty and provocative film essay that ponders the many representations of Palestine, a place that Hoolboom calls 'a country without a country.' Again, Hoolboom culls his images from a vast variety of sources, ranging from news reports to video art." Jason Anderson, Toronto Star
Lacan Palestine is a found footage essay about the troubled couple in Palestine. This country without a country has been party to imperial projections for centuries, amply on display here in waves of armed crusaders, legionnaires, Mongols on horseback and biplanes issuing state edicts from the end of a machine gun. There are maps by the galore, drawn and redrawn as occupied territories are bartered in foreign capitals. Contemporary art activists Velcrow Ripper, Elle Flanders, Tamira Sawatzky, Dani Leventhal and others have generously donated their keen lookings and these have been blended with newsreels, desert spectaculars, historical recreations and intimate encounters. Mike Cartmell appears as the ghost of psychoanalysis, offering ruminations on killing the father, John Coltrane and why enjoyment is difficult. But never mind the critical mass, the heart of the movie remains its extended lyrical passages that collage a dizzying suite of couples – embracing, loving, hurting. A loveless love story starring Moses, Abraham and Jacques Lacan.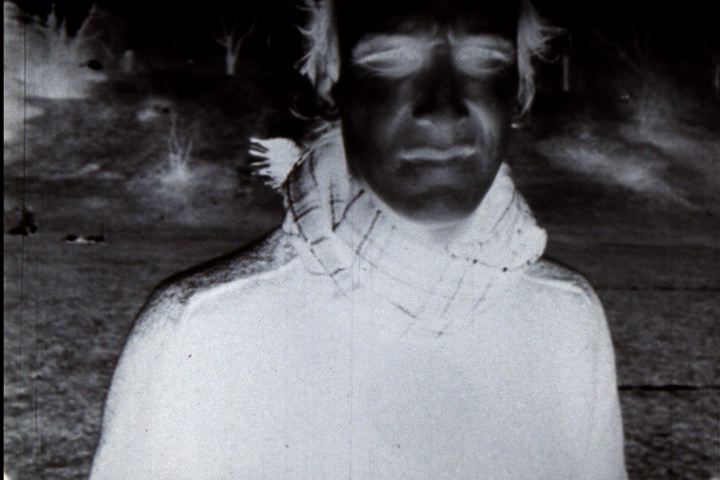 "Palestine is often described as a place that defies description, and for all the endless footage, a place that cannot be seen. Palestine lies between the imaginary and the real hence 'imaging Palestine' becomes perhaps one of the greatest cinematic and political challenges. Who better to take up this challenge than Toronto's master experimental filmmaker Mike Hoolboom? The fragments that comprise Lacan Palestine are both the public and private languages that interpolate the symbolic sphere that constitute the history of Palestine and therefore the history of Israel as it comes into being. As both a good analyst and a good filmmaker would know, originary myths uncover what lies at the heart of an ongoing conflict. And so Hoolboom takes us through these myths, dreams and canonical cinematic placeholders, presenting us Palestine in fragments—perhaps the only way to tell the story of what may be Palestine. Hoolboom takes the name the father as a starting point, wherein the subject (here Palestine) comes into being through the law (Israel) and rifles through the deep psychoanalytic rift whose symptom is contemporary Palestine." Elle Flanders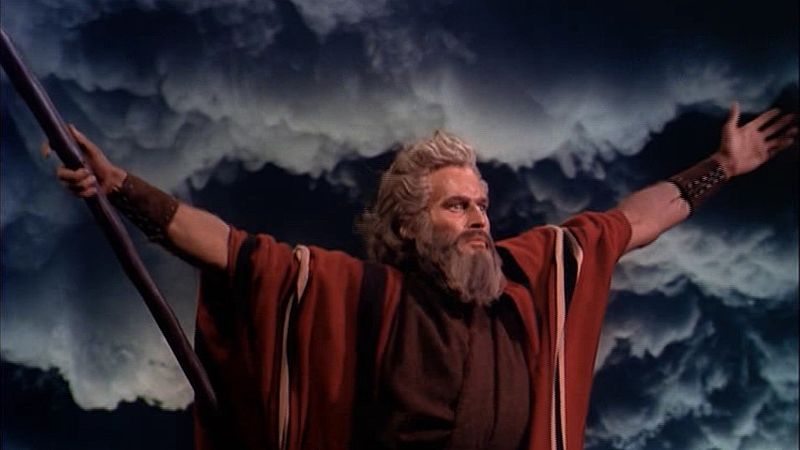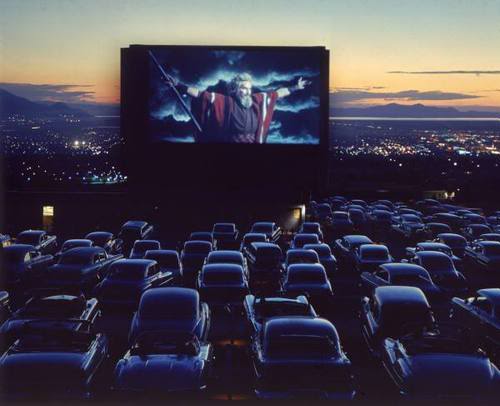 Describing the Indescribable by Marcel Jean (24 Images no. 159. Oct-Nov. 2012)
So many questions. Can we undertake the psychoanalysis of a nation, searching through the miasma of images that represent a country? Can we order these images in a way that might express a history large enough to include an unconscious transmitted by cinema? Can we make people see the country that so many refuse to see? Can we recreate the territory that has been denied again and again? Can cinema offer at least one image of a land to a population that has lived too long in privation (is it possible to starve the imagination?) What mythologies might provide a foundation for the Palestinian nation struggling to be born today? These questions and so many others are set into motion in the turbulence of Lacan Palestine, the latest cinematographic essay by Toronto's Mike Hoolboom. He digs into the work of his colleagues Velcrow Ripper, Elle Flanders, Tamira Sawatzky and Dani Leventhal. He steeps himself in newsreel images, and steals from Hollywood super productions, including multiple versions of The Ten Commandments. In this new movie, Hoolboom rethinks the genre of found footage film in the light of psychoanalytic history, flipping the question of Palestinian in all directions to offer a portrait that is complex and paradoxical.
The opening of the film shows us a child travelling. In the earliest hours of morning, in darkness, he's alone carrying his luggage from one bus to another. We learn at the end of the movie that his name is Jihad. He's not yet five, and he's going to meet his father. The father that we will never meet. The adventure of Jihad sends us back to Mike Hoolboom's quest, a quest for origins, a kind of enormous historical regression in audio-visual memory, a path where it's easy to get lost. It is a journey with so many free associations, surprises, shocks, scary moments, dreamy reveries and introspection. This beautiful experiment is as noble as it is absurd, the intractable struggle continues, and in the midst of this fine searching a single certitude emerges. We are really in front of something that we can call cinema. Its striking intelligence and sudden illuminations confront us with a singular and authentic cinema. In the acrobatic editing, in Hoolboom's control from the beginning of the film to the end, there is something shining, urgent, burning. There is a nearly blinding dimension to this accumulation of fragments that impels the viewer to re-see the movie as soon as it is finished. To observe again its folding parts, to find the hidden meanings, to meditate again and again on its implications.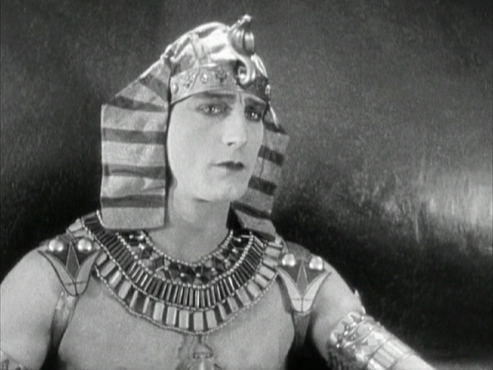 Hoolboom based his work on the psychoanalytic reflections of Mike Cartmell, a filmmaker himself, who invokes his own trauma in his attempts to name the social behaviors that embody mythical structures. How can we get along? "How can we live in accord with one another in any way?" Cartmell offers poetic answers to this question using the quintet of John Coltrane as an example, five powerful personalities. Each musician plays a different instrument, expressing their singularity, but together they create a collective expression (Cartmell consciously refuses to use the word 'harmony'). Here the social body does not negate the individual, individuality is not a form of sublimation. Instead, the basis of agreement, of our group work, of music even, is the necessity for solitary expression. Is this a fantasy? Regarding the couple Palestine-Israel (maybe) without doubt. But it is a fantasy that haunts Hoolboom in the endless images of couples kissing, embracing, coming apart and beating each other while conquests succeed, death stalks and walls rise.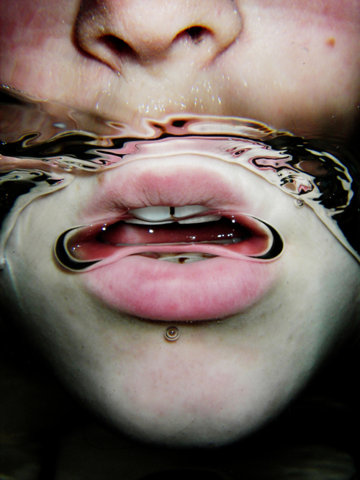 How might one describe the undescribable? This is the unreasonable task (but can any real creation be reasonable?) that the filmmaker undertakes. Lacan Palestine appears to be the result of an obsession and logically delivers his obsessive images. I will just quote one. On a barber chair, a child is having his head shaved. A strand of hair falls on the floor in great chunks from an increasingly denuded head. Lice are running everywhere, panicking now that they're deported. Their universe is devastated. Lice… looking at that shot we all become lice.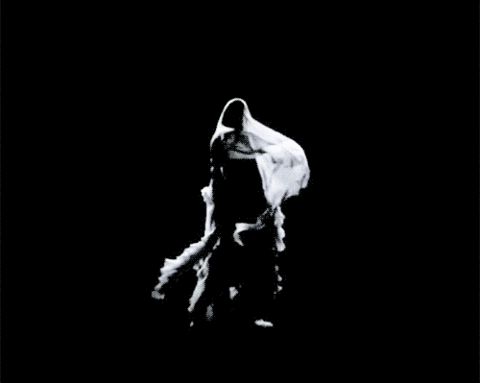 Palestine Film Festival: Lacan Palestine by Laurie Tuffrey (2012)
Middle East LDN, May 1, 2012
Continuing our coverage of the 2012 London Palestine Film Festival, we review Mike Hoolboom's Lacan Palestine, one of the films which received its UK premiere at the festival. The Toronto filmmaker's work has been feted as a great example of essayistic cinema, but how did it fare in Middle East LDN's opinion?
The first thing to note about Lacan Palestine is its complexity. Ostensibly relating the history of Palestine by interweaving found footage from television and film, artwork and spoken word, the overall effect oscillates between wry humour, shock and poignancy. Not only is it somewhat headache-inducing to try and fathom how long it must have taken the film's Canadian director Mike Hoolbloom to trawl through the archives to piece together the film, but Lacan Palestine itself leaves you scrambling for some semblance of a meaning.
The film is essentially a documentary, and, while it has no narrative as such – there's no really continuous sequence of scenes or a narrator to tie things together – we do get a sense of overarching development rising out of the assembled footage. It's comparable to a video art installation, darting between its source material and interweaving bits of voiceover from filmmaker Mike Cartmell and a wonderfully atmospheric soundtrack by Machinefabriek.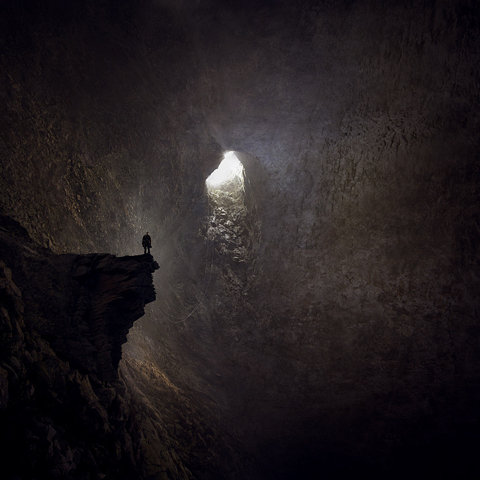 The idea of internal rifts bringing death and destruction is returned to in various ways: clips from American Civil War films and a cartoon depicting 'savage desert tribesmen' amply generate the idea of disputed territories without ever verbalising it. This sense of telling a story allegorically is the genius of Hoolboom's work: Cartmell's personal musings on the nature of the individual within society almost become a commentary on the Palestinian region, while the jubilation accompanying the establishment of Israel's independence in 1948 is set side-by-side with various films' presentations of Moses returning from Mount Sinai to find the Israelites worshipping the golden calf. Sometimes, however, Hoolboom is more direct: there was an audible gasp when footage of soldiers beating civilians was shown.
The sheer breadth of source material is not only impressive but also gives the film a compelling unpredictability: scenes from Hollywood blockbusters like Panic Room and Top Gun play out alongside handheld camcorder footage and, at its most obscure, images of an animal giving birth. While the meaning is quite frequently unclear, Hoolboom has a way of conjuring up empathy and shock out of this assemblage.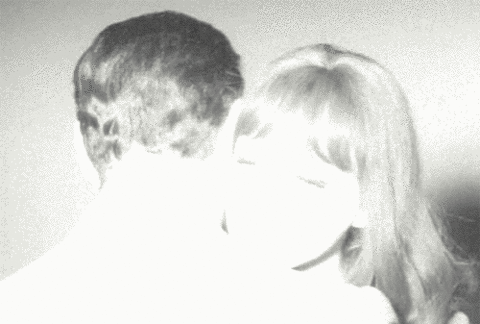 With this obtuseness does come, to an extent, the feeling that the film would be highly prized by film students. The idea of collage and veiled meanings created by joining these clips together suggests that serious study  would make for a rewarding venture. After all, Hoolbloom's website does describe the film as a "cinematographic essay" – this is a film that doesn't give up its meaning on one viewing; rather, it demands repeated watching.
Sadly, the director, who was billed to appear for a Q&A after the screening, was unable to attend. As the festival's programme suggests, this chance to "discuss (and maybe partly decipher)" would have been a welcome postscript to the film. As it stands, Hoolbloom's patchwork of material from myriad ages and places is perhaps the best way to convey what Gertjan Zuilhof, of the International Film Festival Rotterdam, called "a land without land". Lacan Palestine is an impressive piece of work in scope and execution, and one which is both thoughtful and thought-provoking.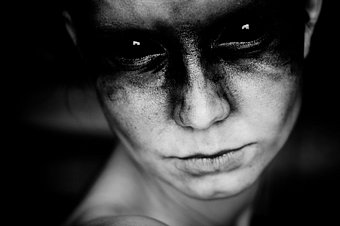 Toronto/Mike Hoolboom's Lacan Palestine by Terence Dick (Akimblog, November 27, 2012)
There was a time when I would pontificate on the theories of Jacques Lacan with as much confidence as I muster these days for my views on the Middle East. But truth be told, I remain at a loss to understand either in any but the most superficial way. I know the key terms (mirror stage, blockade) and people I respect (Slavoj Zizek, Naomi Klein) say things I think I agree with, but the unresolved complexity of each leaves me hesitant to define one or the other, to make a judgment or put a name to what either of them really mean.
While I've given up on Lacan for the time being, I spend a lot of time trying to get to the bottom of things in the Middle East, following the conflicts, reading up on both sides of the issue, and, in general, criticizing Israel for its continuing mistreatment of the Palestinians. But all the standard sources for evidence lead endlessly through interpretations of historical precedent that expand concentrically from Jerusalem to engulf the globe. And I remain uncertain in what I know.

It was with this twin doubt that I attended Pleasure Dome's screening of Mike Hoolboom's new film Lacan Palestine at Beit Zatoun House in Toronto last Saturday. The gathered audience could best be described by a Venn diagram of artists and activists. I stood at the back of the packed room and shifted from foot to foot as Hoolboom's torrent of images – some documentary, some found footage, some abstract – churned beneath an equally indirect narrative of fragmented voices hinting at the meaning of the material but never landing a definite statement. But that was the point. Rather than resolve things, he condensed years of news and accumulated media in a seventy minute frame. He told the audience off the top not to bother parsing every single image in relation to every other, but to surrender to the flow and allow their eyes to decide what to focus on (a thread of the film, referencing Barthes' punctum, deals with this manner of looking). The result, rather than saying, "this is that", dredges up the unconscious of Said's Orient and, like all powerful political art, encourages us to ask the same old questions, so familiar that we barely register how rote our responses have become, once again. Some of these questions seem simple – like, "How do neighbours get along?" – other seems complex – like, "How did this happen?" But Hoolboom, who, like myself, has never been to the Middle East, makes his contribution to the discussion by assembling an experience that demands a response – at the least, to make sense of what was seen, but ideally to elicit different ways to consider the situation. However, a single screening is not enough. This film, as dense with images and ideas as it is, requires multiple viewings to see the many echoes and repetitions that pull together its cyclical structure. I'm not so naïve as to think I'll find my answers there, but at least I have a site to exorcise my confusion.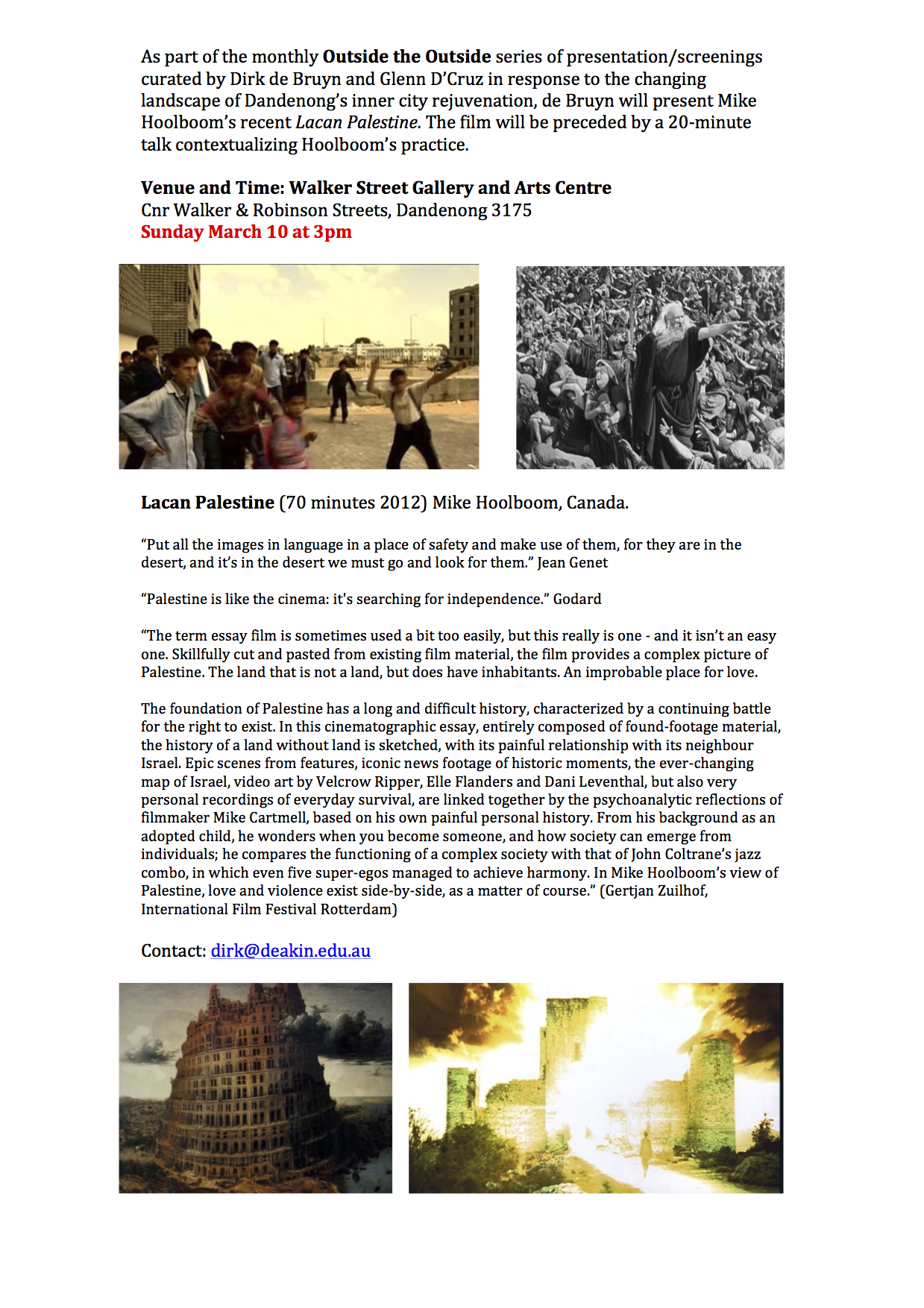 Violence and Dignity: Reflections on the Middle East by Noam Chomsky
Edward Said Lecture, Friends House, London, March 18, 2013 (an excerpt)
Swedish novelist Henning Mankell tells of an experience in Mozambique at the peak of the hideous atrocities of the apartheid era, when he saw a thin man walking towards him in ragged clothes. "In his deep misery," Mankell relates, the wretched survivor had "painted shoes on his feet. IN a way, to defend his dignity when everything was lost, he had found the colours from the earth and he had painted shoes on his feet."
Such scenes will evoke poignant memories among those who have witnessed cruelty and degradation, and also the steady resistance of the "samidin" – those who endure, to borrow the evocative term of Raja Shehadeh's in his remarkable book on Palestinians under occupations, twenty years ago.
Like many of you, and in fact much less than many of you, I have witnessed such scenes throughout the world over many years. Once again, last October, when I was able to visit Gaza for the first time, after several earlier attempts failed. Greeting me on my return home were the reports on the latest outburst of shocking crimes, the November Israeli onslaught, supported by the US and tolerated politely by Europe.
One of the first reports I received was a photograph by a young Gaza journalist with whom I had spent some time in Gaza. It showed a doctor in a hospital ward holding the hideously charred corpse of a murdered infant. The doctor is the director and head of surgery at the Khan Yunis hospital, where a few days earlier I had heard his passionate appeal for drugs and surgical equipment so that patients would not have to writhe in agony while awaiting simple surgery that cannot be performed for lack of facilities.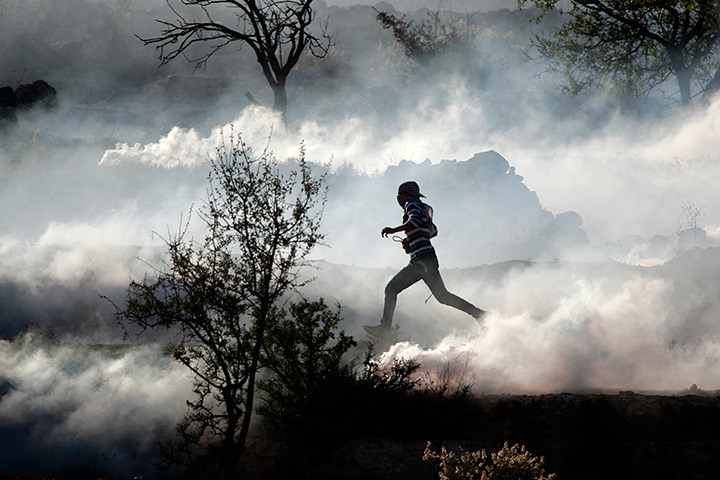 As the November attack exploded in full fury, the United Nations released its weekly review of the permanent humanitarian crisis in Gaza: it reported that 40% of essential drugs and 55% of essential consumables were out of stock, a consequence of the Israeli blockade and western complicity, and the unwillingness of the new Egyptian government to offend the masters. The border, it appears, remains largely under the control of Mubarak's dreaded Muhkhabarat, which was closely linked to the CIA and the Israeli Mossad according to credible reports. Just last week I received another article by the same Gaza journalist describing the terrible impact of the Morsi government's latest assault against the people of Gaza. It has devised a new way to block the tunnels that are a lifelife for people imprisoned under harsh siege and constant attack: flooding them with filthy sewage.
The same day's news brought a report by the Israeli human right group B'Tselem on a new device adopted by the Israeli army to overcome the ingenuity of the Samidin in coping with tear gas and other population control methods: spraying protestors and homes with powerful jets of raw sewage as punishment for the weekly non-violent protests against Israeli's illegal Separation Wall – in reality an Annexation Wall.
More evidence that great minds have similar thoughts, in this case combining criminal repression with useful humiliation.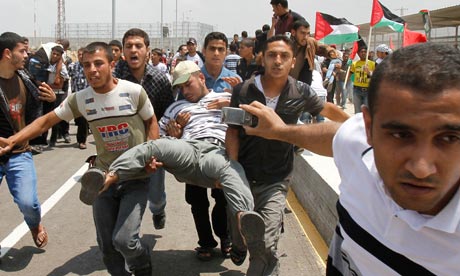 The tragedy of Gaza traces back to 1948, when hundreds of thousands of Palestinians fled in terror or were forcibly expelled to Gaza by conquering Israeli forces, who continued to truck them over the border long after the official cease fire, for at least four years. Recent Israeli scholarship, notably the important work of Avi Raz, reveals that the government's goal was to drive the refugees into the Sinai, and if feasible also the rest of the population of Palestine. In the words of Golda Meir, later Labor Prime Minister, the intention was to keep the Gaza Strip while "getting rid of its Arabs." These long-standing goals might be a factor contributing to Egypt's reluctance to open the border to free passage of people and good barred by the cruel western-backed Israeli siege.