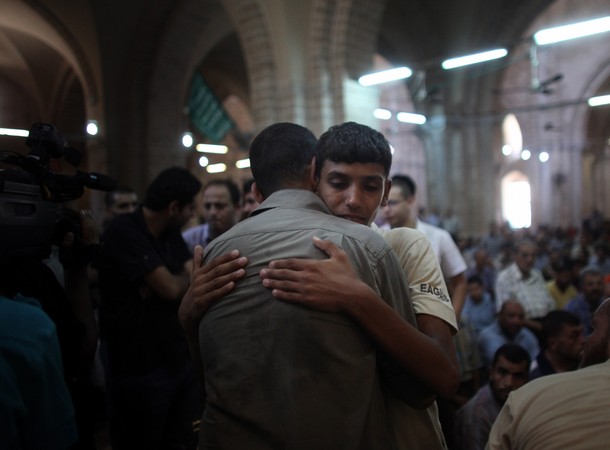 Middle East LDN, May 1, 2012
Continuing our coverage of the 2012 London Palestine Film Festival, we review Mike Hoolboom's Lacan Palestine, one of the films which received its UK premiere at the festival. The Toronto filmmaker's work has been feted as a great example of essayistic cinema, but how did it fare in Middle East LDN's opinion?
The first thing to note about Lacan Palestine is its complexity. Ostensibly relating the history of Palestine by interweaving found footage from television and film, artwork and spoken word, the overall effect oscillates between wry humour, shock and poignancy. Not only is it somewhat headache-inducing to try and fathom how long it must have taken the film's Canadian director Mike Hoolboom to trawl through the archives to piece together the film, but Lacan Palestine itself leaves you scrambling for some semblance of a meaning.
The film is essentially a documentary, and, while it has no narrative as such – there's no really continuous sequence of scenes or a narrator to tie things together – we do get a sense of overarching development rising out of the assembled footage. It's comparable to a video art installation, darting between its source material and interweaving bits of voiceover from filmmaker Mike Cartmell and a wonderfully atmospheric soundtrack by Machinefabriek.
The idea of internal rifts bringing death and destruction is returned to in various ways: clips from American Civil War films and a cartoon depicting 'savage desert tribesmen' amply generate the idea of disputed territories without ever verbalising it. This sense of telling a story allegorically is the genius of Hoolboom's work: Cartmell's personal musings on the nature of the individual within society almost become a commentary on the Palestinian region, while the jubilation accompanying the establishment of Israel's independence in 1948 is set side-by-side with various films' presentations of Moses returning from Mount Sinai to find the Israelites worshipping the golden calf. Sometimes, however, Hoolboom is more direct: there was an audible gasp when footage of soldiers beating civilians was shown.
The sheer breadth of source material is not only impressive but also gives the film a compelling unpredictability: scenes from Hollywood blockbusters like Panic Room and Top Gun play out alongside handheld camcorder footage and, at its most obscure, images of an animal giving birth. While the meaning is quite frequently unclear, Hoolboom has a way of conjuring up empathy and shock out of this assemblage.
With this obtuseness does come, to an extent, the feeling that the film would be highly prized by film students. The idea of collage and veiled meanings created by joining these clips together suggests that serious study  would make for a rewarding venture. After all, Hoolboom's website does describe the film as a "cinematographic essay" – this is a film that doesn't give up its meaning on one viewing; rather, it demands repeated watching.
Sadly, the director, who was billed to appear for a Q&A after the screening, was unable to attend. As the festival's programme suggests, this chance to "discuss (and maybe partly decipher)" would have been a welcome postscript to the film. As it stands, Hoolboom's patchwork of material from myriad ages and places is perhaps the best way to convey what Gertjan Zuilhof, of the International Film Festival Rotterdam, called "a land without land". Lacan Palestine is an impressive piece of work in scope and execution, and one which is both thoughtful and thought-provoking.